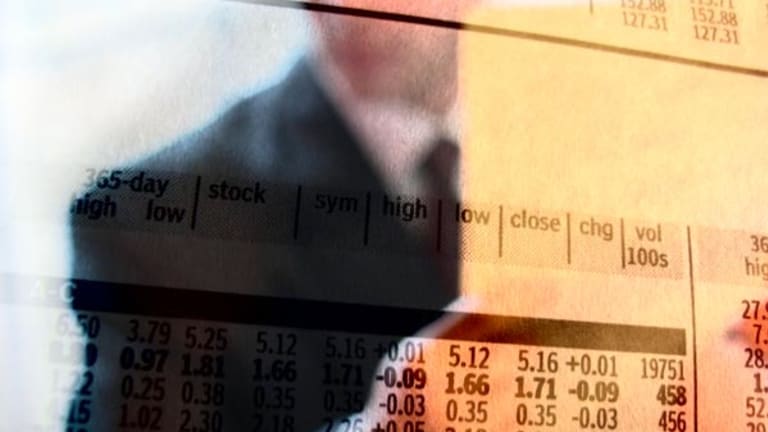 Stocks Finish Higher as Greece Fears Keep Gains in Check
Stocks ended Friday's trading session paring gains as surprising April job growth data was offset by more worrying news about Greece.
NEW YORK (
) -- Stocks pared gains Friday as surprising April job growth data that helped soften worries over the impact of soaring commodity prices on the economic recovery was offset by more worrying news about Greece.
The Dow ended up 55 points, or 0.4%, at 12,639. The
S&P 500
rose 5 points, or 0.4%, to end at 1340, and the
Nasdaq
closed up 13 points, or 0.5%, at 2828.
Germany's Der Spiegel magazine reported that debt-laden Greece is thinking of leaving the eurozone and reestablishing its own currency, and that European officials convened an emergency meeting to discuss this.
The euro was falling 1.3% to a one-week low of $1.43491 as the news unfolded -- even as Greek and European finance officials deny the report. Finance ministers will be meeting in Luxembourg Friday evening to discuss a loan restructuring plan for the Greece, according to several reports.
Greece's sovereign debt totals 327 billion euros or $470 billion.
The
economy added 244,000 jobs in April, according to the Labor Department's report, which far exceeded the job growth of 185,000 that the market had been expecting. Companies added 268,000 payrolls in April - the highest additions to private-sector payrolls since early 2006 - and well above the increase of 200,000 that economists had expected. April's figures compare to job growth of 221,000 in March and private sector job growth of 231,000. The unemployment rate unexpectedly rose to 9%. Wall Street had expected the level to remain unchanged at 8.8%.
Employers in health care, hospitality and manufacturing had some of the biggest staffing increases. The number of people unemployed for more than 27 weeks declined by 283,000 to 5.8 million.
"It's great to see a stronger-than-expected data point this week," said Jeff Kleintop, chief market economist at LPL Financial, adding that he felt the market reacted "in an exaggerated fashion" to some of the lower-than-expected economic data in recent weeks. "Hopefully this will bring some stability to commodities and show that we're on a path of slow economic growth, not deteriorating economic growth."
Oil prices traded back above the $100-a-barrel mark before weakening. The June crude contract fell $2.62 to settle at $97.18 a barrel. On Thursday, a stronger U.S. dollar and concerns about soaring commodity costs prompted a steep sell-off in raw materials.
The dollar strengthened against a basket of currencies, with the dollar index up by 0.9%.
Gold for June delivery rose $10.20 to settle at $1,491.60 an ounce, rebounding from the previous day's losses. "A 9% drop in gold prices is no rarer than tulips in spring," said Adrian Ash, head of research at BullionVault.com. "Top-to-bottom, gold fell harder than this in all of the last 10 springs except 2002, 2005 and 2007. Each of those drops then saw gold recover and breach its previous high by the next New Year following, averaging a rise of 9.7%."
The heavy construction stocks finished the trading session as the leading industry group, with
Orion Marine Group
(ORN) - Get Orion Group Holdings, Inc. Report
up 9.3% to $10.66. Travel and tourism stocks were the biggest industry laggard, with online travel company
priceline.com
(PCLN)
down 2.8% to $519.14.
Priceline.com easily surpassed analysts' expectations for a profit of $2.46 a share with adjusted earnings of $2.66 a share late Thursday. The stock, however, fell as investors took profits.
Intel
(INTC) - Get Intel Corporation Report
,
Procter & Gamble
(PG) - Get Procter & Gamble Company Report
and
JP Morgan
(JPM) - Get JPMorgan Chase & Co. Report
lagged on the Dow. Of the 1 billion shares that traded on the New York Stock Exchange, 69% gained ground while 30% retreated. On the Nasdaq, 2 billion shares were traded.
Kraft Foods
(KFT)
shares topped the Dow, ending up 2.1% to $34.08. Kraft
beat analysts' first-quarter profit estimates. Lawrence Creatura, portfolio manager at Federated Investors, notes that nearly 70% of companies reporting for revenue growth in the first quarter so far are beating both the top and bottom line. Creatura believes that companies are prepared to start hiring again in the next few months as they deploy the piles of cash they're sitting on. "This in turn will drive markets higher into the summer, towards Federated's S&P forecast of 1,450 by year end."
Alcoa
(AA) - Get Alcoa Corporation Report
traded up 0.8% to $17.15 after the company's board announced a quarterly dividend of 3 cents a share.
Global payments company
Visa
(V) - Get Visa Inc. Class A Report
reported a second-quarter profit of $1.23 a share late Thursday, topping analysts' estimates by 3 cents. Shares rose 0.9% to $79.41.
Shares of
Alcatel-Lucent
(ALU)
listed on the New York Stock Exchange and traded 3% lower at $6.07 after the
French telecom reported a narrowed first-quarter loss of €10 million ($14.5 million) and quarterly sales of €3.74 billion. That compares to sales of €3.25 billion a year earlier.
Hong Kong's Hang Seng shed 0.4% and Japan's Nikkei lost 1.5%. The FTSE in London added 1% and the DAX in Frankfurt gained 1.6%.
The benchmark 10-year Treasury fell 2/32, lifting the yield to 3.16%. It was a "tame" bond selloff in response to the strong nonfarm payroll report, pointed out David Ader, head of government bond strategy at CRT Capital.
"Our view is that as firm as NFP (nonfarm payroll) was, it doesn't offset the balance of the
April jobs data entirely and that the correction in commodities in particular challenges the bond bears' insistence that commodities were an inflationary signal," Ader said of
the previous day's plunge in commodity prices.
"For instance, a representation of inflation expectations that the Fed is missing," Ader said in a note.
.
--Written by Melinda Peer and Andrea Tse in New York
.