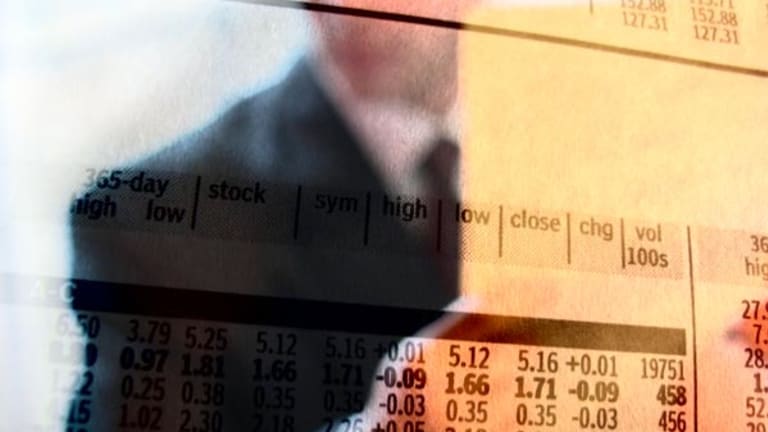 Stocks Crushed by Europe Debt Concerns
Investors reject risk and bid up bonds, sending the yield on the 10-year Treasury to record lows, amid ongoing uncertainty about the future of the eurozone.
NEW YORK (
) -- Stocks were beaten down Wednesday with all three major U.S. equity indices finishing near session lows as worries about Europe's deteriorating debt situation continued to sap investor appetite for risk.
Borrowing costs rose in Spain and Italy as eurozone leaders struggled to settle on a course of action, while a new survey found popular opinion in Greece favors a softening of the austerity measures that the country's current bailout plan is contingent upon. The European Union floated a proposal for a unified banking system for the eurozone earlier in the day, but that did little to stabilize the situation as the euro was pushed back down near a two-year low vs. the dollar.
A worse-than-expected read on a U.S. pending home sales index also contributed to the selloff, which was accompanied by heightened volatility in other asset classes. Oil dropped below $90 a barrel, and demand for bonds soared sending the yield on the 10-year Treasury to new record lows. Despite a bout of weakness earlier in the session, gold settled sharply higher.
The
Dow Jones Industrial Average
finished down 161 points, or 1.3%, at 12,420. The session low was 12,396.
The
S&P 500
lost 19 points, or 1.4%, at 1313. The
Nasdaq
fell 34 points, or 1.2%, at 2837.
With only one trading day left, May is set up for a particularly ugly finish. The Dow is down 6% for the month with only five positive finishs. The Nasdaq has lost 6.9% and the S&P 500 has surrendered 6.1%. Year-to-date, the indices are still up 1.7%, 8.9%, and 4.4% respectively.
Twenty-nine of 30 components closed in the red, led by
Alcoa
(AA) - Get Alcoa Corporation Report
,
Bank of America
(BAC) - Get Bank of America Corp Report
,
Caterpillar
(CAT) - Get Caterpillar Inc. Report
,
Chevron
(CVX) - Get Chevron Corporation Report
and
Exxon Mobil
(XOM) - Get Exxon Mobil Corporation Report
.
Intel
(INTC) - Get Intel Corporation Report
was the only blue-chip stock to close higher, adding 0.2%.
In the broad market, the energy, consumer cyclicals and capital goods sectors were being hit hardest. On the New York Stock Exchange, losers outpaced winners by a more than 6-to-1 ratio, while the ratio on the Nasdaq was close to 4-to-1.
July oil futures settled down $3.16 at $87.60, while August gold futures were up $15.40 to settle at $1,566.40 an ounce.
The benchmark 10-year Treasury soared 1 6/32, lowering the yield to 1.621% and the greenback rose 0.7%, according to the
.
London's FTSE 100 settled down 1.7% and Germany's DAX closed down 1.8%.
Hong Kong's Hang Seng Index settled down 1.9% and the Japan's Nikkei Average closed down 0.3% after China's official news agency said the Chinese government does not plan to carry out another round of large scale stimulus.
"We have those three bugaboos out there - China slowing down, the European situation, and the old fiscal cliff in the U.S.," said John Fox, co-manager of the FAM Value Fund
In U.S. economic news, the National Association of Realtors reported that the April U.S. pending home sales index fell 5.5% to 95.5, the lowest level since December, from a downwardly revised 101.1 in March. Still, the index for April is elevated from the same time last year, when it sat at 83.5. Economists surveyed by
Briefing.com
expected pending home sales to rise 2%.
In corporate news,
Research In Motion
(RIMM)
late Tuesday forecast an operating loss for its fiscal first quarter. The BlackBerry maker added that it expects its "financial performance will continue to be challenging for the next few quarters." RIM also said it has hired bankers to help with its review of its strategic options and that it planned to make "significant" reductions in its work force. The stock finished down about 7.8%.
Shares of
Facebook
(FB) - Get Meta Platforms Inc. Class A Report
, the social networking giant, closed lower again on Wednesday, sliding 2.3%. The stock, which is fast becoming a favorite of short sellers, lost nearly 10% of its market capitalization on Tuesday amid reports that it's was possibly planning to make a run at acquiring Norway's
Opera Software
. At Wednesday's low of $27.86, the shares were down nearly 27% from the IPO pricing of $38 each.
Pep Boys
(PBY) - Get Prospect Capital Corporation 6.25 % Notes 2018-15.06.28 Report
shares dropped nearly 20% after the Philadelphia-based auto parts and services company agreed to terminated its merger deal with buyout firm Gores Group, which is paying Pep Boys $50 million in fees as reimbursement for merger-related costs.
Shares of
Teavana Holdings
(TEA)
were among the biggest percentage decliners after the Atlanta-based specialty retailer reported an in-line profit for its fiscal first quarter but came up short on the top line. Sales rose 27% year-over-year to $44.3 million in the April-ended period, slightly below the average estimate of analysts polled by
Thomson Reuters
for sales of $45.1 million. The stock was off 18%.
Monsanto
(MON)
got a 2%-plus lift after the seed company lifted its earnings outlook for fiscal 2012, forecasting ongoing growth in profits of more than 25% and free cash flow at the high end of its previous view. The company, which cited a strong end to the seed-selling season, now sees ongoing earnings of $3.65 to $3.70 a share for the year, ahead of the current consensus view for a profit of $3.58 a share.
-- Written by Andrea Tse in New York.