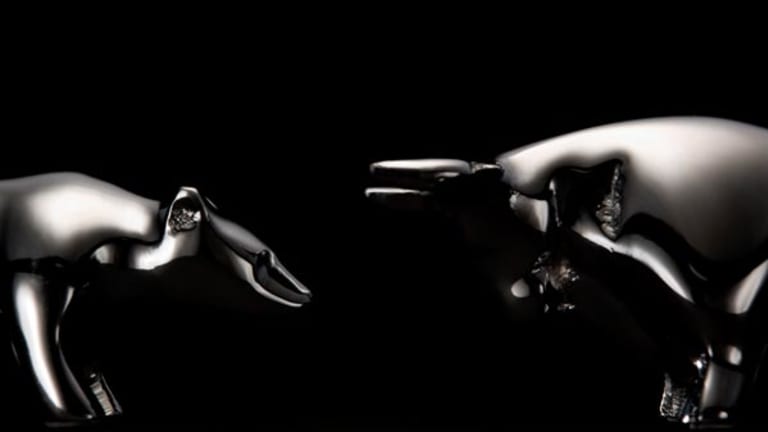 Stocks Snap Three-Week Losing Streak But Concerns Linger
Wall Street ends the week on a down note as persistent eurozone worries keep buyers at bay ahead of the long Memorial Day weekend.

NEW YORK (TheStreet) -- Stocks closed on a weak note Friday, as investors remained concerned about the mounting eurozone crisis heading into the holiday weekend.
A much stronger than expected final read on consumer sentiment failed to bring out the buyers as the headlines from across the pond were predictably dour, including news that the bailout tab for partially nationalized Spanish institution Bankia will be roughly $24 billion. In addition, Standard & Poor's moved to downgrade Spain's biggest banks amid the threat of a double-dip recession in the country.
Volumes were low with 2.86 billion shares trading on the New York Stock Exchange and only 1.2 billion in play on the Nasdaq.
The
Dow Jones Industrial Average
dropped 76 points, or 0.6%, to close at 12,454, after trading as high as 12,533.
The
S&P 500
finished lower by 3 points or 0.2% to close at 1318. The
Nasdaq
dipped nearly 2 points, or 0.1%, to close at 2837.
Stocks did manage to break their three-week losing streak however, with the Dow adding 0.7% over the week. The S&P 500 gained 1.7% over the week, and the Nasdaq rose 2.1%.
Breadth within the Dow was negative with 22 stocks finishing lower, led by
JPMorgan Chase
(JPM) - Get JPMorgan Chase & Co. Report
,
Caterpillar
(CAT) - Get Caterpillar Inc. Report
and
Boeing
(BA) - Get Boeing Company Report
. Basic materials, capital goods and transportation were the hardest-hit sectors.
Shares of JPMorgan fell 1.5%. CEO Jamie Dimon has been called to testify before the Senate on June 7 regarding the bank's massive trading loss. The bank continues to reel from the damage of the disclosure, with calls to
break up the bank growing louder.
The worries about the fiscal health of Spain and the financial stability of its banking system flared up on Friday, causing the euro to retreat to a two-year low.
Aside from the Bankia bailout news, Standard and Poor's cut its ratings on five banks with Bankia's bonds seeing a cut to junk status. The rating agency also raised its risk assessment of Spain's economic imbalances to "very high risk" from "high risk."
Adding to the mix, traders were dealing earlier in the day with a
Financial Times
report that some of Europe's largest fund managers were dumping their euro assets on Greek uncertainties.
"The ripple effects -- that's what everybody's worried about with Europe," said Doug Roberts, chief investment strategist at ChannelCapitalResearch.com.
He thinks if European leaders were able to come up with a temporary six-month fix for eurozone debt contagion problems amid their ongoing meetings, it could be enough to get the markets "back to the races."
Still, London's FTSE settled up 0.03%, and the DAX in Germany closed up 0.4% amid signs that consumer confidence was stabilizing in the country. Earlier in Asia, the Hang Seng index in Hong Kong settled up 0.3% and Japan's Nikkei closed up 0.2%.
In the U.S., investors were stepping back to digest the negative headlines ahead of the long weekend. "Desks are half-staffed, or there's just a skeleton crew at most desks and things are quiet" ahead of the Memorial Day holiday weekend, said Lawrence Creatura, portfolio manager at Federated Investors.
"Given that everybody made money earlier in the year, they're figuring, 'what I'll do is given all this risk, let me take some stuff off the table and I'll go to the beach,'" said Doug Roberts,
A bright spot in the headlines was the far-better-than-expected final read for the Thomson Reuters/University of Michigan index of consumer sentiment in May, which increased to 79.3 -- the strongest since October 2007 -- from the preliminary read of 77.8, most likely due to falling gasoline prices. Economists on average were expecting a repeat the previous read.
But after this week's thin economic calendar, some market watchers were already looking ahead to upcoming key datapoints.
"Next week's avalanche of data will offer an important test" for the Federal Reserve to see whether economic data can soften "just enough" in the coming weeks to provide the necessary cover for more monetary easing, Societe Generale said. Now that the midpoint of the year is approaching, the "fiscal cliff" is becoming a growing source of concern for the Fed, they said.
In corporate news,
Facebook
(FB) - Get Meta Platforms Inc. Class A Report
shares were down nearly 4% at $31.91. Damage claims by top market makers against the
Nasdaq OMX Group
related to the exchange's mishandling of the social networking giant's initial public offering a week ago could amount to more than $100 million, according to a
Reuters
report.
Knight Capital
(KCG)
,
Citadel Securities
,
UBS
(UBS) - Get UBS Group AG Report
and
Citigroup's
(C) - Get Citigroup Inc. Report
Automated Trading Desk, and other traders continue to deal with thousands of customer order complications, the report said.
Morgan Stanley
(MS) - Get Morgan Stanley Report
plans to adjust thousands of trades to ensure outstanding limit orders to sell will be filled at no more than $42.99 a share for Facebook stock from last Friday's botched IPO, the firm told its brokers on Thursday, according to several who listened to the call, Reuters reported.
VeriFone Systems
(PAY)
, the electronics payment technology company, on Thursday forecast non-GAAP earnings of 68 cents to 70 cents a share for its fiscal third quarter ending in July on revenue ranging from $495 million to $500 million, below analysts' expectations for revenue of $502.2 million and profit of 70 cents a share. The stock shed nearly 16%.
Semtech
(SMTC) - Get Semtech Corporation Report
, the semiconductor company, said it expects to post adjusted earnings of 37 cents to 45 cents a share on sales of $146 million to $154 million in the second quarter, while analysts are forecasting earnings of 41 cents a share on sales of $149.1 million. The stock rose 1.6%.
Chesapeake Energy
(CHK) - Get Chesapeake Energy Corporation Report
shares gained nearly 1.5% upon rumors that activist investor Carl Icahn is amassing a big stake in the energy company and a separate
CNBC
report that
BlackRock
(BLK) - Get BlackRock, Inc. Report
could be bumping its stake in the company up to as many as 5 million shares from 1 million shares.
Creatura of Federated Investors thinks that deal activity will pick up again because "the price is right," sellers have more "realistic attitudes" about the true valuation of their companies, and buyers are "desperate" for ways to grow.
Shares of
Talbots
(TLB)
crashed more than 40% after the women's retailer ended takeover talks with private-equity firm Sycamore Partners.
The benchmark 10-year Treasury was up 10/32, lowering the yield to 1.744% and the greenback was flat to modestly positive, according to the
The July crude oil contract added 20 cents to settle at $90.86 a barrel and June gold futures rose $11.40 to settle at $1,568.90 an ounce.
-- Written by Andrea Tse and Shanthi Bharatwaj in New York.
>To contact the writer of this article, click here:
Andrea Tse
.