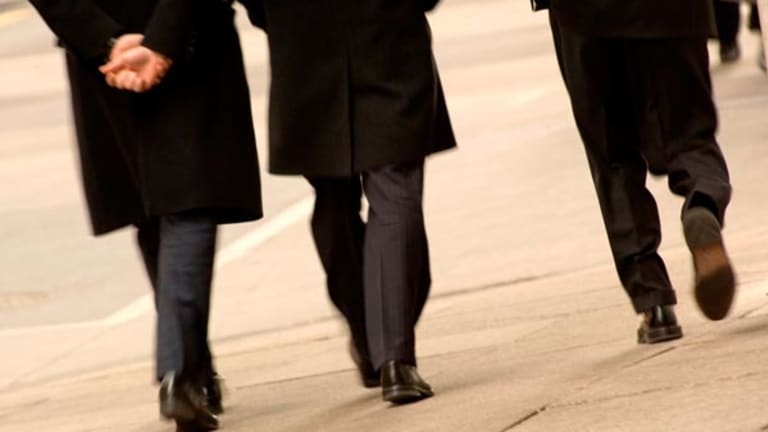 Stocks Get Small LinkedIn Boost
Stocks settled with small gains Thursday as the buzz surrounding the strong debut of LinkedIn prevailed over tepid economic data.
NEW YORK (
) -- Stocks settled with modest gains Thursday as the buzz surrounding the strong debut of
LinkedIn
(LNKD)
prevailed over tepid economic data.
The
Dow Jones Industrial Average
closed ahead by 45 points, or 0.4%, at 12,605. The
settled up 3 points, or 0.2%, at 1344, and the
Nasdaq
gained 8 points, or 0.3%, at 2823.
Professional networking service LinkedIn
soared on listing Thursday morning, blasting more than 120% to its current $99.02 from its initial public offering of $45 per share.
"The listing of LinkedIn was a real catalyst for the higher open," said Pado. "There was all this excitement around a big IPO opening which we have not had in a long time," he said.
Pado attributed the strong performance of LinkedIn to investor preferences for leaders in new technology. "If you look at Hewlett Packard and
Apple
(AAPL) - Get Free Report
, we see that consumers are moving away from PCs and buying tablets and smartphones. ... It means consumers are buying, but they just want new technology. LinkedIn is in the high tech area. And we want to see a lot of excitement when an IPO like that come to the market."
Economic data came in mixed on Thursday and dampened investor enthusiasm during the early hours of trading. The Labor Department said early Thursday that the number of Americans filing for unemployment insurance for the first time dropped 29,000 to a seasonally adjusted level of 409,000 in the week ended May 14, from 438,000 in the previous week, according to
Briefing.com
.
Continuing claims dropped 81,000 to 3.711 million from 3.792 million. The sharper than expected drop in claims data suggested that layoffs might be on a downtrend once again after spiking in recent weeks.
The National Association of Realtors said existing-home slid 0.8% to 5.05 million in April from a downward revised 5.09 million in March. Economists expected existing home sales to rise 5.23 million.
The Philadelphia Federal Reserve said regional manufacturing activity improved slightly in May, but the index fell from its readings in the previous month. The Philadelphia Fed Index dropped sharply to 3.9 from 18.5 in April, its lowest reading since October.
Meanwhile, the Conference Board said the Leading Indicators Index dropped 0.3% in April after rising 0.7% in March.
"The economy is slowing down but not dramatically. That is the mindset in the market now," said Marc Pado, U.S. market strategist at Cantor Fitzgerald. "Investors are moving away from the risky growth names to conservative plays for the summer. This is very typical behavior in May. It is a classic rotation pattern."
Aerospace, conglomerates and restaurants also helped lead the markets higher Thursday.
Boeing
(BA) - Get Free Report
,
American Express
(AXP) - Get Free Report
,
General Electric
(GE) - Get Free Report
,
United Technologies
(UTX) - Get Free Report
and
McDonald's
(MCD) - Get Free Report
were the Dow's biggest gainers.
Shares of
Intel
(INTC) - Get Free Report
fell 1.4% to close at $23.54 after Goldman Sachs cut the rating on the stock to sell, citing lower processor shipments, rising competition and its record capex spending. The chipmaker was the biggest laggard on the Dow.
In other news,
Dominique Strauss-Kahn resigned as the head of the International Monetary Fund amid allegations that he sexually assaulted a maid in a New York hotel. The IMF will begin the search for a new director.
The FTSE in London rose 0.5%, and the DAX in Frankfurt finished higher by 0.8%.
In Asian markets, Japan's Nikkei fell 0.4% after it said its economy contracted by a worse-than-expected 3.7% last quarter as the March 11 earthquake and tsunami hit consumer spending and business investment. Hong Kong's Hang Seng added 0.6%.
The July crude oil contract lost $1.63 to settle at $98.93. Gold for June delivery lost $3.40 to settle at $1,492.40 an ounce.
"The 'bubble' chorus only grew louder as gold hit new dollar highs in
the first quarter," BullionVault Head of Research Adrian Ash said in an email. "But U.S. investors actually cut back their new gold buying, as the marginal precious-metal dollar went to silver instead. It was savers in the emerging-market giants of India and China that led the underlying price rise. For as long as monetary policy worldwide seeks to drive down the value of cash, both look set to keep buying ever-more metal."
Sears
(SHLD)
reported a loss of $170 million, or $1.58 per share, a swing from a year-ago profit of $16 million, or 14 cents per share. Analysts surveyed by Thomson Reuters expected the retailer to post a loss of $1.22 a share. Shares fell 2.6% to $73.86.
Williams Sonoma
(WSM) - Get Free Report
said first-quarter profit jumped 63% to $31.6 million, or 29 cents per share. Excluding items, earnings rose to 30 cents a share, topping estimates of 28 cents. The retailer also raised its forecast for the year by 2 cents to a range of $2.13 to $2.21 per share. Shares, however, tumbled 4.8% to $41.20.
Gamestop
(GME) - Get Free Report
said net income rose to $80.4 million or 56 cents per share, up from $75.2 million or 48 cents per share. However, the company's second-quarter guidance missed analyst expectations. Shares rose 2.4% to $27.32.
The benchmark 10-year Treasury was stronger by 4/32, diluting the yield to 3.171%. The dollar was trading lower against a basket of currencies, with the dollar index last down by 0.4%.
.
--Written by Shanthi Bharatwaj and Andrea Tse in New York
.