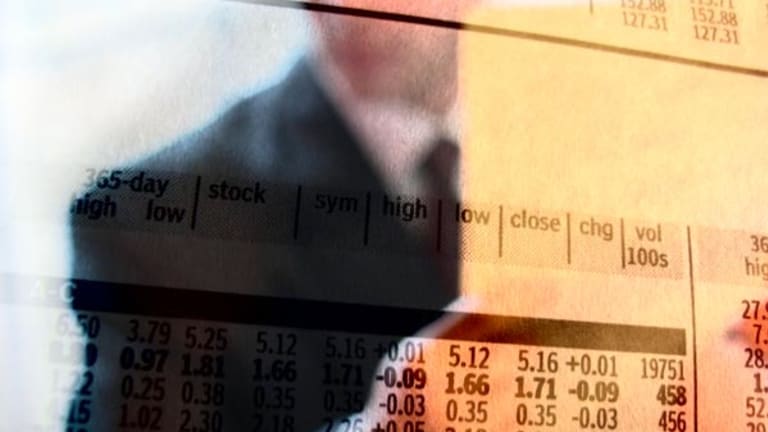 Stocks Extend Losing Streak As Euro Concerns Dominate
It was a fifth straight decline on Wall Street as eurozone debt contagion fears flared up and the Philly Fed manufacturing survey disappointed.

NEW YORK (TheStreet) -- Stocks fell for the fifth straight trading session Thursday, pulled lower by continued eurozone debt contagion worries and a disappointing read on manufacturing activity in the Philadelphia region.
The
Dow Jones Industrial Average
fell 156 points, or 1.2% to close at 12,442. The blue-chip index has now lost ground in five straight sessions, and 11 of the past 12 trading days.
The
S&P 500
dropped 19 points, or 1.5%, at 1304, and the
Nasdaq
shed 60 points, or 2%, to close at 2813.
Worries about the future of the euro continued to dominate the markets, as Fitch Ratings downgraded Greece's credit rating by a notch on "heightened risk" that it will exit the euro zone.
Meanwhile, Spain's borrowing costs were on the rise again and
Moody's
(MCO) - Get Moody's Corporation Report
delivered an
of multiple Spanish banks late in the day, adding to the anxiety.
The 10-year Treasury note rallied 18/32, with yields falling to 1.706%, the lowest level since September.
Breadth within the Dow was negative with 24 of the index's 30 components in decline. The biggest percentage losers in the index were
Caterpillar
(CAT) - Get Caterpillar Inc. Report
,
JPMorgan Chase
(JPM) - Get JPMorgan Chase & Co. Report
,
Home Depot
(HD) - Get Home Depot, Inc. Report
,
American Express
(AXP) - Get American Express Company Report
and
Boeing
(BA) - Get Boeing Company Report
.
Wal-Mart
(WMT) - Get Walmart Inc. Report
though popped more than 4% after the world's largest retailer reported Thursday first-quarter earnings of $3.74 billion, or $1.09 a share, up from year-earlier earnings of $3.39 billion, or 97 cents a share.
Analysts, on average, were looking for a profit of $1.04 a share in the April-ended period on sales of $110.54 billion. Wal-Mart sees second-quarter earnings of between $1.13 and $1.18 a share; analysts are expecting $1.16 a share.
Other Dow components on the rise included
Verizon Communications
(VZ) - Get Verizon Communications Inc. Report
,
AT&T
,
Alcoa
(AA) - Get Alcoa Corporation Report
and
Chevron
(CVX) - Get Chevron Corporation Report
.
Hewlett-Packard
ticked higher following a
that the company is planning to cut 8% of its workforce, roughly 25,000 jobs, according to
Bloomberg
.
In the broader market, number of losers outpaced winners by 6-to-1 on the
New York Stock Exchange
and nearly 5-to-1 on the
Nasdaq
.
From a sector standpoint, capital goods and transportation stocks were under the most pressure, followed by technology, consumer non-cyclicals and financials.
In domestic news Thursday, the Philadelphia Federal Reserve said that its general economic index fell to minus 5.8 in May from 8.5 in April. This was a big miss as economists surveyed by
Thomson Reuters
had expected the index to rise to 10.
The Conference Board's report of leading economic indicators for April was also a disappointment. The report showed a decline of 0.1% in April after a gain of 0.3% in March. Economists had forecasts a rise of 0.2% for last month. The Conference Board attributed the drop to rising jobless claims and falling housing prices.
"Leading economic indicators came out weaker than expected, as did the
Philadelphia Fed reading that went negative," said Sam Stovall, chief equity strategist, S&P Capital IQ. "I think people are worried that, 'gee, it's not just a European and possibly an Asian situation,' but surprise, surprise the U.S. is not decoupling from the rest of the world -- that we might have our economic problems as well."
Also on Thursday, the Labor Department reported that initial jobless claims were unchanged at a seasonally adjusted 370,000 in the week ended May 12 from an upwardly revised figure of 370,000 the prior week. Economists surveyed by Thomson Reuters had forecast a fall in claims to 365,000 last week from 367,000 the week before.
London's FTSE settled down 1.1% and the DAX in Germany fell 1%.
"Chances are this market decline will be contained to a pullback - the average pullback is 7%, which is a decline to 1,320 on the S&P ... but widen that band and you could go down to 1,278 and still be within that 10% decline," said Stovall.
In the eurozone, Spain saw borrowing costs rise amid fears about the health of its economy, though its latest debt auction went relatively smoothly with the country raising €2.5 billion ($3.2 billion).
For bonds maturing in January 2015, Spain had to pay an interest rate of 4.373%, up from 2.89% in April.
For bonds maturing in April 2016, interest rates rose to 5.106%, up from 3.374% in March.
Fears about Spain's banking sector also grew following reports that more than €1 billion have been withdrawn from the nation's fourth largest bank,
Bankia,
over the past week. The government has denied these reports.
Meantime, the outlook on Greece's ability to abide by the austerity measures integral to its bailout deal with international creditors is becoming increasingly confusing as public opinion polls show that the Greek leftist Syriza party -- the second most popular one in the general elections earlier in May and a party whose platform is based on anti-austerity -- would probably win the largest portion of votes casts in the re-election likely slated for June 17.
"Eighty percent plus of the Greek population wants to stay in the Eurozone, the question is can the two ruling parties ... make that the referendum?," said John Canally, investment strategist, LPL Financial. "It's hard to see breaking out of this sort of doldrums anytime soon, until we get more clarity there."
The Hang Seng Index in Hong Kong fell 0.3% and Japan's Nikkei average finished up 0.9% on Thursday.
The greenback was flat at 81.375 according to the
. The euro was trading at a four-month low of $1.27.
The June crude oil contract fell 25 cents to settle at $92.56 a barrel. June gold futures rose $38.30 to settle at $1,574.90 an ounce.
In other corporate news,
Facebook
(FB) - Get Meta Platforms Inc. Class A Report
priced its initial public offering
at $38 per share, the higher end of the range, valuing the company at more than $100 billion and making it the largest internet IPO ever.
Sears Holdings
(SHLD)
reported first-quarter profit of $189 million, or $1.78 a share, a reversal from a year-earlier loss of $170 million, or $1.58 a share. The latest quarter included about $200 million of gains from the sale of some U.S. and Canadian stores.
Sears posted an adjusted first-quarter loss of 31 cents a share, compared with an adjusted year-earlier loss of $1.34 a share. The retailer, which also announced plans for a partial spin-off of its holdings in Sears Canada, was expected by analysts to post a quarterly loss of 67 cents a share. Sears shares rose 3%.
Shares of
GameStop
(GME) - Get GameStop Corp. Class A Report
plunged more than 10% after it forecast second quarter earnings below estimates amid a slowing market for videogame and software. For the second quarter, GameStop expects earnings of 10 cents to 18 cents per share, below analysts' estimates of 25 cents per share, according to
Thomson Reuters.
Limited Brands
(LTD)
, the specialty retailer, whose brands include Victoria's Secret and Bath & Body Works, said Wednesday it expects second-quarter earnings of 40 to 45 cents a share. Analysts polled by
Thomson Reuters
were looking for a profit of 50 cents a share in the July-ending quarter. For the full year, Limited said it expects earnings of $2.63 to $2.83 a share; Wall Street's current consensus estimate is $2.83 a share. Shares of Limited fell 4.4%.
-- Written by Andrea Tse and Shanthi Bharatwaj in New York.
>To contact the writer of this article, click here:
Andrea Tse
.