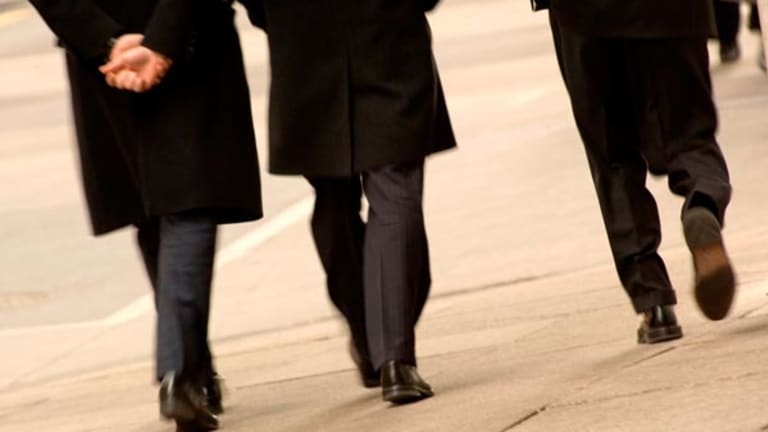 Stocks Finish Mixed on Weak Data, HP Outlook
Stocks close on a mixed note as worrisome economic data and a poor forecast from HP lead to declines in the Dow and S&P 500 but the Nasdaq manages a gain.
NEW YORK (
) - Stocks finished on a mixed note Tuesday with the action colored by worrisome economic data and a weak outlook from
Hewlett-Packard
(HPQ) - Get Report
.
The
Dow Jones Industrial Average
fell 69 points, or 0.5%, at 12,479, but the blue-chip index saw a significant bounce after scraping an intra-day low of 12,379. Late-session buying also helped the
S&P 500
finish marginally lower at 1329, after it shed as much as 10 points earlier in the session. The
Nasdaq Composite
posted a gain of less than a point, edging up 0.03%, at 2783.
Technology was among the session's weakest sectors after
Hewlett-Packard
(HPQ) - Get Report
reported adjusted second-quarter earnings of $1.24 a share, topping expectations for earnings of $1.21 a share, but
lowered its guidance for the current quarter and full year, citing soft consumer spending and weak PC demand.
HP moved its earnings release up to Tuesday morning from late Wednesday after
Bloomberg
reported on
a memo written by CEO Leo Apotheker to HP top executives warning of "another tough quarter.". The stock plunged 7.3% at $36.91.
Hewlett-Packard was the Dow's biggest laggard followed by
Caterpillar
(CAT) - Get Report
,
Alcoa
(AA) - Get Report
,
Boeing
(BA) - Get Report
and
3M
(MMM) - Get Report
.
After the bell,
Dell
(DELL) - Get Report
is
reported first-quarter earnings that beat analyst estimates, though it was short on revenue projections. Dell reported a profit of 55 cents per share on revenues of $15.02 billion. Analysts were expecting earnings of 44 cents a share on $15.41 billion revenues.
Before the opening bell,
Wal-Mart
(WMT) - Get Report
reported
better-than-expected results with earnings of 98 cents a share and sales of $103.4 billion on strength from its overseas business, while sales within the U.S. fell 1.1%. The stock lost 0.9% at $55.54.
Shares of
Home Depot
(HD) - Get Report
did better, adding 1.1% to $37.40 after the Atlanta-based home improvement products retailer reported
first-quarter earnings that topped analysts' estimates by a penny at 50 cents a share even though total sales fell 0.2% and same-store sales slipped 0.6%.
Home Depot was among the Dow's top performers alongside
JPMorgan Chase
(JPM) - Get Report
,
IBM
(IBM) - Get Report
and
American Express
(AXP) - Get Report
.
The Department of Commerce said housing starts fell 10.6% in April to 523,000, from March's level of 585,000, and building permits declined 4% to 551,000, from 574,000 in March. Economists had expected housing starts to rise 2.6% to 563,000 in April, from March's originally reported level of 549,000, and building permits were slated to dip only 0.7% to 590,000, according to Briefing.com.
The
Federal Reserve
said industrial production remained unchanged in April after rising 0.7% in March. The market had been expecting an increase of 0.5% after initially reported growth of 0.8% in March, according to Briefing.com. Capacity utilization unexpectedly slipped to 76.9% in April from 77% in March, compared with expectations for utilization of 77.7% from March's originally-reported level of 77.4%.
"Once again we're seeing weak macroeconomic numbers and month-ago figures that were ratcheted down, which is another manifestation of at least a plateauing economy, if not a slowing down economy, which isn't good for stocks," said Jay Suskind, senior vice president at Duncan Williams. "Although Wal-Mart's earnings looked decent, Hewlett-Packard said the rest of the year isn't looking that great, so earnings today were pretty much a nonevent."
"Right now, the market is pretty unsure of whether this economy is decelerating or if we're just in a bit of a soft patch. I think the market is going to trade sideways until we start seeing some stronger economic data. Meanwhile, commodities are continuing to sell off, which will likely keep the market down in the short term since it signals lower demand," Suskind said.
The June crude oil contract slid 46 cents to settle at $96.91 a barrel, after touching $95 earlier in the session. Gold for June delivery shed $10.60 to settle at $1,480 an ounce.
New York's attorney general has opened an investigation into the mortgage securities operations of
Bank of America
(BAC) - Get Report
,
Morgan Stanley
(MS) - Get Report
and
Goldman Sachs
(GS) - Get Report
during the credit boom.
Shares of
Janus Capital
(JNS)
shed 6.4% at $10.14. The fund, which has been facing outflows for two straight years, had two of its largest equity funds pulled from a Bank of America/Merrill Lynch model equity portfolio,
Bloomberg News
reported, citing two sources familiar with the matter.
Massey Energy
(MEE)
,
Wells Fargo
(WFC) - Get Report
,
American Electric
(AEP) - Get Report
,
First Horizon
(FHN) - Get Report
and
Capital One Financia;
(COF) - Get Report
were the top performers on the S&P 500.
Earlier,
European finance ministers approved a $110 billion financial package for Portugal but are still debating support options for Greece since the €110 billion ($155 billion) bailout it approved last year hasn't been enough to float the country.
European markets fell. The FTSE in London shed 1% and the DAX in Frankfurt dropped 1.7%. In Asia, Hong Kong's Hang Seng shed 0.3% while Japan's Nikkei added 0.09%.
The benchmark 10-year Treasury rose 10/32, diluting the yield to 3.108%. The dollar weakened later Tuesday against a basket of currencies, with the dollar index last down by 0.2%.
.
--Written by Melinda Peer and Shanthi Bharatwaj in New York
.
Disclosure: TheStreet's editorial policy prohibits staff editors and reporters from holding positions in any individual stocks.