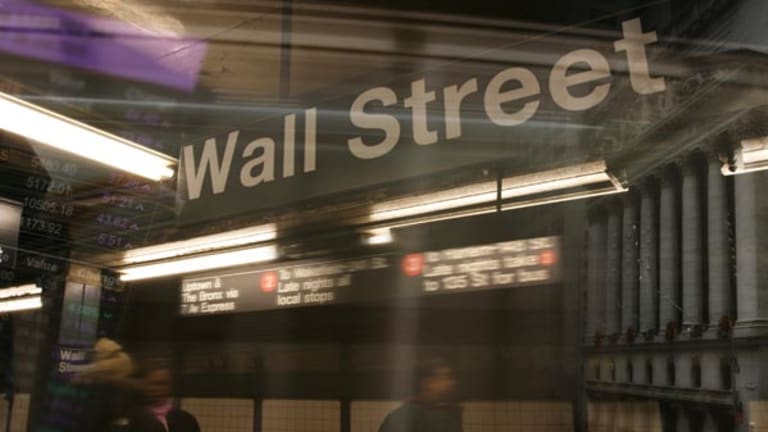 Stocks Succumb to Selling Pressure
The major U.S. equity indices all finish at their worst closing levels in more than three months as Greece's ongoing uncertainty continues to damage sentiment.

NEW YORK (TheStreet) -- Stocks again finished in negative territory Tuesday as the failure of Greek political leaders to form a new government continued to damage sentiment.
There were
reports late in the volatile session
that Greek banks were seeing heavier than normal outflows.
The
Dow Jones Industrial Average
fell 63 points, or 0.5%, to finish at 12,632, its worst close since Jan. 31. The blue-chip index is now down in nine of the past 10 sessions and has lost more than 223 points, or 1.7%, in the past three days.
The
shed nearly 8 points, or 0.57%, to settle at 1330, its weakest close since Feb. 2.
The
Nasdaq
reversed earlier gains to finish in the red as well, dropping 9 points, or 0.30%, to close at 2894, also its lowest level in more than three months.
Breadth within the Dow was negative with 24 of the index's 30 components moving lower.
Alcoa
(AA) - Get Free Report
,
Home Depot
(HD) - Get Free Report
and
Hewlett-Packard
(HPQ) - Get Free Report
were the biggest laggards among the blue chips, all losing more than 2% each.
JPMorgan Chase
(JPM) - Get Free Report
,
United Technologies
(UTX) - Get Free Report
and
Wal-Mart
(WMT) - Get Free Report
were among the few Dow stocks gaining ground.
Shares of JPMorgan rose more than 1% Tuesday after the bank successfully concluded its
annual shareholder meeting in Tampa, Fla. on Tuesday with little drama or protest.
But Mike Boyle, senior vice president at Advisors Asset Management, is skeptical that the sector is coming back in favor just yet.
"The JPMorgan announcement last week has people a little leery about what's going on with banks," he said. "Are the problems fixed? Is there more regulation coming?"
The bank's credit derivatives trade gone bad continues to attract scrutiny. New York City Comptroller John Liu is now demanding that JPMorgan clawback the compensation of employees directly responsible for the $2 billion loss. Meanwhile the Justice Department has opened a probe into the transaction, according to press reports.
Stocks tumbled Monday on Greece's inability to break a political impasse fueled speculation the country may eventually have to leave the eurozone and destabilize the entire continent.
By Tuesday, party leaders still hadn't formed a new government more than a week after the nation held elections that shifted power in its parliament.
After another round of failed talks among all the political parties in Greece , fragmented by their opposing views on fiscal austerity measures mandated by their European Union/International Monetary Fund bailout deal, leaders of the parties said Tuesday that Greece was headed for a fresh round of general elections in June.
The impact of this development -- not exactly a stunner given the disarray that's been evident in Greece since the elections less than 10 days ago -- was being mitigated by a much stronger-than-expected German gross domestic product report. The eurozone's leading economy posted preliminary, seasonally adjusted, first-quarter GDP growth of 0.5%, compared with a contraction of 0.2% in the fourth quarter. The performance beat even the highest estimate for growth of 0.2% among economists polled by
Thomson Reuters
.
On a year-over-year basis, Germany's economy expanded 1.7% in the first quarter from 1.5% in the fourth quarter. On average, economists surveyed by
Thomson Reuters
were expecting growth of 0.1% sequentially and 0.8% year on year.
"The raft of national GDP releases for Q1 paints a picture of an increasingly divergent euro area with the contrast between the northern and southern economies growing ever more stark," said Societe Generale analysts in an investor note.
London's FTSE finished lower by 0.5% and the DAX in Germany slid 0.8%.
"The majority of headlines people are probably focusing on are non-US equity based," said Boyle. "They're concerned about what's happening overseas, in the Eurozone specifically."
"What could turn things around?," said John Fox, co-manager of FAM Value Fund. "Probably some type of definitive action on Spain and definitive what's going to happen with Greece. How is Greece is going to leave?"
Peter Tuz, portfolio manager at Chase Investment Counsel, is also hoping for a boost leading up to Facebook's Friday public debut.
"I think if it does well, the market does well. If it doesn't do well, the market sells off," said Tuz.
The Hang Seng Index in Hong Kong settled up 0.8% and Japan's Nikkei average finished down 0.8%, hurt by exporters with European exposure.
The benchmark 10-year Treasury was up 1/32, diluting the yield to 1.771%. The greenback was up 0.73%, according to the
.
The June crude oil contract was off by $1.02 to settle at $94.78 a barrel. June gold futures fell $3.90 to settle at $1,557.10 an ounce.
In U.S. economic news, the Labor Department's April consumer price index was unchanged in April, as expected, after rising 0.3% in March. The core number, which excludes volatile food and energy items, rose 0.2%, also meeting the consensus view, after rising 0.2% in March.
The New York Federal Reserve reported that its May manufacturing index rose to 17.09 in May from 6.6 the prior month. Economists forecast the index would rise to 8.5.
The Commerce Department said that retail sales rose 0.1% in April, slightly below estimates of 0.2% growth after an advancement of 0.7% in March.
"Retail sales didn't go up by much but we're at all-time highs," said Fox. "We're above the pre-crisis high."
"What's probably new today is this starts the big earnings reporting season for some major retailers," said Tuz. "If the retailers have good numbers, maybe people will realize that Europe's problems are Europe's problems."
In corporate news,
Coty
said late Monday that
Avon Products
(AVP) - Get Free Report
has taken too long to respond to its $10.7 billion buyout offer so it's withdrawing the bid. Avon shares tumbled nearly 10%.
"Two months is enough," Coty Chairman Bart Becht
to Avon's board. "Consequently, as our deadline to begin discussions expired today, our proposal is withdrawn."
Groupon
(GRPN) - Get Free Report
, the online daily deals company, reported
better-than-expected quarterly earnings
after Monday's closing bell. Shares rose nearly 4%.
Groupon reported first-quarter earnings of 2 cents a share on revenue of $559.3 million. Analysts had forecast a profit of a penny a share on revenue of $530.6 million.
The Chicago-based company said it expects second-quarter revenue to be between $550 million and $590 million. The current consensus estimate is for revenue of $558.7 million.
Specialty retailers enjoyed a strong day with shares of
Dicks Sporting Goods
(DKS) - Get Free Report
and
TJX
(TJX) - Get Free Report
surging nearly 6% and 7% respectively after strong quarterly results.
Apple
(AAPL) - Get Free Report
shares lost nearly 1%. Sterne Agee saying it believes iPhone expectations for the next two quarters are too high.
"Based on our supply chain work, we believe significant iPhone upside over the next two quarters is less likely based on reduced supplier build plans," wrote analyst Shaw Wu, who has a buy rating and $780 price target on the stock. "Conversely, the likelihood of iPad upside appears higher due to additional screen supply."
J.C. Penney
(JCP) - Get Free Report
was a big disappointment after the close as the department store operator posted a wider than anticipated quarterly loss and discontinued its dividend. The stock was down more than 12% in extended trades.
-- Written by Andrea Tse and Shanthi Bharatwaj in New York.
>To contact the writer of this article, click here:
Andrea Tse
.