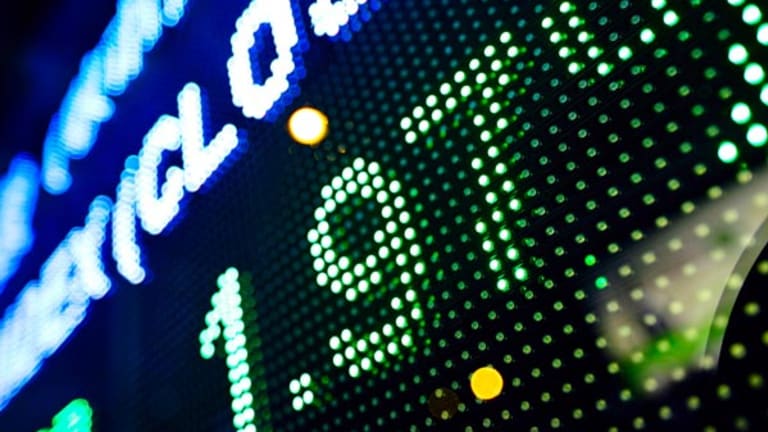 Dow Falls 204 Points in First Triple-Digit Loss of 2012
U.S. stocks endure their biggest drop of the year amid news of contraction in Europe and slower growth in other parts of the world.

NEW YORK (TheStreet) -- U.S. stocks saw their biggest one-day drop in nearly three months as the markets digested more evidence that Europe is sliding deeper into the doldrums and dragging down the pace of global growth.
The
Dow Jones Industrial Average
dropped 203.9 points, or 1.6%, at 12,759, making for the index's first triple-digit decline this year. All 30 Dow components closed in the red except Intel.
The
S&P 500
was down 21 points, or 1.5%, at 1343, and the
Nasdaq
finished behind by 40.2 points, or 1.4%, at 2,910. Basic materials, consumer cyclical stocks and financials were among the sectors posting the biggest losses as the CBOE volatility index jumped 16.2% to 20.97.
"The market has been sending warning signals lately and now it looks like the dip-buyers may be losing their zeal," noted James "Rev Shark" DePorre, founder and CEO of Shark Asset Management. "We have had only feeble bounce attempts after the big gap-down open. I don't think we've seen that sort of action all year."
A lack of U.S. economic news coupled with fears about slowing global growth hits stocks at the open. The S&P 500 has now tumbled two days in a row after finishing at its highest level since 2008 at the start of the month.
The European Union's statistics office confirmed Tuesday a previous report that Europe's economy shrank in the fourth quarter. Investments pulled back by the most in three years, while exports and consumer spending also declined. The continent's gross domestic product contracted 0.3% from the third quarter. Exports dipped 0.4% after a 1.4% increase in the preceding quarter. Household spending fell 0.4%..
The report added to news from yesterday that China is targeting slower growth this year.
The euro was approaching a three-week low amid concerns that Greece won't be able to complete its big restructuring deal. The country's private creditors have until Thursday night to accept the burden of a bond swap needed for Greece to receive its second, € 130 billion bailout package. Those who agree to the deal are expected to lose 53.5% of the value of any Greek bonds they own. A default in Greece could cause more than € 1 trillion ($1.3 trillion) of damage to the region, according to
Reuters.
London's FTSE closed lower by 1.65%, and Germany's DAX finished down 3.06%. In Asia, Japan's Nikkei Average finished lower by 0.6%, while Hong Kong's Hang Seng index closed down 2.2%.
Appetite for risk assets is likely to be kept in check until investors get a fuller picture of the global economy following Friday's U.S. nonfarm payrolls report. China's industrial output, investment and retail sales data is also scheduled for release on Friday.
In U.S. corporate news,
Dick's Sporting Goods
(DKS)
reported net income of 88 cents per share in the fourth quarter, meeting analysts' expectations on Tuesday. The company brought in net sales of $1.6 billion, compared to consensus forecast of $1.61 billion. For the full year 2012, Dick's Sporting Goods estimates earnings of $2.38 to $2.41 and a 2% to 3% increase in sales. Shares added 2.9% to $46.89.
Qualcomm
(QCOM)
announced a 16% increase in the company's quarterly dividend. The current dividend will increase to $0.25 a share from $0.215 a share, raising the annual dividend payout of $1 a share. The company's board also plans to repurchase $4 billion in stock instead of $3 billion. Shares were down 0.9% to $61.56.
Chesapeake Energy
(CHK)
, the second-largest natural-gas producer in the U.S., is expected to announce a $250 million partnership as soon as Tuesday with private-equity firm KKR to invest in U.S. oil and gas fields,
The Wall Street Journal
reported, citing people familiar with the matter.
Chesapeake hopes to raise between $10 billion and $12 billion this year through a combination of asset sales, joint ventures and other transactions, the
Journal
noted. The Chesapeake and KKR tie-up illustrates how U.S. oil and gas producers, hurt by slumping natural-gas prices and rising drilling costs, are hunting for sources of capital, the
Journal
said. Shares were down 2.8% to $23.56.
Supermarket chain
Safeway
(SWY)
said that it sees earnings of $1.90 to $2.10 a share for 2012. The forecast beat estimates for $1.88 for the full year, according to Thomson Reuters. In 2011, the company earned $1.78 a share. Sales, excluding gas, are expected to grow by 1% to 2% as the company expects to benefit from remodeling at many of its stores.Shares fell 5.4% to $20.89.
Drug wholesaler
AmerisourceBergen
(ABC)
said it would buy transportation and logistics service provider World Courier Group in a deal worth $520 million in cash. The deal is expected to close in the third quarter. Shares of AmerisourceBergen were down 0.7% to $36.28.
April oil futures were off $2.01 to $104.71 a barrel, while April gold futures closed down $31.80 to $1,672.10 an ounce.
The benchmark 10-year Treasury was up 21/32, diluting the yield to 1.95%, while the U.S. dollar index was up 0.6% at $79.79.
-- Written by Chao Deng and Andrea Tse in New York.
>To contact the writer of this article, click here:
Andrea Tse
.