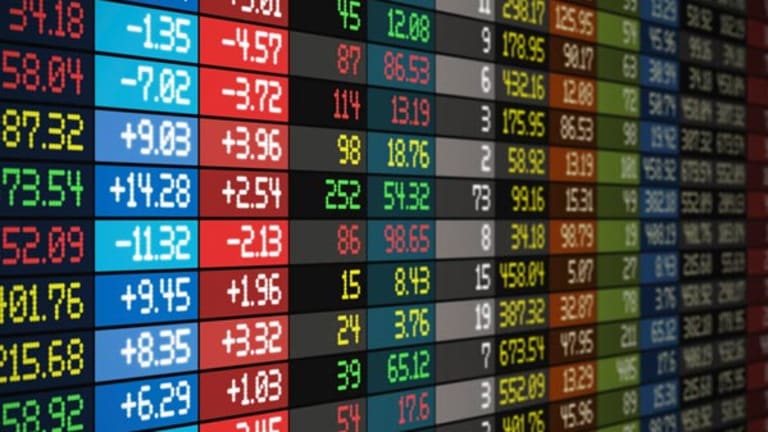 NEW YORK (
) -- Stocks settled lower on Monday as investors worried about the impact of the devastating earthquake and tsunami in Japan Friday, and as the nuclear crisis in the country deepens.
The
Dow Jones Industrial Average
fell by 62 points, or 0.5%, to close at 11,983. The
S&P 500
lost 7 points, or 0.6%, at 1,297 and
Nasdaq
shed 14 points, or 0.5%, at 2,701.
Shares of
General Electric
(GE) - Get General Electric Company (GE) Report
led the Dow lower, shedding 2.2% to $19.92 at the closing bell. GE supplied one of the reactors at
Tokyo Electric's
(TOELF.PK)
Fukushima nuclear plant, which has been rocked by two explosions in the last three days.
The latest explosion Monday is at the plant's No. 3 reactor, which authorities have been trying to cool after a system failure in the wake of the earthquake.
Hundreds of people in the vicinity of the plant have been ordered to stay indoors, although the plant operator has said the radiation levels were still within legal limits.
The disaster has raised concerns about the
U.S.'s own nuclear and energy policy, with uranium stocks coming under pressure.
Shares of uranium companies in the U.S. including
Denison Mines
(DNN) - Get Denison Mines Corp. Report
and
Uranium Resources
(URRE)
plunged more than 22% in the wake of the nuclear crisis in Japan.
"The nuclear power industry will come under scrutiny, and accordingly, nuclear-oriented stocks will fall," Luminous Capital partner Alan Zafran said in a note. "A number of governments may delay or even reconsider plans to expand their atomic energy strategies. Conversely, natural-gas stocks and other companies whose fortunes are tied to alternative energy techniques may rise as investors anticipate a correlating shift in consumption for their services."
The damaged Unit 1, left, and Unit 2, right, of the Fukushima Dai-ichi nuclear plant are seen in Okumamachi, Fukushima Prefecture.
Japan's Nikkei tumbled 6.2% on Monday, the first full trading day following the quake.
Bank of Japan voted Monday to double the size of its asset purchase program to a record 15 trillion yen ($183.7 billion) to ease liquidity concerns as Japan's heavily debt-burdened economy deals with the impact of what government officials have called its biggest crisis since World War II. The U.S. dollar/yen was volatile Monday with the dollar down 0.2% at 81.691 yen.
Estimates of the death toll from the disaster continue to climb, with the official estimate at 1,897, according to
CNN
. Tens of thousands are feared dead, according to
The Associated Press,
with rescue workers still unable to reach some of the hardest-hit areas of northeast Japan.
Ian Shepherdson of High Frequency Economics noted that the damage done to Japanese ports could make trade disturbances more likely but expects the overall impact from the disaster on the United States to be small.
"The importance of trade with Japan has been trending down for many years as a result of Japan's depression," the economist wrote in his daily note.
"The Japanese economy will be even weaker after the quake than before, though U.S. companies exporting capital equipment might enjoy a boost from reconstruction work. We simply don't know for how long the flow of goods to
the U.S. from Japan will be disrupted, but there will be some impact on the flow of goods and parts," wrote Shepherdson.
Asian markets finished mixed. Hong Kong's Hang Seng gained 0.4% and India's Sensex rose 1.5%. In Europe, Germany's DAX lost 1.7%, while the U.K's FTSE fell 0.9%.
The April crude oil contract was flat at $101.21 a barrel. Crude oil prices fell Friday on fears that demand from Japan, the third largest consumer of oil, will drop.
Meanwhile, tensions in the Middle East appear to have temporarily taken a back seat in investors' minds in the wake of Japan's crisis. Rebel forces in Libya fled the coastal oil town of Brega as President Moammar Ghadafi's supporters gained ground. Ghadafi's forces have been bombing the insurgents' base in Benghazi as well.
Fears that protests could spread to Saudi Arabia, however, appear to have abated somewhat after Friday's "day of rage" protest passed by relatively peacefully.
There were no economic reports scheduled for release Monday.
In corporate news,
Berkshire Hathaway
(BRK.B) - Get Berkshire Hathaway Inc. Class B Report
agreed to acquire specialty chemicals company
Lubrizol
(LZ) - Get LegalZoom.com, Inc. Report
for $9 billion in cash, making it one of the largest acquisitions in Berkshire's history. Berkshire will pay $135 a share, a 28% premium to Lubrizol's closing price on Friday. Shares of Lubrizol ended up 27.7% to $134.68. Shares of Berkshire Hathaway ended down 1.3% at $84.21.
Shares of
Toyota
(TM) - Get Toyota Motor Corp. Sponsored ADR Report
and
Honda
(HMC) - Get Honda Motor Co., Ltd. Sponsored ADR Report
were each finished down more than 3.5% after they were forced to shut down auto plants in Japan.
Other Japanese ADRs including the stocks of
Sony
(SNE) - Get SONY GROUP CORPORATION SPONSORED ADR Report
and
Panasonic
( PC) fell more than 4.5% each.
Coach
(COH)
and
Tiffany
(TIF) - Get Tiffany & Co. Report
were among the biggest losers on the S&P 500. Both luxury retailers have been expanding in Japan.
Elsewhere in commodity markets, the April gold contract gained $4.70 to $1,426.50 an ounce. The April Natural gas contract rose 2 cents to $3.91 per British thermal unit on expectations that Japan's nuclear crisis would drive up demand.
Natural gas plays were firmly in positive territory at the end of the trading session.
Chesapeake Energy
(CHK) - Get Chesapeake Energy Corporation Report
rose 2.3% to $33.56,
Southwestern Energy
(SWN) - Get Southwestern Energy Company Report
gained 4% to $38.38 and
Range Resources
(RRC) - Get Range Resources Corporation Report
added 2.9% to $49.92. Specialist LNG shippers saw their stocks rise sharply.
Tsakos Energy
(TNP) - Get Tsakos Energy Navigation Limited Report
advanced 7.8% to $10.11, while
Golar LNG
(GLNG) - Get Golar LNG Limited Report
jumped 9% to $20.32, having earlier touched $20.53, a 52-week high.
The benchmark 10-year Treasury was up 9/32, with the yield weakening to 3.369%. The dollar weakened against a basket of currencies with the dollar index down by 0.5%.
.
--Written by Shanthi Bharatwaj and Andrea Tse in New York
.