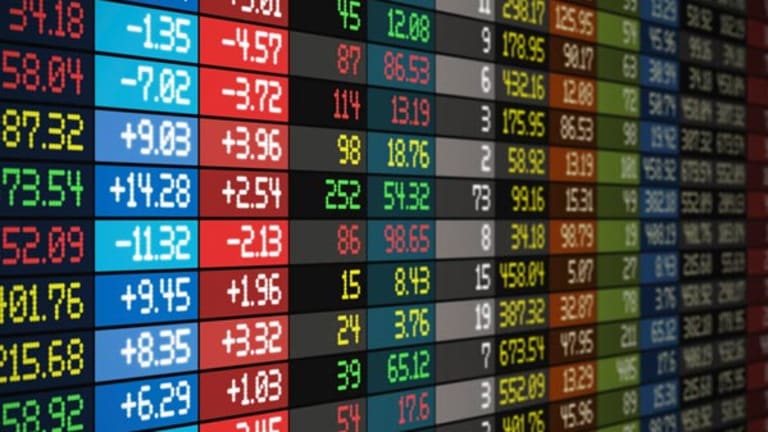 Stocks Extend Losing Streak After Beige Book
The Dow falls for a sixth straight session as more news of slowing economic growth fails to inspire buyers. Debra Borchardt previews tomorrow's trading.
The Dow falls for a sixth straight session as more news of slowing economic growth fails to inspire buyers. Debra Borchardt previews tomorrow's trading.
NEW YORK (
) -- Stocks settled lower Wednesday following a lukewarm assessment of the economy from the
Federal Reserve
in its latest
Beige Book report.
The
Dow Jones Industrial Average
surrendered 22.74 points, or 0.19%, to close at 12,058. The
S&P 500
lost 4.7 points, or 0.37% at 1,280, while the
Nasdaq Composite
shed 25 points, or 0.9%, at 2,677. It was the sixth straight losing session for the major averages.
The Beige Book report described the pace of growth as "modest," in line with Federal Reserve Chairman Ben Bernanke's acknowledgment Tuesday that growth was slowing. Prices of goods and services were "largely stable" and "customer and wage pressures continued to be minimal," noted the report.
The market's reaction with the major U.S. equity indices meandering lower showed continued uneasiness about the status of the economic recovery after last week's data revealed a stall in job growth. Given that high levels of unemployment continued throughout QE2, Wall Street is jittery about what will happen with jobs once the central bank's $600 billion bond buying program ends later this month. Bernanke stopped short of any indications that a QE3 was on the horizon in his speech yesterday.
Earlier in the day, energy stocks got a boost as oil prices rose on news that the
Organization of the Petroleum Exporting Countries failed to reach an agreement about raising production quotas at a meeting in Vienna, Austria. The cartel decided to leave output steady until its next meeting in three months. Saudi Arabia said later on Wednesday, however, that it
plans to boost production anyway
.
The July crude contract gained $1.85 to trade at $100.94 a barrel. Shares of
Chevron
(CVX) - Get Report
and
Exxon
(XOM) - Get Report
were among the Dow's top-performing stocks on Wednesday, rising .5% and 1.1%, respectively.
The Energy Information Administration said that crude oil inventories fell by 4.9 million barrels in the week ended June 3. The decline was much steeper than 1.5 million barrel decrease that analysts had been expecting, according to a Platts poll. Also, late Tuesday, the American Petroleum Institute said crude supplies lost 5.51 million barrels last week.
Basic materials was the weakest performing sector on Wednesday as uncertainty surrounding the economic outlook and a stronger U.S. dollar weighed down on some commodities prices. The dollar index closed up by 0.52%.
Cisco Systems
(CSCO) - Get Report
,
American Express
(AXP) - Get Report
,
Alcoa
(AA) - Get Report
and
Catepillar
(CAT) - Get Report
were the Dow's biggest laggards.
Spillovers from the Japan disaster and high gasoline prices are likely to fade as factor dragging down economic growth, said UBS Economist Samuel Coffin in a note following Bernanke's speech Tuesday. The chairman's remarks triggered a wave of selling just ahead of the closing bell Tuesday.
"The labor market is a bit more of a question mark than it was at Mr. Bernanke's FOMC press conference," Coffin said. Bernanke had noted: "Until we see a sustained period of stronger job creation, we cannot consider the recovery to be truly established."
"He sounds a bit less convinced" compared to the confidence he displayed at the press conference following the last FOMC meeting in late April, Coffin said.
The FTSE in London lost 1%, and the DAX in Frankfurt shed 0.6%. Japan's Nikkei added 0.07% while Hong Kong's Hang Seng declined 0.9%.
In U.S. trading, volume reached 4.1 billion shares on the New York Stock Exchange and 2.7 billion shares on the Nasdaq. Only 26% of shares trading on the NYSE rose while 71% fell.
Shares of
Abercrombie & Fitch
(ANF) - Get Report
dropped 5.2% to $66.28 after the
teen retailer said second-quarter results will not be as strong as those in the first quarter because of weaker consumer demand.
Leonard Green & Partners and private-equity firm CVC Capital Partners
are set to make a joint buyout offer next week for
BJ's Wholesale Club
(BJ) - Get Report
that could value the retailer at roughly $2.8 billion, according to a
New York Post
report. Shares of the warehouse retailer gained 1.7% to $48.52.
Gold for August delivery was down by $0.02 at $1,538.50 an ounce.
The benchmark 10-year Treasury rose 12/32, diluting the yield to 2.951%.
.
-- Written by Chao Deng and Melinda Peer in New York
.
Copyright 2011 TheStreet.com Inc. All rights reserved. This material may not be published, broadcast, rewritten, or redistributed.