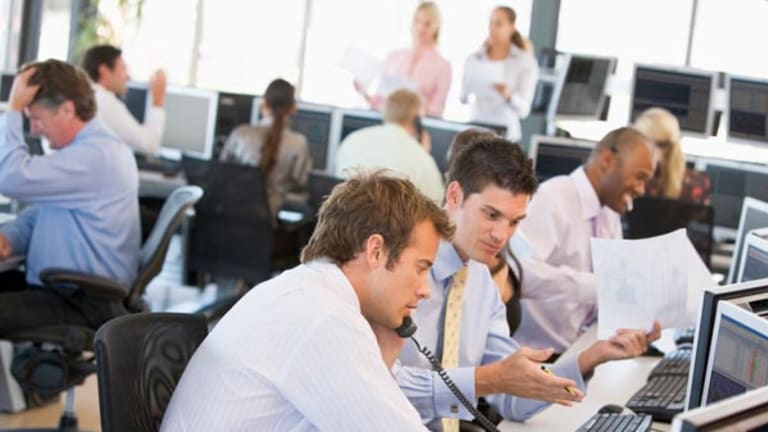 Stocks Rebound as Eurozone Fears Ease
Wall Street shrugs off a much-anticipated downgrade of the big banks by Moody's as the eurozone's leaders take steps to address the region's debt crisis.

NEW YORK (TheStreet) -- The major U.S. equity averages finished with solid gains Friday after the European Central Bank pursued measures to boost banks on the continent and a growth package was put forth at a "mini" European summit in Rome.
The news provided a measure of relief for investors still digesting statements from U.S. central bank officials earlier in the day that the
Federal Reserve
is unlikely to pursue any aggressive measures to stimulate the economy anytime soon. The financials were market leaders as an anticipated downgrade of major global banks by Moody's wasn't as severe as anticipated.
The
Dow Jones Industrial Average
rose 67 points, or 0.53%, to close at 12,641. The blue-chip index lost 1% in its first weekly decline in three weeks.
The
was gained nearly 10 points, or 0.72%, to finish at 1335. It lost 0.59% for the week.
The
Nasdaq
was advanced 33 points, or 1.17%, to settle at 2892. Despite Thursday's severe sell-off, the Nasdaq still managed to finish the week with a 0.66% gain.
Year-to-date, the Dow is up 3.5%, the S&P 500 has added 6.2%, and the Nasdaq has risen 11%.
Of the 30 Dow components, 28 were moving higher, led by
Bank of America
(BAC)
,
JPMorgan Chase
(JPM)
,
Merck
(MRK)
and
Microsoft
(MSFT)
, all up more than 1.5%.
Caterpillar
(CAT)
and
Wal-Mart Stores
(WMT)
were the only blue chips in decline.
Late Thursday, Moody's lowered the credit ratings of fifteen of the biggest global banks but the stocks shrugged off the news. Shares of JPMorgan Chase jumped nearly 2%. The
KBW Bank index
was up 1.6% on the day.
In the broad market, the technology, health care and consumer cyclical sectors were the best-performing industry groups, aside from the financials.
The European Central Bank said it plans to widen the range of collateral for its lending activities, accepting lower quality assets and reducing the rating threshold, in efforts to try to help facilitate the expansion of lending.
The Governing Council said in a statement that it has decided on "additional measures to improve the access of the banking sector to eurosystem operations in order to further support the provision of credit to households and non-financial corporations."
Stocks suffered their worst single-day drop in three weeks on Thursday as investors were spooked by a gloomy batch of global economic data, a bearish trading call by Goldman Sachs and disappointment with the outcome of the
Federal Reserve's
latest policy meeting.
The Hong Kong Hang Seng index closed lower by 1.4% and the Nikkei in Japan closed down 0.29%.
The FTSE in London settled down by 0.95% and the DAX in Germany finished lower by 1.26% as business confidence in the biggest eurozone economy fell to its lowest point in more than two years.
European leaders also met in Rome Friday to discuss a unanimous plan on bringing relief to the eurozone debt crisis, but concluded with little consensus on the topic of eurobonds ahead of the big European summit next Thursday and Friday. However, Germany, France, Italy and Spain did agree that there should be a European growth package worth about 1% of the European Union's gross domestic product or €130 billion.
In Spain, independent audits indicate that the country's banks will, under duress, require up to €62 billion in financial support, below the earlier foreseen €100 billion in eurozone bailouts.
Friday's U.S. economic calendar was empty but Fed officials picked up the slack by weighing in on future monetary policy.
St. Louis Fed Bank President James Bullard told
Bloomberg TV
Friday that there are still high hurdles to a third round of quantitative easing in the U.S. as it would require the Fed to take on a lot more risk on its balance sheet.
Federal Reserve Bank of Richmond President Jeffrey Lacker, who dissented against the extension of Operation Twist, meanwhile reiterated that he does not that think further monetary stimulus would make a substantial difference for economic growth and employment in the U.S. without raising inflation to undesirable levels.
"With some of the big events finally out of the way (Greece vote, G20, Fed) we are getting into the dog days of summer," said Ryan Detrick, senior technical strategist at Schaeffer's. "Earnings seasons doesn't heat up for a few more weeks, so going forward expect low volume and more volatility as we continue to hinge on the continued issues out of Europe."
"All in all, we continue to think the market is in the process of making a bottom.," Detrick said. "Remember, it took nearly eight weeks last year before the ultimate bottom formed. We think we are carving out another bottom currently."
August crude oil futures added $1.56 to settle at $79.76 a barrel. August gold futures rose $1.40 to settle at $1,566.90 an ounce.
The benchmark 10-year Treasury was lower by 16/32, raising the yield to 1.672%, while the greenback was down 0.06%, according to the
, which compares the buck to a basket of six other currencies.
In corporate news, shares of
Darden Restaurants
(DRI)
fell in pre-market action after the Orlando-based company posted
earnings for its fiscal fourth quarter but came in slightly short on the top line. Shares fell a little less than 1%.
Arch Coal
(ACI)
said after Thursday's closing bell that it's laying off 750 employees, or roughly 10% of its workforce. The company said it plans to "idle several operations and to reduce production at other mining complexes in Appalachia due to the unprecedented downturn in demand for coal-based electricity. " Shares fell 1.1%.
Medtronic
(MDT)
said its board has approved a 7.2% increase in its regular quarterly cash dividend to 26 cents a share. The medical device company said the dividend is payable on July 27 to shareholders of record on July 6. Shares ticked up 1%.
Monster Beverage
(MNST)
is being added to the
S&P 500
, replacing
Sara Lee
( SLE). Standard & Poor's expects the change to take place after the closing bell on June 28. Monster Beverage shares lost 1.5%.
Ryder Systems
(R)
its fiscal second-quarter outlook, citing weakness in its fleet management solutions business. The company now sees comparable earnings of 90 to 95 cents a share for the three months ended in June, down from a previous expectation for a profit of $1.07 to $1.12 a share. Shares plunged 13%.
-- Written by Andrea Tse and Michael Baron in New York.
>To contact the writer of this article, click here:
Andrea Tse
.