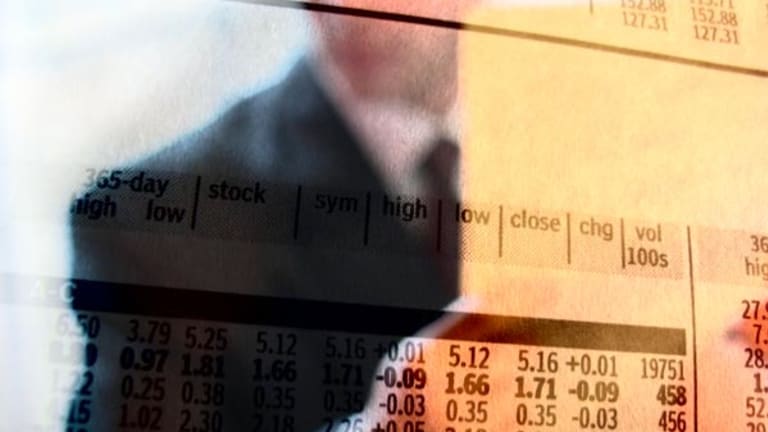 Dow Gains for Fourth Straight Session
Stocks rise on expectations that Greece will adopt new austerity measures and avoid default. Debra Borchardt previews tomorrow's trading.
NEW YORK (
) -- Stocks finished higher Tuesday, extending a four-day winning streak as Wall Street grew comfortable with expectations that Greece will soon adopt new austerity measures in order to avoid default.
Greece Prime Minister George Papandreou's new government
won a key confidence vote late Tuesday as expected
, clearing a first hurdle to his government pushing through a bill calling for $40.2 billion worth of budget cuts next week. Greece needs to pass the bill to receive its next round of funding from Eurozone countries and the International Monetary Fund.
The
Dow Jones Industrial Average
closed up by 110 points, or 1%, to 12,190. The
S&P 500
finished up by 17 points, or 1.3%, to 1296, and the
Nasdaq
gained 56 points, or 2.1%, to 2686.
Contagion fears eased after
European leaders meeting in Luxembourg on Monday said that the European Union would work to contain Greece's credit crisis. Jean-Claude Juncker, prime minister of Luxembourg, also expressed his belief that Greece would pass the austerity measures needed before receiving the next installment of aid in a €100 billion bailout package.
Existing-home sales data was also a positive for stocks.
Home sales came in marginally better than expected, sliding 3.8% to an annual rate of 4.81 million in May. Economists had expected an annual rate of 4.79 million, according to
Briefing.com
. The annual rate for April was downwardly revised to 5 million from 5.05 million.
Members of the
Federal Reserve's
policy-setting arm gathered Tuesday for the first day of a two-day meeting that will conclude in a rate decision statement on Wednesday afternoon. Wall Street is largely expecting that Chairman Ben Bernanke will announce the end of the second round of quantitative easing and that the Federal Open Market Committee will downwardly revise its growth expectations for the year. The Fed's key interest rate is expected to remain untouched at 0.25%.
Basic materials, energy and technology sectors put in the strongest performance during Tuesday's session. Breadth was overwhelmingly positive within the Dow with 26 of the 30 components moving higher.
Caterpillar
(CAT) - Get Report
,
Alcoa
(AA) - Get Report
and
DuPont
(DD) - Get Report
enjoyed the biggest gains among the blue chips.
Consumer staples and health care stocks showed the mildest gains on Tuesday.
Boeing
(BA) - Get Report
,
Johnson & Johnson
(JNJ) - Get Report
,
Merck
(MRK) - Get Report
, and
Procter & Gamble
(PG) - Get Report
were the Dow's laggards.
Overall market breadth was extremely positive with 89% of the 3.4 billion shares trading on the New York Stock Exchange gaining ground, and only 10% declining. 1.7 billion million shares changed hands on the Nasdaq.
Shares of
Walgreen
(WAG)
fell 4% to $43.28 after the
drugstore chain topped analysts' third-quarter profit estimates by 2 cents but said contract renewal negotiations with pharmacy benefit manager
Express Scripts
(ESRX)
were unsuccessful. Shares of Express Scripts finished up 0.4% at $54.99.
Shares of
Tower Bancorp
(TOBC)
surged 32% to $26.80 on news that it has agreed to be acquired by
Susquehanna Bancshares
(SUSQ)
for $28 a share, or 3.47 shares of Susquehanna stock per Tower share. The deal is valued at $343 million. Susquehanna's stock declined 8% to $7.70.
Drug company
AstraZeneca
(AZN) - Get Report
is reportedly
nearing a deal to sell its Swedish health care and dental unit Astra Tech to dental products company
Dentsply International
(XRAY) - Get Report
in a deal worth about $1.8 billion. AstraZeneca's stock shed 0.2% at $49.17 while shares of Dentsply gained 3% to $37.61.
Shares of
Best Buy
(BBY) - Get Report
gained 3% to $32.38 after the
consumer electronics retailer said its board authorized a new $5 billion share repurchase program and a 7% increase to its quarterly dividend.
Airbus
said it received a commitment from leasing company
CIT Group
(CIT) - Get Report
for
50 of its fuel-efficient A320 aircraft at the Paris Air Show on Tuesday.
Boeing
(BA) - Get Report
, meanwhile, signed a deal for eight 777-300ER jets worth $2.27 billion with
Aeroflot
, and a $1.2 billion deal with
Norwegian Air Shuttle
for 15 Boeing 737-800 planes. Boeing's stock lost 0.7% to $73.98.
BP
(BP) - Get Report
said
Weatherford International
(WFT) - Get Report
would
pay it $75 million to settle potential claims between the companies related to the Gulf of Mexico oil spill in April 2010. Weatherford's shares gained 4% to $17.59 and BP's stock finished up 4% at $43.40.
The
August crude oil contract lost 57 cents to settle at $93.61 a barrel.
Gold for August delivery closed up by 90 cents at $1,547 an ounce.
The benchmark 10-year Treasury fell 7/32, lifting the yield to 2.983%. The euro was gained 0.72% against the dollar as the dollar index weakened by 0.5%.
The FTSE in London gained 1.4%, and the DAX in Frankfurt surged 1.9%. Hong Kong's Hang Seng jumped 1.2%, and Japan's Nikkei advanced 1.1%.
.
-- Written by Chao Deng and Melinda Peer in New York
.