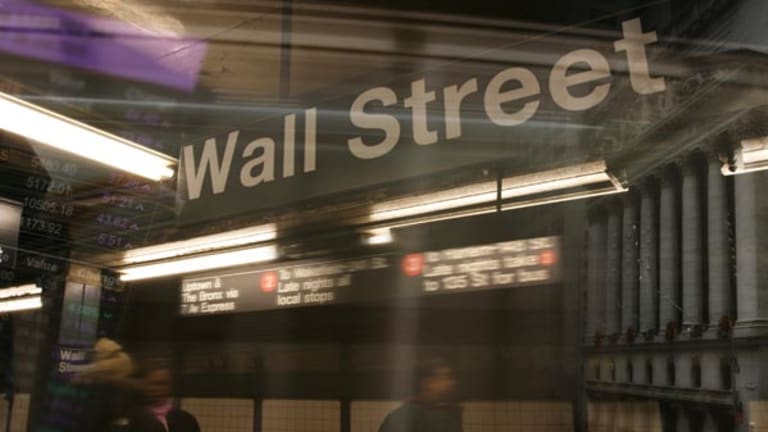 Stocks Finish Mixed; Fed Keeps Twisting
Choppy trading followed the central bank's decision to maintain the status quo through the end of the year. The S&P 500 snaps a four-day winning streak.

NEW YORK (TheStreet) -- Stocks finished mixed Wednesday as investors expressed mild disappointment with the Federal Reserve'smuch-anticipated decision to prolong its Operation Twist bond maturity extension program.
The central bank also lowered its expectations for U.S. gross domestic product growth in 2012, going to a range of 1.9-2.4% from 2.4-2.9%, and adjusted its projections for employment data to reflect slowing growth.
The Fed drama led to a choppy session for the major U.S. equity indices. The initial news prompted a sharp sell-off that but stocks battled back into positive territory before again turning lower as Fed Chairman Ben Bernanke met the press later in the day and the updated economic expectations were disclosed.
Bernanke didn't offer up many surprises during the media Q&A session, staying circumspect about what it would take for the central bank to embark on another round of quantitative easing. He acknowledged that Europe's woes have slowed U.S. economic growth.
"We are hopeful that Europe will take additional measures and do what it takes to stabilize the situation," Bernanke said, adding that he believes eurozone policymakers have a very strong incentive to "get it right."
The
Dow Jones Industrial Average
fell 13 points, or 0.10%, to close at 12,824. The blue-chip index sank as low as 12,745 after the Fed decision was announced but recovered to range as high as 12,877 later in the day.
The
S&P 500
lost more than 2 points, or 0.17%, to finish at 1356. The index, which ranged between 1347-1362 on the day, snapped a four-day winning streak.
The
Nasdaq
managed an incremental gain, adding less than a point, or 0.02%, to settle at roughly 2930.
The Fed's policy statement said that the central bank plans continue its program to extend the average maturity of its holdings of securities through the end of the year. The Fed plans to purchase bonds with remaining maturities of six years to 30 years at its current pace and to sell or redeem an equal amount of Treasury securities with remaining maturities of about three years or less.
The extension essentially involves selling $267 billion worth of short-term bonds then buying the equivalent amount of longer-term bonds over the next six months. The current version of Operation Twist, which ends this month, involved $400 billion worth of bond sales and purchases.
"This continuation of the maturity extension program should put downward pressure on longer-term interest rates and help to make broader financial conditions more accommodative," the statement said.
The Fed committee is also maintaining its existing policy of reinvesting principal payments from its holdings of agency debt and agency mortgage-backed securities in agency mortgage-backed securities.
One committee member, Federal Reserve Bank of Richmond President Jeffrey Lacker, voted against the action.
"For those in the markets disappointed the Fed didn't take stronger action, it has to be said that this is the biggest possible extension to the MEP
maturity extension program," wrote Paul Ashworth, chief U.S. economist at
Capital Economics
. "The Fed admits that by the end of the year it will have sold all of its short-term Treasury securities holdings."
The committee decided to keep the target range for the federal funds rate at 0 to 0.25% and anticipates that economic conditions--including low rates of resource utilization and a subdued outlook for inflation over the medium run--are likely to warrant exceptionally low levels for the federal funds rate at least through late 2014.
It added that it is prepared to take "further action as appropriate" to promote a stronger economic recovery and sustained improvement in labor market conditions in a context of price stability.
"While there was no QE3 today, the statement again warned that 'strains in global financial markets continue to pose significant downside risks to the economic outlook,'" Ashworth noted. "If those risks increase then we suspect the Fed would be pretty quick off the mark in taking further action."
Within the Dow, 16 of the 30 components closed higher. The biggest percentage gainers among the blue chips were
JPMorgan Chase
(JPM) - Get Report
,
Cisco
(CSCO) - Get Report
and
Wal-Mart Stores
(WMT) - Get Report
.
JPMorgan shares rose 3% as
CNBC
reported that the bank had sold 65% to 70% of its "London Whale" position that helped lead to its $2 billion loss.
Among the biggest Dow laggards were
Procter & Gamble
(PG) - Get Report
,
Caterpillar
(CAT) - Get Report
and
McDonald's
(MCD) - Get Report
.
Shares of P&G lost nearly3 % after the Cincinnati-based consumer products giant lowered its fourth-quarter outlook, citing
sales growth in developed markets.
In the broad market, consumer non-cyclicals, utilities and capital goods saw the deepest decliners, while financials and consumer cyclicals held scant gains.
Asian markets settled higher in anticipation of the outcome of the Fed meeting. Hong Kong's Hang Seng index settled up 0.53% and Japan's Nikkei average closed higher by 1.11%. The FTSE in London settled up by 0.64% and the DAX in Germany was up 0.45%.
Eurozone leaders said at the Group of 20 summit of industrialized nations in Mexico this week that they would strive to reach an agreement on integrating their regional banks by December.
In Greece, an agreement to form a coalition government was reached and the pro-bailout New Democracy party leader Antonis Samaras was sworn in as prime minister.
"
Greece's government forming a coalition may inject more confidence in short-run," said David James, portfolio manager of the James Advantage Funds. "We're looking for a rally and markets haven't wanted to decline. We're due for a rally for whatever reason. We'll start to see some healing happening when Greece or any other countries that need to leave the euro actually do. Until then, everything else is just a bandaid."
August crude oil futures settled down $84.03 a barrel. August gold futures lost settled down at $1,615.80 an ounce.
The benchmark 10-year Treasury dipped 8/32, raising the yield to 1.650%, while the greenback was up 0.01%, according to the
which compares the buck to a basket of six other foreign currencies.
In corporate news,
Adobe Systems
(ADBE) - Get Report
, the publishing software maker, provided a
for its fiscal third quarter on Tuesday because of a "weaker demand forecast" for Europe.
Adobe forecast non-GAAP earnings of 56 cents to 61 cents a share for the three months ending in August on revenue of $1.075 billion to $1.125 billion. Analysts forecast profit of 61 cents a share on revenue of $1.133 billion. Shares lost nearly 3%.
Jabil Circuit
(JBL) - Get Report
reported adjusted fiscal third-quarter profit of 64 cents a share on revenue of $4.3 billion, in line with analysts' estimates. Shares jumped close to 7%.
-- Written by Andrea Tse and Alexandra Zendrian in New York.
>To contact the writer of this article, click here:
Andrea Tse
.