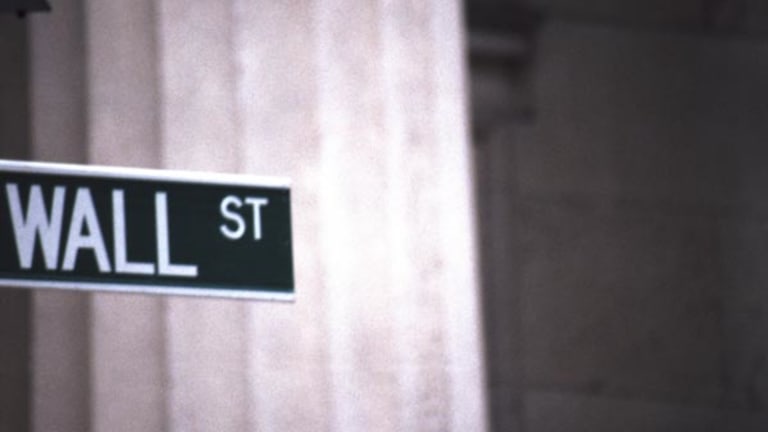 Stocks Slide as U.S. Economy Stagnates
Only 80,000 jobs were added last month, and the unemployment rate stayed the same.

NEW YORK (TheStreet) -- U.S. stocks fell Friday after a government report showed the U.S. economy produced fewer than 100,000 jobs for the third month in a row. Still, the economy may not be weak enough to warrant another round of support from the central bank.
The
Dow Jones Industrial Average
declined 124.20 points, or 0.96%, to 12,772, and closed down 0.84% for the week. The
slipped 12.90 points, or 0.94%, to 1,355, erasing its gains to close down 0.55% for the week.
The
Nasdaq
slid 38.79 points, or 1.3%, to 2,937, and was flat for the week.
The weakness in stocks was led by the technology, capital goods, basic materials and energy sectors, with all 10 S&P 500 large-cap sectors falling.
On the Dow, 25 of 30 blue-chip components lost ground, driven by
Alcoa
(AA)
,
Caterpillar
(CAT)
,
Hewlett-Packard
(HPQ)
and
IBM
(IBM)
.
McDonald's
(MCD)
was up a bit more than a quarter of a percent and
AT&T
(T)
was trading sideways.
Losers outpaced winners by 2.1-to-1 on the
New York Stock Exchange
and 2.5-to-1 on the Nasdaq. Volume was light, with about 2.64 billion shares changing hands on the NYSE and 1.41 billion on the Nasdaq.
The Labor Department reported that U.S. employers added 80,000 new workers to their payrolls in June, below the consensus estimate of 90,000 jobs, according to a poll of economists by
Reuters
. It was the third straight month of sub-100,000 jobs growth, and the worst quarter for job growth in about two years.
The whisper number among traders was closer to 125,000. The unemployment rate remained unchanged at 8.2%. Nonfarm payroll employment for April was downwardly revised to 68,000 from 77,000 and the figure was upwardly revised in May to 77,000 from 69,000.
"They've called it the spring slowdown, but really what happened at the beginning of the year was more a case of weather, maybe some leftover stimulus from the jobs act and that's really not the beginning of a new V-shaped recovery," said Doug Roberts, chief investment strategist at ChannelCapitalResearch.com. "In other words, as I like to say, the government is still a lender and spender of last resort; when they administer stimulus it works, and as it fades out it ... people go back to the way it was before."
"It kind of locks
the market in a trading range for the foreseeable future until
investors see a
central bank and
Federal Reserve
quantitative easing program kind of coming out there," said Roberts.
Meantime, Andrew Wilkinson, chief economic strategist at Miller Tabak, said that "the June report does little to shift our view that the economy is unfortunately horizontally challenged in the face of a slowdown in activity engineered by insufficient political vigor in the eurozone."
"At the current pace of hiring, the
Federal Reserve
likely has a low degree of confidence in its ability to mastermind the scale of reductions in the headline rate of unemployment that are incorporated in its Summary of Economic Projections."
While unimpressive, analysts believe that Friday's jobs number is probably not enough to help trigger more Fed policy action at its August meeting. However, if job growth continues to slow, action could be taken at the September meeting, according to Bank of America and BTIG reports.
August crude oil futures settled down $2.77 to $84.45 a barrel. August gold futures shed $30.50 to settle at $1,578.90 an ounce.
The benchmark 10-year Treasury was up 14/32, diluting the yield to 1.556%, while the dollar was rising 0.56%, according to the
In corporate news,
Seagate Technology
(STX)
said it expects report fourth-quarter revenue of $4.5 billion, down from its previous estimate of about $5 billion.
Shares slid 0.40%.
shares got a lift from a Facebook blog post by CEO Reed Hastings that said the company's monthly viewing exceeded 1 billion hours for the first time ever in June. Shares popped more than 3.5%, but receded to close up just 0.21% in Friday's session.
Shares of
LeapFrog Enterprises
(LF)
finished down more than 1.9% as the education toymaker's chief financial officer Mark Etnyre resigned citing a desire for more family time.
Xyratex
(XRTX)
shares were jumped more than 13% after the storage-systems provider swung to fiscal second-quarter profit amid margin improvements. Shares finished Friday up 5.97%.
Earnings season begins next week, beginning with
Alcoa's
(AA)
report on Monday.
Ahead of this, Brad Sorensen, market and sector research director at Charles Schwab, said that it will be an opportunity for companies to really come out and talk about what they're seeing in the economy.
"We have to be a little bit cautious here that there is a couple unknowns about how much the U.S. slowdown has really affected operations in the second quarter
of 2012, and then to an extent the European ongoing debt crisis," said Sorensen.
-- Written by Andrea Tse in New York.
>To contact the writer of this article, click here:
Andrea Tse
.