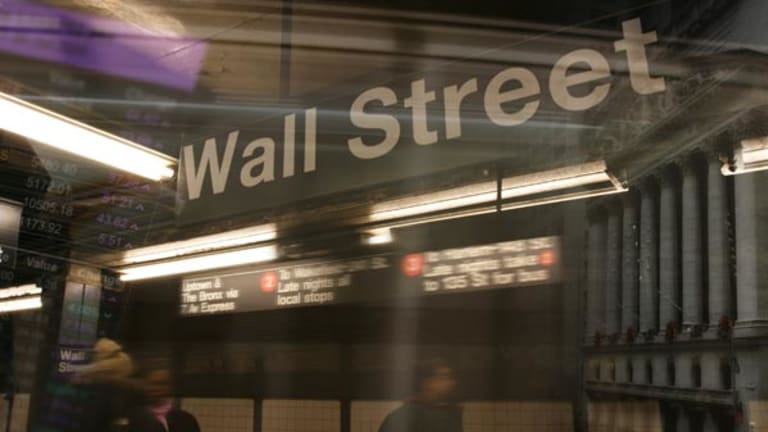 Stocks Break Even Despite Slower GDP
Stocks recover from an earlier downturn caused by a tepid GDP report, thanks to positive readings on Midwest factories and consumption.
NEW YORK (
) -- Stocks closed around the flat line Friday as investors weighed news that
economic growth in the U.S. sputtered in the second quarter while a measure of Midwestern manufacturing health presented a better-than-expected picture.
After being down as many as 100 points during the session, the
Dow Jones Industrial Average
closed 1 point lower to 10,466. The
S&P 500
finished flat at 1102, holding just above the key 1100 technical level, while the
Nasdaq
added 3 points, or 0.1%, at 2255.
> > Bull or Bear? Vote in Our Poll
The major averages were mixed for the week. Though the Dow posted a 0.4% uptick, the S&P 500 and the Nasdaq retreated since last Friday's close, finishing down 0.1% and 0.7%, respectively. But the blue-chip average also posted its best month of gains in a year, as the Dow improved over 7% in July.
In the morning, the Commerce Department said GDP rose at a seasonally adjusted 2.4% annual rate during the second quarter, slowing from the beginning of the year. Increasing imports and a widening trade gap, along with lighter consumer spending, cut into growth during the April-to-June period. Yet a highlight of the report was increased business investment, particularly in equipment and software.
But the impact of the report lessened throughout the day. Stocks began bouncing off their worst levels after additional economic data offered subtle upside surprises.
"I do think that the GDP report is interesting as it is. Consumption was a lot weaker than we thought, but spending, aggregately, was pretty good," said Jim Paulsen, chief investment strategist at Wells Capital Management, who's also seeing some early indications that economic growth in the second half of the year may not be as anemic as many believe. "But I think the message today is that GDP is history. In some sense, we already knew there was a soft patch in the second quarter."
Paulsen also said market participants were already turning their attention to a flood of economic indicators due next week, including the government's much anticipated July jobs report.
Overseas, Hong Kong's Hang Seng slipped 0.3% and Japan's Nikkei fell 1.6%. The FTSE in London was losing 0.2%, though the DAX in Frankfurt was ahead by 0.5%.
>>The Economy
>>Company News
>>Commodities and the Dollar
>>Treasuries
The Economy
The Department of Commerce said the
U.S. economy grew 2.4% in the second quarter compared with the expansion of 2.5% that economists had been anticipating, according to Briefing.com. The estimate is the first of three and follows first-quarter gross domestic product growth of 3.7%, which was upwardly revised from an increase of 2.7%.
The Chicago Institute for Supply Management's purchasing managers' index came in at 62.3 in July, outpacing the reading of 56.3 that economists had been projecting. That compares to June's level of 59.1.
The
University of Michigan's consumer sentiment index also registered 67.8 in its final July reading, which marks a nine-month low for the metric. Still, the drop was slightly softer than projections for a reading of 67.5.
>>Company News
>>Commodities and the Dollar
>>Treasuries
Company News
France's oil company
Total
reported a 43% increase in net earnings during the second quarter. Sales, meanwhile, rose 31% to €41.3 billion ($53.8 billion).
Fellow integrated oil giant
Chevron
(CVX) - Get Chevron Corporation Report
earned $2.70 a share in the second quarter on $53 billion in revenue, topping estimates on both counts, as the firm continued an industrywide corporate earnings trend highlighting improving downstream results.
Drugmaker
Merck
(MRK) - Get Merck & Co., Inc. Report
, another Dow component, landed ahead of second-quarter earnings projections after reporting a profit of 86 cents a share. Though sales rose 92%, the effort was a little lighter than expected, while the company offered guidance largely in line with forecasts.
Intel
(INTC) - Get Intel Corporation Report
, Merck,
Exxon Mobil
(XOM) - Get Exxon Mobil Corporation Report
,
3M
and
Microsoft
(MSFT) - Get Microsoft Corporation Report
posted the weakest performances on the Dow. But winners on the blue-chip average included
Home Depot
(HD) - Get Home Depot, Inc. Report
,
Boeing
(BA) - Get Boeing Company Report
,
Alcoa
(AA) - Get Alcoa Corporation Report
and
Verizon
(VZ) - Get Verizon Communications Inc. Report
.
MEMC Electronic Materials
(WFR)
reported below-Street projections late Thursday, hurt largely by its solar systems segment. Shares traded over 15% lower at $9.55.
Newell Rubbermaid
(NWL) - Get Newell Brands Inc Report
said second-quarter earnings jumped 23%. The company topped analysts' expectations for earnings of 44 cents a share with an adjusted profit of 51 cents a share.
Citigroup
(C) - Get Citigroup Inc. Report
agreed to pay a regulatory penalty of $75 million to settle allegations that it misled investors regarding its subprime mortgage exposure in 2007.
Walt Disney
(DIS) - Get Walt Disney Company Report
sold its Miramax film studio to Filmyard Holdings LLC for more than $660 million. The sale includes rights in more than 700 film titles and nonfilm assets, such as certain books and projects.
Shares of
Coinstar
(CSTR) - Get CapStar Financial Holdings, Inc. Report
were off 5.4% after the firm missed second-quarter sales projections.
New York Attorney General Andrew Cuomo is expanding his probe into the practice of retained asset accounts in the life insurance industry. According to
The Wall Street Journal
, the investigation now involves six additional firms, including
Genworth Financial
(GNW) - Get Genworth Financial, Inc. Class A Report
,
Unum Group
, and others.
Cuomo's office said Thursday it issued subpoenas to
MetLife
(MET) - Get MetLife, Inc. Report
and
Prudential Financial
(PRU) - Get Prudential Financial, Inc. Report
.
Genworth Financial shares also stumbled 14% today after missing earnings projections late Thursday. Shares shed $2.21 to close at $13.58 today.
>>The Economy
>>Commodities and the Dollar
>>Treasuries
Commodities and the Dollar
Crude oil for September delivery gained 59 cents to settle at $78.95 a barrel.
Elsewhere in commodity markets, the December gold contract traded $12.70 higher to settle at $1,183.90 an ounce.
The dollar was trading lower against a basket of currencies, with the dollar index down nearly 0.1%.
>>The Economy
>>Company News
>>Treasuries
Treasuries
The benchmark 10-year Treasury was up by 22/32, diluting the yield to 2.907%.
The two-year note was higher by 2/32, lowering the yield to 0.558%. The 30-year bond was up by 1 21/32, decreasing the yield to 3.986%.
--Written by Melinda Peer and Sung Moss in New York
.
>>The Economy
>>Company News
>>Commodities and the Dollar