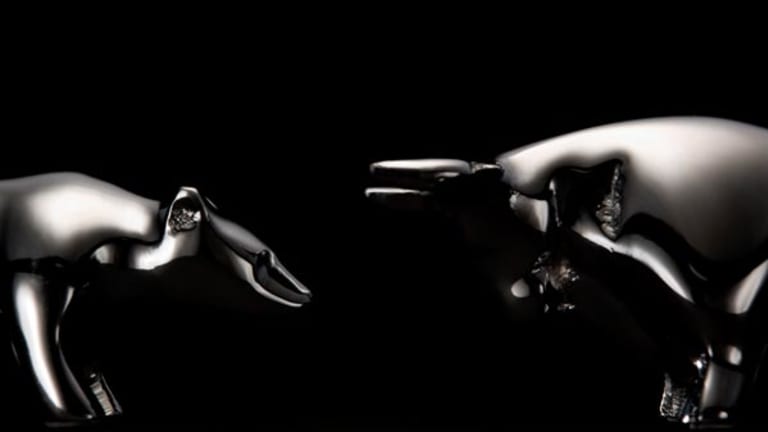 Stocks Finish Mixed as Debt Worries Deepen
Stocks fail to hang on to early gains as momentum from positive economic data fades because of debt ceiling worries.
Stocks fail to hang on to early gains as momentum from positive economic data fades because of debt ceiling worries.
NEW YORK (
) -- Stocks failed to hold early gains Thursday as momentum from positive data on unemployment claims and pending-home sales was swept aside by debt deadline worries.
The
Dow Jones Industrial Average
was hit hardest, slumping 62 points, or 0.5%, to finish at 12,240. The
S&P 500
ticked down 4 points, or 0.3%, to 1301, and the
Nasdaq
inched up a point to 2766.
While the jobs market remains a soft spot in the economic recovery, the latest data on weekly initial jobless claims offered a glimmer of hope. After weeks of holding above the 400,000 level, initial claims for the week ending July 23 ticked down to 398,000. That's down from 422,000 in the week prior. The drop was a surprise with
Briefing.com
projecting a pessimistic 440,000 in initial claims.
The latest update in the housing market also surprised investors, with pending home sales for June rising 2.4% from May, according to the National Association of Realtors. Economists had expected a 3.5% decline.
Investors put in "short term trading moves" on the positive economic data early in the day, said Andy Fitzpatrick, director of investments at Hinsdale Associates. However, the political gridlock in Washington seemed to weigh in more towards the close, especially after House Speaker John Boehner (R., Ohio) held an afternoon press conference to push his proposal.
The expectation is that even if Boehner's solution to the deficit problem survives a House vote later Thursday, the legislation will still be a non-starter in the Democratic-controlled Senate. That will send lawmakers back to the drawing board.
As Wall Street holds out for an eleventh-hour miracle, some economists warn that U.S. debt will face a downgrade even if lawmakers meet their deadline. Wall Street's so-called fear index, the VIX, which is based on options activity in the
S&P 500
, has been steadily ticked up the last six trading sessions.
Global investors have also kept a close eye on Washington's budget standoff. While the FTSE in London settled up 0.3%, the DAX in Frankfurt slipped 0.9%. Hong Kong's Hang Seng climbed 0.1%, and Japan's Nikkei lost 1.5%.
At the same time, investors aren't dumping money wholesale into safe havens such as gold yet. Gold has already appreciated significantly because of eurozone concerns. After reached a record $1628 high on Wednesday, futures for August delivery slipped $1.70 to $1,613 an ounce Thursday.
Yields on long-term Treasury bonds were holding steady. The benchmark 10-year Treasury rose 5/32, keeping yields below 3%. The dollar strengthened against a basket of currencies, with the dollar index up by 0.2%.
Oil prices were jumpy during the session as traders digested debt concerns along with a bearish inventory report. The September crude oil contract closed down $2 at $97 a barrel.
A slew of strong earnings reports helped stocks rally a bit even though so far this week, corporate profits have failed to pull the market into green territory. Healthcare and financials were putting in the best performances on Thursday.
Investors believe what's going on in Washington does not affect companies in the long term, said Fitzpatrick of Hinsdale Associates. The thinking is "this could be a short term blip," he said.
Cisco Systems
(CSCO) - Get Report
,
Microsoft
(MSFT) - Get Report
and
Pfizer
(PFE) - Get Report
were leaders on the Dow, alongside
Bank of America
(BAC) - Get Report
,
Coca-Cola
(KO) - Get Report
and
Kraft Foods
( KFT).
The biggest Blue-chip laggards were
Exxon Mobil
(XOM) - Get Report
,
AT&T
(T) - Get Report
and
Verizon
(VZ) - Get Report
. Twelve out of 30 Dow components closed higher.
DuPont
topped analysts' estimates for its fiscal second quarter
and raised its 2011 outlook. The chemicals giant earned $1.37 a share, excluding items, up from year-earlier earnings of $1.17 a share. Analysts surveyed by
Thomson Reuters
expected the company to earn $1.34 a share. Shares were rising 2% to $53.30.
Cloud optimization services provider
Akamai Technologies
(AKAM) - Get Report
reported second-quarter earnings of 35 cents a share,
. Shares were plunging almost 20% to $23.76.
Wireless communications company
Sprint Nextel
(S) - Get Report
posted a second-quarter loss of 28 cents a share versus the consensus target of loss of 12 cents a share and loss of 25 cents a share a year ago. Shares were plummeting 16% to $4.33.
Exxon reported earnings of $2.18 per share on $125.58 billion in revenues. Analysts expected second-quarter earnings of $2.33 a share, up from $1.60 a share a year ago. Shares dropped 1.4% to $82.16.
Breadth in the broad market was negative with 65% of shares on the New York Stock Exchange declining and 33% advancing. Some 4.4 billion shares traded on the NYSE and 2 billion shares changed hands on the Nasdaq.
Looking ahead, late Thursday's trading could factor in a dismal second-quarter GDP report to come out Friday. Macroeconomic Advisers is predicting growth of only 1.3%, while Briefing.com is projecting 1.7%, both meager compared with already slow growth in the first quarter of 1.9%.
Coffee juggernaut
Starbucks
(SBUX) - Get Report
was higher in late trades after
delivering a solid beat in its fiscal third quarter and lifting its outlook
. The stock was up 2% to $40.81 on after-hours volume of more than 1 million.
-- Written by Chao Deng in New York
.