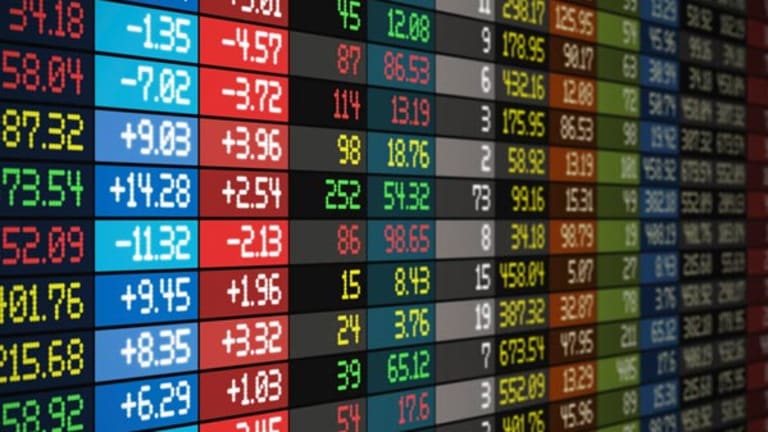 Stocks Finish Higher; Alcoa Posts Loss
U.S. stocks finished just a touch higher Monday before Alcoa unofficially kicked off earnings season with a loss.
Updated with Alcoa earnings results
NEW YORK (
) -- U.S. stocks finished a touch higher Monday on mixed signals from Europe and before
Alcoa
(AA) - Get Alcoa Corporation Report
unofficially kicked off earnings season with a quarterly loss.
The
Dow Jones Industrial Average
gained 32.7 points, or 0.2%, to close at 12,392. The
S&P 500
rose 2.9 points, or 0.2%, at 1280 and the
Nasdaq
added 2.3 points, or 0.09%, at 2677.
Dow component Alcoa reported a loss from continuing operations, excluding items, of $34 million, or 3 cents a share, on revenue of $5.99 billion for the fourth quarter. The aluminum-products maker lost $193 million, or 19 cents a share, in the quarter on a continuing operations basis.
The tug of war between Europe and the U.S. continues to plague investors trying to figure out how much risk to take on in the market.
Some watchers say that a high level of pessimism around fourth quarter earnings opens up the possibility for upside in stocks should companies top forecasts. "Cited in many places is the 'bearishness' of investors and cash on the sidelines that should push stocks higher in the months ahead," notes Paul Nolte, managing director at Dearborn Partners.
According to S&P Capital IQ, S&P 500 companies probably saw their fourth quarter earnings grow by 7.2% from a year earlier, significantly lower than growth of 19.7%, 19.2% and 17.6% in the prior three quarters.
"What I have consistently found to be one of the big challenges in a market environment like this is to not let my personal views about the tough economy take me out of trades that are still working well," said James "Rev Shark" DePorre, founder and CEO of Shark Asset Management.
Alcoa ran up 2.9% to $9.43 during the regular sesssion, and led the Dow index, despite negative warnings on its earnings. The company said its global smelting capacity will be reduced by 12% after the closure of certain plants and that it would record fourth-quarter restructuring charges of $155 million to $165 million. Analysts' expectations on Alcoa's results varied from a loss of 5 cents a share to a profit of 1 cent.
Ongoing talks in Europe were also presenting a conundrum. Some analysts are optimistic that leaders can break away from stalling on key issues as they did in 2011 while others say that meaningful changes are a long way down the road. Markets barely budged earlier after German Chancellor Angela Merkel said that fiscal pact talks with French President Nicolas Sarkozy went well and announced their intention that no country should abandon the euro. More talks among euro area leaders are expected in the lead up to a summit in Brussels on Jan 30, including a meeting between Italian Premier Mario Monti and Merkel on Wednesday.
Adding to the risk of a rocky trading week are bond auctions in Spain and Italy, two countries that economists worry could face the same fate as Greece. Spain aims to issue three- and five-year bonds Thursday, while Italy follows suit Friday in its own auction of bonds and floating-rate notes.
"We would like to be able to report that Euroland's sovereign debt, financial and economic crises have all disappeared," said Carl Weinberg, economist with High Frequency Economics. "The reality is that none of these crises has been resolved, and risk of an unhappy resolution remains high."
While the euro strengthened, European stocks closed in the red. Germany's DAX lost 0.67% while London's FTSE was down 0.66%. Japan's Nikkei Average settled 1.16% lower, and Hong Kong's Hang Seng was up 1.47%.
Of the 30 Dow components, seven traded lower with
Microsoft
(MSFT) - Get Microsoft Corporation Report
and
McDonald's
(MCD) - Get McDonald's Corporation Report
sinking to the bottom.
In corporate news,
Bristol-Myers Squibb
(BMY) - Get Bristol-Myers Squibb Company Report
plans to acquire
Inhibitex
(INHX)
for $2.5 billion,
is more than two-and-a-half times the company's closing stock price on Friday. Bristol-Myers would gain control of Inhibitex's INX-189, a pill in phase II studies with potential to become a component in the first all-oral therapies against hepatitis C. Inhibitex shot up 140.1% to $23.70 after the announcement.
Zynga
(ZNGA) - Get Zynga Inc. Class A Report
dropped 9.2% to $8 on concerns about the company's revenue. Shares fell for the second straight day following a research report from Macquarie Group analyst Ben Schachter who is wary about the maker of
FarmVille,
as it is highly dependent on a small number of users for the majority of its revenue.
Netflix
(NFLX) - Get Netflix, Inc. Report
shares surged 13.8% to $98.18 after hedge fund manager Whitney Tilson told
CNBC
that he thinks the online movie rental company, with a less than $5 billion market cap, could become an easy buyout target.
Lions Gate Entertainment
(LGF)
is close to buying
Summit Entertainment
, the maker of the vampire movie series
Twilight
.
Lions Gate plans to spend $400 million in cash and stock
on the movie studio, according to a report by
The Associated Press
. Shares were up 3.1% to $8.67.
Ford's
(F) - Get Ford Motor Company Report
sales in China rose 7% in 2011, while sales for
General Motors
(GM) - Get General Motors Company Report
during the year in China increased 8.3%. Ford was up 0.8% while GM was down 0.4%.
On Monday, the U.S. Federal Reserve said that consumer borrowing in the country rose in November to a ten-year high, a sign that Americans are becoming more confident about taking on debt and banks are becoming more confident about lending. Credit surged by $20.40 billion to $2.48 trillion, Federal Reserve said. However, the news had little impact on the markets.
February oil futures ticked down 25 cents to close at $101.31 a barrel. In other commodities, February gold futures fell $8.70 to settle at $1,608.10 an ounce as investors struggled to find direction from Europe.
Vote: Where will gold prices finish in 2012?
The dollar index was down 0.4% to $80.94. The benchmark 10-year Treasury was unchanged, with a yield of 1.96%.
-- Written by Andrea Tse and Chao Deng in New York
.