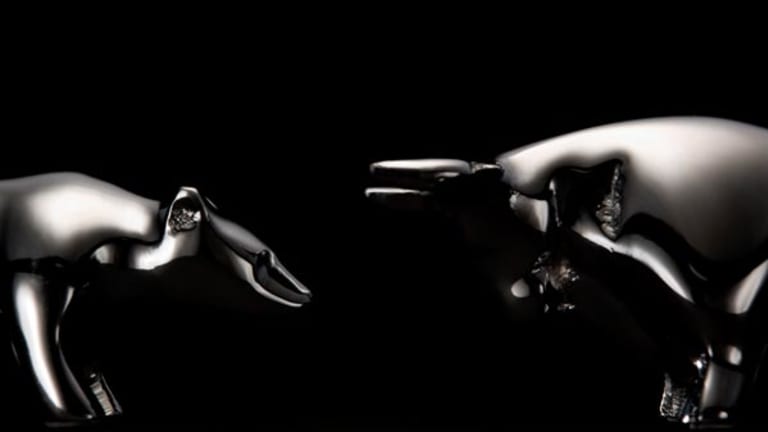 Stocks End Mixed; S&P Has Best January Since '97
Stocks closed mixed after trimming losses late Tuesday as worry about a batch of negative U.S. economic data faded and the S&P 500 logged its best January in 15 years.

NEW YORK (TheStreet) -- Stocks trimmed losses Tuesday as the S&P 500 completed its best January in 15 years, overshadowing worries about a batch of negative U.S. economic data.
The
Dow Jones Industrial Average
fell 20.8 points, or 0.2%, to 12,633, after falling as much as 0.6% earlier in the day. The Dow closed the month 3.4% higher. The
S&P 500
lost 0.6 point, or 0.05%, at 1,312. The S&P 500, advanced 4.4% this month to bank its best January performance since 1997.
The
Nasdaq
was the only index to finish the day higher to finish the month with a solid out performance. The Nasdaq advanced 8% in January, and finished Tuesday up 1.9 points, or 0.1%, at 2,814.
A dip in consumer confidence for January cut short gains stocks saw at the market's open. The Conference Board's consumer confidence index fell to 61.1, missing the forecast for 68. The level in December saw a slight upwards revision to 64.8from 64.5 in December.
"The US consumer has still seen a very firm turnaround since October, this also is likely to reflect the increase in gasoline prices since the start of the year," wrote David Semmens, U.S. economist with Standard Chartered. However, "while the US consumer is feeling better, the turnaround is still likely to be volatile."
A report on regional business activity added to the negative news on consumer confidence. The Institute for Supply Management's business barometer fell to 60.2 in December, falling short of expectations for 63, from a revised 62.2 in the prior month. The report suggested that labor gains were slowing and that a pickup in growth may be hard to sustain in 2012.
Meanwhile, a drop in housing price data showed that the struggling real estate market has not yet reached its bottom. The Case-Shiller 20-city home-price index for November fell 3.7% from a year earlier, more than the forecast 3.3% decline according to Thomson Reuters. In October, prices fell 3.4% year-over-year.
European stocks showed more resilience than the U.S. market with the Germany's DAX finishing up 0.34% while London's FTSE closing 0.32% higher.
A meeting between European leaders in Brussels yielded no agreement over how Greece would receive its next bailout installment. The country is still trying to reach a deal on a debt-swap with private bondholders. Meanwhile, Germany would like the Greek government to relinquish partial control over the country's budget orders to its European creditors before receiving bailout help.
However, officials did agree on a new fiscal discipline treaty late Monday. The preliminary deal, ratified by the majority of countries in the European Union, said that each country will follow a balanced budget rule in which its deficit will not exceed 0.5% of its nominal gross domestic product. Two European Union countries outside of the eurozone, the United Kingdom and the Czech Republic, have opposed the plan.
"The market is floating in a sea of optimism," says Weyman Gong, chief investment strategist with Signature, who adds that he thinks stocks are poised rise further. "
Yesterday's treaty doesn't solve current problems in Europe, but at least it indicates that the EU has a consensus to remain on the path of fiscal federation... We continue to see a determination from Europe to resolve its issues."
Buying momentum is weakening as January draws to a close. The S&P 500 is up 4.7% so far this year, its best start since 1997, but recent sessions have seen low volumes, suggesting lack of conviction in both buying and selling. The three major averages edged lower on Monday with the S&P losing 3 points or 0.25%, to 1,313.
In Asia, a reading on factory output in Japan climbed the most in seven months. Japan's Nikkei Average settled 0.11% higher and Hong Kong's Hang Seng climbed 1.1%.
In corporate news, oil giant
Exxon Mobil
(XOM)
said profit rose 2% in the fourth quarter to $9.4 billion as crude oil prices climbed. The Irving, Texas-based company said earnings rose 12 cents from a year ago to $1.97 a share, beating the average expectation of $1.95 a share, according to analysts. The company also said it completed a $5 billion share buyback during the quarter. Shares erased 2.1% to $83.74.
Apple
(AAPL)
named John Browett, CEO of European electronics retailer
Dixons
, as senior vice president of retail. Browett will join Apple in April and will be in charge of the company's retail strategy and expansion. He replaces Ron Johnson, who left Apple in November to run
J.C. Penney
(JCP)
. Apple shares gained 0.8% to $456.48.
Mattel
(MAT)
, the world's biggest toymaker, said Tuesday morning that revenue rose 1.4$ in the fourth quarter to $2.15 billion dollars. The maker of Barbie reported earnings of $1.07 a share to exceed analysts' estimates of $1 a share as worldwide sales grew 7% from the prior year. The toymaker also said it will increase its dividend by 35% to 31 cents a share. Shares climbed 5% to $31.
Eli Lilly
(LLY)
reported that fourth-quarter revenue sank after the drugmaker lost its patent on the schizophrenia drug Zyprexa. The Indianapolis-based company reported profit slumped 27 percent to $858.2 million last quarter. Earnings slipped to 87 cents a share, beating the average analyst estimate of 81 cents, according to
Thomson Reuters
. Shares advanced 1.3% to $39.74.
Drugmaker
Pfizer
(PFE)
also reported revenue hurt by the loss of a patent Tuesday morning. Profit slipped to $1.44 billion from $2.89 billion a year earlier after the New York-based company lost patent protection on its popular cholesterol drug Lipitor. The company reported earnings of 50 cents a share, beating the Wall Street estimate by 3 cents. Shares dropped 0.8% to $21.40.
RadioShack
(RSH)
, the electronics retailer, gave a
below-consensus profit outlook
for its fiscal fourth quarter because of margin weakness stemming from its business with
Sprint
(S)
. RadioShack said it now expects earnings of 11 cents to 13 cents a share for quarter on sales of $1.39 billion, well below the current average estimate of analysts polled by Thomson Reuters for a profit of 37 cents a share on sales of $1.35 billion. Shares of RadioShack tumbled 30% to $7.18.
UPS
(UPS)
reported record fourth-quarter results Tuesday as holiday shipping helped boost sales. The transportation company said revenue grew 6% to $14.2 billion in the quarter while earnings rose to $1.28 a share to exceed the average analyst estimate of $1.26 a share. Shares slipped 0.7% to $75.65.
Amazon.com
(AMZN)
rose 1.2% to $194.44 before reporting earnings after the closing bell. The Internet retailer reported earnings of 38 cents a share, more than double 19 cents expected by analysts. However, revenue disappointed, coming in at $17.43 billion compared to estimates of $18.2 billion in the
. The company has shifted its attention to cloud services, one of the hottest trends in technology, and is battling head-to-head against
Apple's
iPad with its Kindle Fire tablet device.
Arm Holdings
(ARMH)
said Tuesday profit rose 45% in the fourth quarter as strong
Apple
iPhone and iPad sales-- devices which use the company's microchip designs -- boosted earnings. The company's shares increased 1.8% to $28.88.
March oil futures settled down 30 cents at $98.48 a barrel. In other commodities, April gold futures settled up $6 at $1,740.40 an ounce.
The dollar index was up 0.2%. The benchmark 10-year Treasury was up 14/32, diluting the yield to 1.801%.
-- Written by Andrea Tse, Chao Deng and Kaitlyn Kiernan in New York
.
>To contact the writer of this article, click here:
Andrea Tse
or
Kaitlyn Kiernan
>To follow the writer on Twitter, go to
or
.
>To submit a news tip, send an email to:
.