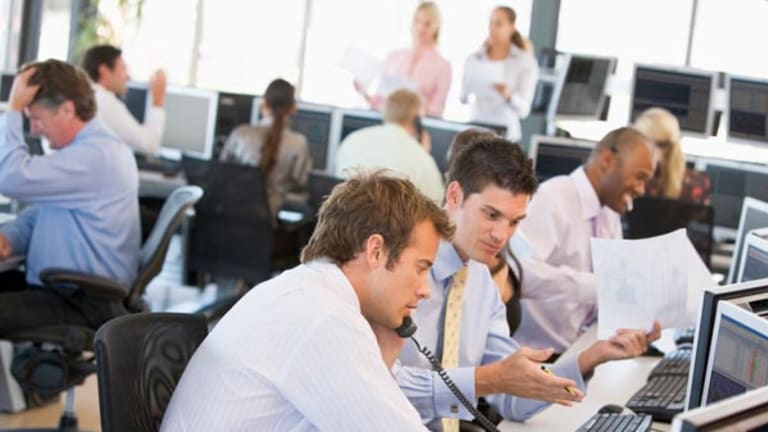 Stocks End Lower as Housing, Jobs Data Disappoint
Stocks drop Thursday after disappointing housing numbers and weak jobless data overshadowed strong earnings from a handful of corporate heavyweights.

NEW YORK (TheStreet) -- Stocks dropped Thursday as disappointing housing numbers and weak jobless data overshadowed strong earnings from a handful of corporate heavyweights.
The
Dow Jones Industrial Average
dropped 22.3 points, or 0.2%, at 12,735, well off of morning highs that gave the index a 0.6% gain. The
S&P 500
erased 7.6 points, or 0.6%, at 1,318, and the
Nasdaq
fell 13 points, or 0.5%, at 2,805.
"I think the weak housing data took some of the starch out of the rally here," Peter Cardillo, chief market economist at RockwellGlobal.com, said. "But basically the market is doing just fine because earnings are, for the most part, coming in on target and in some cases beating expectations. What's really holding up is corporate guidance."
A resumption of Greek debt negotiations with private investors also added to early morning optimism Thursday. After talks reached an impasse earlier in the week as investors and the Greek government differed on the interest rate newly trimmed securities should hold investors became jittery over lingering uncertainties. A debt swap deal with private investors is a precondition to a second bailout for Greece that would be necessary to prevent a disorderly default in late March.
Charles Dallara, managing director of the Institute of International Finance, the organization representing most of the private creditors, will be holding talks with Greek Prime Minister Lucas Papademos in Athens at around 1 p.m. ET.
"It's just a question of time before we see a resolution on Greek credit," Cardillo added. "That basically will help diminish some of the EU fears and I believe the upcoming summit next week will probably present more ... fiscal compact, meaning
member states will adhere to the central governing power of the EU and stabilize Europe to the point where it will become less and less of a factor for the American domestic market."
London's FTSE finished up 1.26%, and Germany's DAX closed 1.84% higher. In Asia, Japan's Nikkei Average settled 0.39% lower. Hong Kong's Hang Seng index finished up 1.63%.
A Census Bureau report that sales of new single-family homes fell for the first time in four months erased optimism and sent stocks tumbling. New single-family home sales unexpectedly dropped 2.2% to 307,000 in December from the November revised figure of 314,000. Economists on average thought new home sales would rise to a 320,000 annual rate in December. Investors were disappointed as the data dimmed hopes that the housing market would contribute to a broader economic recovery this year.
The Labor Department said that initial jobless claims increased more than expected last week. Claims rose 21,000 last week to 377,000, while economists surveyed by
Thomson Reuters
thought that claims would increase to 370,000. On a brighter note, by the four-week average has remained below 400,000 -- a mark that is associated with real improvement in the labor market. The reading for the preceding week was revised to 356,000 from 352,000.
The Conference Board said its index of leading economic indicators rose 0.4% in in December to a reading of 94.3, the highest level since July, after advancing by a revised 0.2% in November. Economists surveyed by
Thomson Reuters
were expecting an increase of 0.7%.
The Census Bureau also announced that new orders for durable goods rose a better-than-expected 3% in December, above the consensus expectation of a 2% gain, according to a survey of analysts by
Thomson Reuters.
Orders rose by an upwardly revised 4.3% in November.
In corporate news,
Caterpillar
(CAT) - Get Report
, the construction and mining equipment maker, handily beat expectations Thursday. The company's fourth-quarter earnings, excluding items, came in at $2.32 a share, while analysts expected a profit of $1.73 a share. Caterpillar reported record revenue of $17.24 billion, higher than the forecast for $16.05 billion. In the year-earlier fourth quarter, Caterpillar earned $968 million, or $1.47 a share, on revenue of $12.8 billion. For 2012, Caterpillar expects earnings of $9.25 a share, or a range of $68 billion to $72 billion. Shares advanced 2.1% to $111.31.
Telecom giant
AT&T
(T) - Get Report
beat estimates as sales of the iPhone soared to a record high. The company gained 717,000 subscribers on monthly contracts, while iPhone activations soared to 7.6 million. Earnings fell to 42 cents a share, slight short of the forecast for 43 cents. However, sales rose 3.6% to $32.5 billion, beating the expectation for $31.95 billion. AT&T withdrew its $39 billion proposal to buy T-Mobile USA in December after regulators said the deal would decrease competition in the sector. Shares erased 2.5% to $29.45.
Diversified manufacturer
3M
(MMM) - Get Report
beat Wall Street expectations, reporting earnings of $1.35 a share on revenue of $7.1 billion. The company was expected by analysts to earn $1.31 a share in the fourth quarter on revenue of $7.09 billion. The company also affirmed its 2012 forecast for earnings ranging between $6.25 and $6.50 a share. Shares climbed 1.3% to $87.58.
Lockheed Martin
(LMT) - Get Report
reported that it made $2.09 a share for a total profit of $683 million in the fourth quarter, down from $961 million a year earlier. Revenue came in at $12.21 billion, down 4.3% from a year earlier. Analysts' forecast according to Thomson Reuters was $1.94 a share on revenue of $12.1 billion. The defense contractor has struggled due to budget cuts in Washington, cutting thousands of jobs last year to rein in costs. The company also saw weaker results from its space and electronics systems businesses. Shares added 0.9% to $82.47.
The world's largest cell phone maker by volume,
Nokia
(NOK) - Get Report
, recorded its third straight loss in the December quarter. The company said it lost €1.07 billion ($1.38 billion), with sales dropping 21%. The company sold a total of 113.5 million devices, down from 123.7 million a year earlier. Still, shares gained 2.5% to $5.40.
Higher costs caused
Colgate-Palmolive
(CL) - Get Report
to post an almost 6% drop in net income during the fourth quarter. The company reported earnings of $1.21 a share, or $590 million, missing the $1.29 forecast. Revenue also came in lower at $4.17 billion while analysts were looking for $4.19 billion. Sales in Latin America and India helped offset some of the weakness in the U.S. market. Colgate says it still expects double-digit growth for 2012 although growth will be on a currency-neutral basis. Shares rose 2.1% to $91.35.
Netflix
(NFLX) - Get Report
, the DVD-by-mail and online streaming entertainment content subscription company
handily beat Wall Street's consensus profit view
. Netflix earned 73 cents a share in its fiscal fourth quarter, topping the average analysts' view of 55 cents a share. For the first quarter, Netflix said it expects to post a loss of between 16 cents and 49 cents a share on revenue between $842 million and $877 million. Wall Street analysts polled by
Thomson Reuters
forecast a loss of 30 cents a share on $847.8 million in revenue. Shares surged 22% to $116.01.
SanDisk
(SNDK)
tumbled 11% to $46.39 despite posting above-consensus fourth-quarter profit. The company reported a non-GAAP profit of $317 million, or $1.29 a share, for the three months ended Dec. 31 on revenue of $1.58 billion. Analysts were expecting earnings of $1.26 a share on revenue of $1.57 billion. Wall Street may be disappointed with the slightness of
as the company had delivered upside surprises of 12% and 14% in the two preceding quarters.
Johnson & Johnson
(JNJ) - Get Report
jumped 0.75% to$65.70 after winning a jury verdict over its antibiotic Levaquin. The New Brunswick, N.J.-based company won a verdict that it can't be held liable for tendon injuries of a 78-year-old man who said the company did not issue proper warnings of the risk of tendon damage in elderly patients.
Markets continued to receive some cheer from the Federal Reserve's announcement on Wednesday to keep interest rates at very low levels until late 2014 to stimulate the U.S. economy. Although the announcement highlighted ongoing struggles of the U.S. economy, it also indicated that the Fed was willing to step in and help.
"The stock market loves a big supply of cheap money, and Big Bernanke made it clear Wednesday that he is very open to this idea," says James "Rev Shark" DePorre, founder and CEO of Shark Asset Management.
"We are back in a very familiar place, with a market technically extended on low volume, but buyers who have been anxious to jump in are not allowing even a minor pullback."
March oil futures settled up 30 cents to $99.70 a barrel. February gold futures finished $25.60 higher at $1,726.70 an ounce, while still bathing in the afterglow of the Federal Reserve's commitment to cheap money through late 2014.
The benchmark 10-year Treasury was rising 17/32, diluting the yield to 1.942%, while the U.S. dollar index was falling 0.04% to $79.43.
-- Written by Kaitlyn Kiernan and Andrea Tse in New York
>To contact the writer of this article, click here:
Andrea Tse
or
Kaitlyn Kiernan
>To follow the writer on Twitter, go to
or
.
>To submit a news tip, send an email to:
.