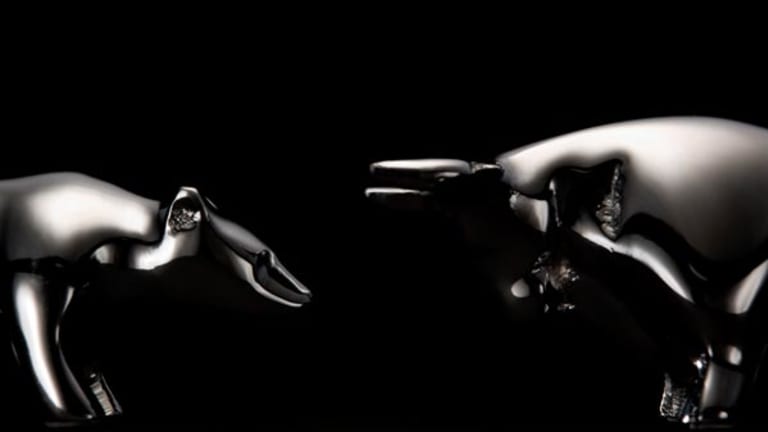 Stocks Finish Higher on Fed Rate Decision
Stocks surged after the Federal Open Market Committee announced a decision to hold interest rates low until late 2014.
Stocks surged after the Federal Open Market Committee announced a decision to hold interest rates low until late 2014.

NEW YORK (TheStreet) -- Stocks surged after the Federal Open Market Committee announced a decision to hold interest rates low until late 2014.
The
Dow Jones Industrial Average
rose 83.1 points, or 0.7%, at 12,759 after starting the day down as much as 0.7%. The
S&P 500
gained 11.4 points, or 0.9%, to 1,326. The
Nasdaq
was up 31.7 points, or 1.1%, at 2,818.
Markets moved higher Wednesday after the Federal Open Market Committee announced its intent to keep the benchmark federal funds rate at its current low level at least through late 2014, extending an earlier pledge to keep the rate low through mid-2013.
"To support a stronger economic recovery and help ensure that inflation, over time, is at levels consistent with the dual mandate, the FOMC expects to maintain a highly accommodative stance for monetary policy," the FOMC said in a statement.
The FOMC also made no new policy steps, rebuking speculation that a third round of quantitative easing would be announced. However, with Operation Twist not scheduled to conclude until June, some viewed today's announcement as too soon to announce new efforts at monetary easing.
Stocks trimmed some gains as Fed Chairman Bernanke detailed the FOMC's decisions. Bernanke said the committee does not feel the economy has yet reached a point when interest rates can inch up. "We continue to see headwinds emanating from Europe, coming from the slowing global economy," Bernanke said during a press conference. "I don't think we're ready to declare that we've entered a new, stronger phase at this point. We'll continue to look at the data."
U.S. stocks ended mixed for a second day Tuesday as tepid corporate earnings failed to impress, and an impasse between Greece and private investors in debt talks increased fears of a default. Charles Dallara, managing director of the Institute of International Finance, the organization representing most of the private creditors of Greece, will return to Athens Thursday to continue negotiations, sparking hopes that a debt swap deal on which a second bailout package for the country is contingent on would soon be reached.
London's FTSE finished 0.5% lower, and Germany's DAX closed up 0.04%. In Asia, Japan's Nikkei Average closed 1.12% higher. Hong Kong's Hang Seng index settled up 0.84%.
In corporate news,
Apple
(AAPL) - Get Report
of $13.06 billion, or $13.87 a share, on revenue of $46.33 billion for the quarter ended Dec. 31. Analysts polled by
Thomson Reuters
expected a profit of $10.15 a share on revenue of just more than $39 billion. Shares were soared 6.2% to $446.66.
"What we learned last night was that in one six-month period, Apple did to the tablet market what it took multiple years to do with the music distribution system," said Jim Cramer, RealMoney columnist and Action Alerts PLUS portfolio manager.
"It wiped out the competition and that's how it sold more than 15 million iPads this quarter."
Roche
, the Swiss drugmaker, plans to offer $5.7 billion in cash to buy
Illumina
(ILMN) - Get Report
, the U.S. DNA company. Roche said it would offer to buy Illumina for $44.50 a share in cash, an 18% premium to Illumina's closing price of $37.68 on Tuesday. Roche said it's making the hostile bid after it tried to negotiate a deal with Illumina but the U.S. company declined to participate. Illumina urged shareholders not to take any action on Roche's offer until the board makes a recommendation. Illumina said its board will review the offer. Illumina surged 46% to $55.15.
U.S. Airways
(LCC)
handily beat estimates, reporting a fourth-quarter profit despite rising fuel costs. Excluding items, the carrier earned $21 million, or 13 cents a share, higher than Thomson Reuters' forecast of 2 cents. Revenue rose 8.5% to $3.2 billion, compared to the forecast of $3.1 billion. The company set new records, both for the last quarter and the full year, for total revenue and for passenger revenue per available seat mile. Shares jumped17% to $7. 52.
General Dynamics
(GD) - Get Report
reported a decline in fourth quarter earnings to $1.68 per share or $603 million, missing analysts' expectations for $1.99 a share. Earnings took a hit from the company's Switzerland-based aircraft completions business with totaled a charge of $189 million. The company's revenue rose to $9.14 billion, down from $8.6 in the quarter a year earlier and coming in light of the forecast for $9.29 billion. The stock climbed 0.3% to $71.57.
The maker of glass and ceramic products,
Corning
(GLW) - Get Report
, reported profit in lines with estimates as sales rose. Fourth quarter net income fell to 31 cents a share or $491 million, compared to $1.04 billion in the quarter a year earlier. Excluding some items, profit came in at 33 cents a share. Corning is the world's largest maker of glass for flat panel televisions. Earlier, the company had lowered its forecast because of price declines for liquid crystal display glass and a lost contract in Korean. Shares plunged 11% to $13.05.
Boeing
(BA) - Get Report
, the aerospace giant, reported earnings of $1.39 billion, or $1.84 per share, on revenue of $19.56 billion in the fourth quarter. Analysts expected the company to earn $1.01 a share in the fourth quarter on revenue of $19.32 billion. Boeing noted its results reflected a $0.52 per share impact related to a favorable tax settlement and high pension expense. The company is expecting earnings of $4.05 to $4.25 a share for the 2012 fiscal year, compared to the forecast of $4.96 per share. Shares finished 0.6% higher at $75.82.
United Technologies
, a component of the
Dow
, saw its profit rise 11% in the fourth quarter as demand increased for aerospace parts involving Boeing Co. and Airbus. The company reported net income of $1.47 per share, on sales of $15 billion. Analysts forecast a profit of $1.46 a share on revenue of $15.07 billion. United Technologies also projected a profit ranging from $5.80 to $6 a share for 2012 on sales of as much as $60 billion, while analysts forecast a profit of $5.72 for the year on sales of $62.9 billion. The stock dropped 0.2% to $77.65.
Yahoo!
(YHOO)
said adjusted revenue fell 3% during the fourth quarter on weak display ad sales. The
struggling Internet company reported adjusted earnings
of 24 cents a share, flat with a year earlier. Revenue excluding traffic acquisition costs, or TAC, came in at $1.17 billion. Analysts were expecting earnings of 24 cents a share on revenue of $1.19 billion in the period. Shares fell 0.8% to $15.56.
The National Association of Realtors said that the pending home sales index fell by a worse-than-expected 3.5% in December after rising 7.3% to a 19-month high in November. Economists surveyed by
Thomson Reuters
expected to see a decline of 0.9% for December. Still, levels remained 5.6% higher than that of December 2010. Meanwhile, the Federal House Finance Agency said that the house price index for November rose by a better-than-expected 1% after a downwardly-revised decline of 0.7% in October. Economists, on average, were expecting a 0.1% dip for November.
March oil futures finished up 45 cents at $99.40 a barrel. In other commodities, February gold futures settled $35.60 higher at $1,700.10-- its highest price in nearly seven weeks.
The benchmark 10-year Treasury was up 19/32, diluting the yield to 1.998% after the Feds interest rate announcement led to speculation the long-term rate would remain low for a few more years as well. The U.S. dollar index fell 0.5% to $79.42.
-- Written by Kaitlyn Kiernan and Andrea Tse in New York
>To contact the writer of this article, click here:
Andrea Tse
or
Kaitlyn Kiernan
>To follow the writer on Twitter, go to
or
.
>To submit a news tip, send an email to:
.