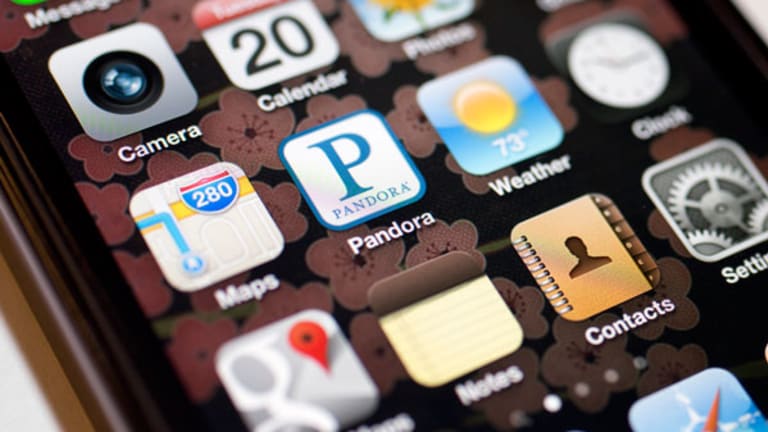 Stocks Close Mixed; Apple Puts Dent in Nasdaq
Major U.S. stock averages trade mixed even after better-than-expected U.S. economic data.
Major U.S. stock averages trade mixed even after better-than-expected U.S. economic data.
NEW YORK (
) -- Major U.S. stock averages traded mixed Thursday afternoon as better-than-expected U.S. economic indicators failed to push the
Nasdaq
back into positive territory amid
Apple's
(AAPL) - Get Report
sharp price decline.
The
Dow Jones Industrial Average
closed up 46 points, or 0.33%, at 13,825.
Breadth was positive, as winners outpaced losers 19 to nine.
Hewlett-Packard
(HPQ) - Get Report
and
Walt Disney
(DIS) - Get Report
were unchanged. The biggest percentage blue-chip gainers were
Cisco
(CSCO) - Get Report
,
Home Depot
(HD) - Get Report
,
DuPont
(DD) - Get Report
,
Dupont
(DD) - Get Report
and
Boeing
(BA) - Get Report
.
Boeing shares rose 1.4%.
Delta
(DAL) - Get Report
is talking to Airbus and Boeing about buying $1 billion or more of new jets as planemakers phase out their current single-aisle models, people familiar with the matter told
Bloomberg
. Delta shares climbed 0.94%.
Software giant Microsoft is expected by analysts Thursday to report fiscal second-quarter earnings of 75 cents a share on revenue of $21.6 billion after the closing bell. Shares were up incrementally ahead of the announcement.
Alcoa
(AA) - Get Report
,
Intel
(INTC) - Get Report
,
Verizon
(VZ) - Get Report
and
Procter & Gamble
(PG) - Get Report
shares were among the stocks that were trading lower.
3M
(MMM) - Get Report
, the diversified technology company, posted in-line fourth-quarter earnings of $1.41 a share and revenue of $7.4 billion, which beat the Wall Street sales estimate of $7.18 billion. Organic local-currency sales grew 4.3% in the period, and acquisitions added 0.9% to sales. The stock added 0.23% a share on Thursday.
3M affirmed its 2013 full-year performance earnings expectations of $6.70 to $6.95 a share, with CEO Inge Thulin saying that 3M has "built good momentum to innovate and move forward in 2013."
The
S&P 500
was effectively flat at 1495. Earlier Thursday the index crossed 1500 for the first time since December 2007. The
Nasdaq
fell 23 points, or 0.74%, at 3130.
Most sectors in the broader market were trading higher except for technology and basic materials. The strongest sectors were consumer cyclicals, transportation, health care, financials and conglomerates.
Volumes rose to 3.67 billion shares on the
New York Stock Exchange
and a heavy 2.04 billion shares on the Nasdaq. Advancers were edging decliners by a 1.3-to-1 ratio on the Big Board and 1.2-to-1 on Nasdaq.
Apple shares plunged 12.4% Thursday after its fiscal first-quarter
revenue trailed forecasts, earnings per share fell and profit margins shrank
.
Even with the S&P 500 managing to touch five-year highs during Thursday's trading session, the market looks like it can continue to move higher, at least for now, according to strategists.
Michael Pento, president of Pento Portfolio Strategies, said he is "mildly bullish" on equities for the next two months.
"Strong money supply growth and the bond bubble being at its apogee will cause the S&P 500 to rise 5% to 7% by the middle of March. However, I also feel the economy will continue to be mired in stagflation and start to slow even further due to the mild condition of austerity coming from D.C.," said Pento. "That will cause the markets to pause in the spring."
"We've seen lots of talk about how over-extended the market is here and how 'bullish' everyone has become all of a sudden," said Ryan Detrick, senior technical strategist at Schaeffer's. "My only take on this is we saw some similar scenarios last year around this time, yet the market continued to grind higher for several months. Could we be seeing a repeat of that? I wouldn't bet against it."
The U.S. Labor Department said Thursday that initial jobless claims fell by 5,000 in the week ended Jan. 19 to 330,000, down from the previous week's unrevised figure of 335,000. Economists were expecting an increase to 355,000. The four-week moving average was 351,750, a decrease of 8,250 from the previous week's average of 360,000.
Continuing claims for the week ended Jan. 12 fell by 71,000 to 3.157 million, down from the prior week's upwardly revised level of 3.228 million.
"Claims data can be especially volatile around this time of year, reflecting huge swings in seasonal patterns," noted Maury Harris, an economist at UBS.
The Conference Board's leading economic index for the U.S. showed a rise of 0.5% in December to 93.9, following an upwardly revised flat read for November, and a 0.3% increase in October. A rebound of 0.3% was expected for December.
Economists at the Conference Board said the index's rise suggests a likely pickup in domestic growth as the improving housing market helps improve consumer balance sheets and strengthen consumption.
However, for growth to gain more traction, the economists said they need to see better performance on new orders and an acceleration in capital spending.
Hong Kong's Hang Seng finished down by 0.15% even after better-than-expected China manufacturing data as China shares sold off on profit-taking and Apple suppliers took a hit after the tech giant's downbeat report.
The Nikkei in Japan rose 1.28% as exporters advanced thanks to a weaker yen.
The FTSE in London settled ahead by 1.09% as mining stocks gained after the China data. The DAX in Frankfurt closed up 0.53% after Markit Economics' flash Germany PMI report showed that the leading European economy began the year with a resurgence in private sector output.
Gold for February delivery fell $16.80 to finish at $1,669.90 an ounce at the Comex division of the New York Mercantile Exchange, while March crude oil futures were up 72 cents to close at $95.95 a barrel.
The benchmark 10-year Treasury fell 7/32, to raise the yield to 1.853%. The dollar was up 0.03%, according to the
U.S. dollar index.
In corporate news,
Netflix
(NFLX) - Get Report
gained 2 million video-streaming subscribers in the U.S. during the fourth quarter, and
posted a profit of $8 million during a period when analysts were expecting a loss.
Shares soared 42.2%.
Under Armour
(UA) - Get Report
shares tumbled 3.8% as the apparel, footwear, and accessories company announced the resignation of Gene McCarthy, senior vice president of the company's footwear division, effective Feb. 22. Kip Fulks, the company's chief operating officer, will assume responsibility of the footwear division and continue to oversee the company's operations division.
Travelzoo
(TZOO) - Get Report
shares surged 24.3% after the publisher of travel deal newsletters and web-sites beat on both the top and bottom lines for the fourth quarter.
Symantec's
(SYMC) - Get Report
CEO Steve Bennett plans to cut at least 1,000 jobs as he aims to overhaul the antivirus software maker, according to
Bloomberg
. Shares rose 1.2%.
ITT Educational Services
(ESI) - Get Report
shares rebounded 17.7%. Earlier, the company plunged more than 17.5% after reporting disappointing quarterly results and gave full-year guidance that was below estimates.
United
(UAL) - Get Report
reported disappointing results in a quarter when rivals trumpeted their successes, but said its
lingering merger problems were behind it
. Shares gained 2.2%.
Xerox
(XRX) - Get Report
shares tacked on 2.2% after the company beat quarterly earnings estimates by a penny and also exceeded top-line expectations.
Focus Media's
(FMCN)
American depositary receipts slid 3.1% as the Shanghai-based advertising company revealed that the
SEC
was launching an investigation into possible violations of securities laws.
-- Written by Andrea Tse and Joe Deaux in New York.
>To contact the writer of this article, click here:
Andrea Tse
.