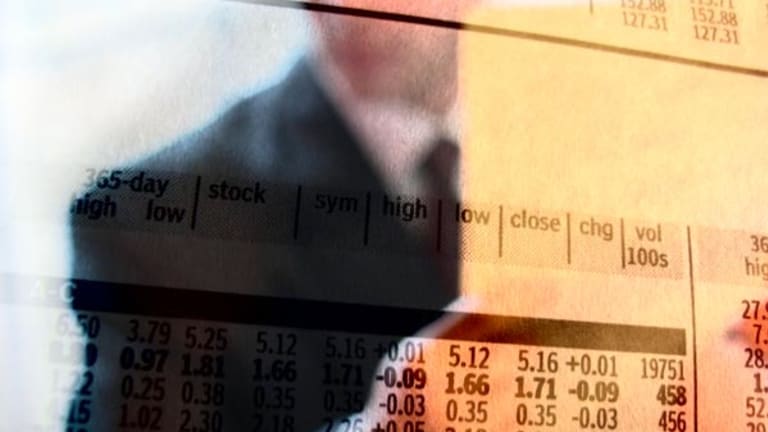 Stocks End Mixed as Greek Debt Talks Stall
U.S. stocks end mixed Tuesday as investors digest lackluster earnings and an impasse between Greece and private investors in debt talks.

NEW YORK (TheStreet) -- U.S. stocks ended mixed for a second day Tuesday as tepid corporate earnings failed to impress, and an impasse between Greece and private investors in debt talks increased fears of a default.
The
Dow Jones Industrial Average
ended 33.1 points lower, or 0.3%, at 12,676, but off intraday lows.
The
S&P 500
dropped 1.4 points, or 0.1%, to 1,315, also backing away from the day's lows and the
Nasdaq
creeped up 2.5 points, or 0.1%, to 2,787.
Efforts toward providing debt-laden Greece with its second bailout package, backed by the European Union and International Monetary Fund and worth about 130 billion euros ($168 billion), have suffered another setback amid ongoing disagreements over a debt write-down deal.
In order to receive the next bailout package, Greece's private creditors have been asked to help Greece reduce its debt burden by about 100 billion euros by swapping their existing bond holdings for ones lower in face value by 50% and with far longer maturities and lower interest rates.
Private creditors have offered to swap their existing Greek debt holdings for new ones with coupons of no lower than 4%, but eurozone finance ministers said the offer was still too steep. The euro had slid from a three-week high following the news and was now trading sideways against the U.S. dollar.
Charles Dallara, managing director of the Institute of International Finance, the organization representing most of Greece's private-sector creditors, said in an interview with
CNBC
this morning that he is still hopeful an agreement on the debt swaps is reachable and that the Greek economy can be revived.
Rating agency Standard & Poor's cautioned that it will likely downgrade Greece's ratings to "selective default" upon completion of its debt restructuring, though noted that this would not necessarily wipe out the credibility of the European Union.
Germany's denial of media reports saying that the country is open to boosting the firepower of the eurozone's rescue funds to 750 billion euros ($979 billion) also put a damper on market sentiment Tuesday morning.
"The Europeans are getting their butts kicked as they muddle through the euro-debt crisis, as there's been little thought given to growth and all of the concentration is on German-demanded austerity," said Jim Cramer,RealMoney columnist and Action Alerts PLUS portfolio manager.
"We could easily use Europe as the reason for a selloff today. We haven't had a selloff in ages and we haven't had anything euro-driven since the beginning of the year when either the bears from across the ocean stopped crossing or they went into hibernation."
London's FTSE finished down 0.53% and Germany's DAX lost 0.27%. In Asia, Japan's Nikkei Average closed 0.22% higher. Hong Kong's Hang Seng index settled up 0.84%.
Tuesday was also a day heavy with corporate earnings reports from bellwether stocks.
Fast-food chain
McDonald's
(MCD) - Get Report
beat analysts' estimates by delivering fourth-quarter earnings of $1.38 a share, up from $1.16 a share a year earlier, on revenue of $6.82 billion. Analysts expected a profit of $1.29 a share on revenue of $6.8 billion. Shares declined 2.2% to $98.75.
Verizon Communications
(VZ) - Get Report
reported fourth-quarter adjusted earnings of 52 cents share, excluding one-time items, on revenue of $28.44 billion. Analysts were looking for the telecommunications giant to earn 53 cents a share on revenue of $28.38 billion. Wireless revenue rose 13% year over year, factoring in a surge in cellular data revenue. The company reported a fourth-quarter loss of $212 million, or 71 cents a share, compared with a profit of $4.65 billion, or 93 cents, a year earlier. Shares of the company slipped 1.6% to $37.79.
Johnson & Johnson
(JNJ) - Get Report
reported net earnings of $218 million, or 8 cents a share, in the fourth quarter, down from $1.94 million, or 70 cents a share, a year earlier. Adjusted earnings came in at $1.13, beating the forecast by Thomson Reuters of $1.09 a share. Revenue of $16.27 billion was in line with expectations. For 2012, the company said it expects profit in a range of $5.05 to $5.15 a share, excluding the impact of special items. Shares remained unchanged at $65.
Catastrophe losses cost
Travelers
(TRV) - Get Report
some profit in the fourth quarter, although the company said that high prices in 2012 will more than offset those losses in 2011. The insurer reported net income of $618 million, or $1.51 a share, for the fourth quarter, down from $8.94 million, or $1.95 a share, in the year-earlier fourth quarter. Operating income came in at $609 million, or $1.48 a share, missing the forecast of $1.51 a share.
An early snowstorm in the northeastern U.S. and other losses pressured Travelers' bottom line. However, the company said that it saw prices increase across all business lines during the fourth quarter as a result of the "unusual weather patterns," including a rise in commercial accounts and the personal lines business. The stock lost 3.8% to $58.
DuPont
(DD) - Get Report
, the chemicals giant,
reported net income of 40 cents a share in the fourth quarter, slightly down from a year earlier, and earnings per share of 35 cents, excluding one-time items. DuPont's earnings beat the forecast of 33 cents a share on revenue of $8.53 billion. Higher selling prices and acquisitions helped the company record earnings for 2011 of $3.5 billion, up from $3.05 billion in 2010. DuPont also affirmed its 2012 adjusted earnings outlook of $4.20 to $4.40 a share, in line with the forecast for $4.26. Shares inched 0.1% higher to $49.41.
Apple
(AAPL) - Get Report
, the iPhone and iPad maker, reports fiscal first-quarter earnings after the closing bell Tuesday and analysts are expecting profit of $10.08 a share on revenue of $38.85 billion. If
hits that revenue number, it will have delivered sequential revenue growth of 37% from its fourth-quarter total of $28.27 billion. Shares slipped 1.6% to $420.50.
Texas Instruments
(TXN) - Get Report
reported
better-than-expected fourth-quarter sales
as the chipmaker eyed an improved IT spending climate.
"Revenue in the fourth quarter was higher than expected across all our major product lines, reinforcing our belief that we're at the bottom of this downturn," said CEO Rich Templeton in a statement.
Texas Instruments said it would close two of its older computer-chip factories, one in Houston and one in Japan, and lay off 1,000 workers. The chipmaker said it expects first-quarter profit of 16 cents to 24 cents a share; analysts are estimating earnings of 32 cents. Shares fell 2% to $32.54.
The Federal Open Market Committee kicks off its two-day policy meeting Tuesday, and investors will be listening in for any developments related to individual members' forecasts of where they think the benchmark overnight lending rate should be heading in the coming years and what that may mean for long-term borrowing rates.
Investors will also keep an eye on President Obama's state of the union address tonight, which is expected to hit on many key economic themes. With Warren Buffet's secretary Debbie Bosanek expected to be in attendance at tonight's event there is speculation that the president will address the so-called "Buffett Rule" in a call for changed to the tax code. Some investors also expect word on additional efforts to aid housing market recovery this year.
U.S. stocks closed mixed Monday as strength in energy shares offset weakness elsewhere amid fears that Greece may be heading toward a disorderly default.
March oil futures settled down 63 cents at $98.95 a barrel, while February gold futures were slipped $13.80 to $1,664.50 an ounce alongside a weaker euro.
The benchmark 10-year Treasury fell 2/32, raising the yield to 2.062%, while the U.S. dollar index was up 0.1% to $79.84.
-- Written by Kaitlyn Kiernan and Andrea Tse in New York
>To contact the writer of this article, click here:
Andrea Tse
or
Kaitlyn Kiernan
>To follow the writer on Twitter, go to
or
.
>To submit a news tip, send an email to:
.