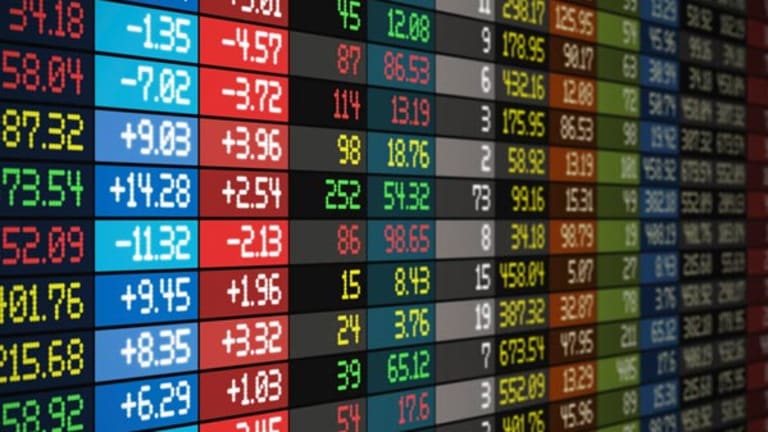 Dow: 7 Days of Gains
Stocks close higher despite China's second interest rate hike as U.S. growth is increasingly seen as supporting global expansion. Gregg Greenberg has The Real Story.
NEW YORK (
) -- The
Dow Jones Industrial Average
finished higher for the seventh straight trading session, after stronger-than-expected same-store sales from
McDonald's
(MCD) - Get McDonald's Corporation (MCD) Report
in January fueled gains across the consumer sector.
Markets also shrugged off a second rate hike from China, a sign that investors are more optimistic about expansion in the U.S. and no longer see the Asian tiger as the sole driver of the economy.
The Dow gained 71 points, or 0.6%, to close at 12,223, just shy of the session's high. The
S&P 500
closed higher by 5 points, or 0.4%, at 1,324, and the
Nasdaq
rose 13 points, or 0.5% at 2,797.
Consumer discretionary stocks led rally, with McDonald's, up 2.6% at $75.36, topping the Dow, after reporting an
increase of 5.3% in January same-store sales.
General Electric
(GE) - Get General Electric Company (GE) Report
and
American Express
(AXP) - Get American Express Company Report
were among the other strong performers on the Dow.
Meanwhile
Exxon Mobil
(XOM) - Get Exxon Mobil Corporation Report
,
Cisco
(CSCO) - Get Cisco Systems, Inc. Report
and
Intel
(INTC) - Get Intel Corporation (INTC) Report
were the Dow's biggest laggards.
After the bell,
Walt Disney
(DIS) - Get Walt Disney Company Report
said earnings during the first quarter ended January rose 54% to $1.3 billion or 68 cents per share, ahead of estimates of 56 cents. Shares were up 2.6% in extended trading.
Market breadth was slightly weighted to the positive, with 58% of shares on the
New York Stock Exchange
advancing while 38% declined. About 884 million shares traded on the NYSE and about 1.7 billion shares changed hands on the Nasdaq.
The
People's Bank of China raised interest rates for the second time in slightly more than a month as part of its ongoing attempt to combat inflation. Stocks including China-sensitive materials stocks, however, managed to remain positive on Tuesday with expectations of the rate hike largely priced in.
"I think that the market's foundation now includes expansion in the U.S., so growth is not totally predicated on Chinese expansion," said Quincy Krosby, market strategist at Prudential Financial. "I think there's an expectation now that the U.S. is not just in recovery mode, but in expansion mode."
Krosby said that a rate hike from China had been expected but that that the timing caught the market a little off guard since it came at the end of the Chinese Lunar New Year holidays. The increase will go into effect on Wednesday, when Chinese markets are scheduled to resume trading.
"The expectation is that there will be more tightening," Krosby said, adding, "But the overriding question is: Will it be enough? Are the Chinese going to do enough to staunch inflationary pressures?"
Gold prices took off as investors snapped up the precious metal as a hedge against inflation. Also helping to support prices was news that
JPMorgan Chase
(JPM) - Get JPMorgan Chase & Co. (JPM) Report
will now
accept gold as collateral for lending. The move lands gold in the same category as triple-A rated Treasury bonds and other securities currently accepted as collateral.
The most actively traded April gold contract surged ahead by $15.90 to settle at $1,364.10 an ounce.
Inflation and the Fed's monetary policy were in focus on Tuesday as Fed officials provided their outlook on the economy a day ahead of Chairman Ben Bernanke's testimony before the House budget committee. Jeffery Lacker, a non-voting member of the
Federal Open Market Committee
and president of the Federal Reserve Bank of Richmond, said the
Fed should re-evaluate its ongoing $600 billion bond purchase program in light of improve growth expectations for 2011 .
"The distinct improvement in the economic outlook since the program was initiated suggests taking that re-evaluation quite seriously. The re-evaluation will be challenging, because inflation is capable of accelerating even if the level of economic activity has not yet returned to pre-recession trend," he said in an address at the University of Delaware.
Meanwhile, Dallas Fed President Richard Fisher, a voting member, said he will not support further quantitative easing by the central bank. "I would be very wary of expanding our balance sheet further; indeed, given current economic and financial conditions, it is hard for me to envision a scenario where I would not use my voting position this year to formally dissent should the FOMC recommend another tranche of monetary accommodation. And I expect I will be at the forefront of the effort to trim back our Treasury holdings and tighten policy at the earliest sign that inflationary pressures are moving beyond the commodity markets and into the general price stream."
Some argue that the winding down of QE2 will hurt markets, as the accommodative policy has helped support equity markets by pushing investors towards risky assets such as stocks. Others see any plans to stop the bond buying program as an encouraging sign, as it would mean that the Fed's outlook for the economy is more bullish.
With no economic releases scheduled for Tuesday's session, the market was focusing on earnings news.
Brand-name food products company
Sara Lee
(SLE)
more than doubled quarterly profits but missed expectations by a penny with adjusted earnings of 24 cents a share.
Sara Lee blamed higher food costs for weaker-than-expected results but reaffirmed its 2011 earnings and sales guidance. The stock gained 1.4% to $17.15.
ArcelorMittal
(MT) - Get ArcelorMittal SA ADR Report
saw its stock gain 4.2% to $38.31 after the
global steel producer blamed higher raw material costs for its fourth-quarter loss, but said 2011 is expected to be better than 2010. Sales, meanwhile, grew nearly 19% to $20.7 billion on improved shipments.
Swiss bank
UBS
(UBS) - Get UBS Group AG Report
posted its first annual profit since 2006 and said fourth-quarter earnings rose to 1.29 billion Swiss francs ($1.35 billion), from 1.2 billion Swiss francs a year ago. Analysts, however, had been expecting earnings of 1.45 billion Swiss francs. The stock spiked 3.8% to $19.08.
Shares of
Toyota
(TM) - Get Toyota Motor Corp. Sponsored ADR Report
finished up by 4% at $88.57 despite reporting a 39% decrease in third-quarter profit as the
automaker lifted its year-end profit and sales guidance.
Kindred Healthcare
(KND)
saw its stock jump 28% higher to $25 on
news that it will acquire
RehabCare
(RHB)
for roughly $900 million. RehabCare's stock soared 45% higher at $37.05.
Shares of
Tesla Motors
spurted 6% to $24.49 on hopes that President Obama might back a $7,500 tax credit for buyers of electric vehicles.
Urban Outfitters
(URBN) - Get Urban Outfitters, Inc. Report
,
Family Dollar
(FDO)
and
JC Penney
(JCP) - Get J. C. Penney Company, Inc. Report
were the biggest gainers on the S&P 500.
Beckton Dickinson
(BDX) - Get Becton, Dickinson and Company Report
,
Coventry Health Care
(CVH)
and
Avon Products
(AVP) - Get Avon Products, Inc. Report
were the major laggards within the index.
The March crude oil contract shed 54 cents to settle at $86.94 a barrel as concerns about the Egyptian crisis abated.
The dollar weakened against a basket of currencies with the dollar index down by 0.1%. The benchmark 10-year Treasury fell 11/32, lifting the yield to 3.685%.
.
Japan's Nikkei added 0.4% while the Hong Kong Stock Exchange fell 0.3%. London's FTSE gained 0.7% and the DAX in Frankfurt rose 0.5%.
--Written by Melinda Peer and Shanthi Bharatwaj in New York
.
Disclosure: TheStreet's editorial policy prohibits staff editors and reporters from holding positions in any individual stocks.