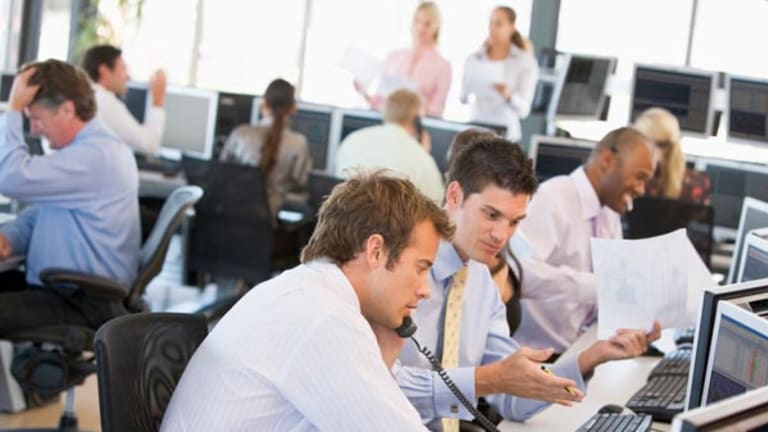 Stocks Finish Leap Day Lower on Bernanke Comments
The major U.S. stock indices finish the last day of the month in the red Wednesday after a more hawkish testimony from Federal Reserve chairman Ben Bernanke saps earlier market momentum.

NEW YORK (TheStreet) -- The major U.S. stock indices finished the last day of the month in the red Wednesday after a more hawkish testimony from Federal Reserve chairman Ben Bernanke sapped earlier market momentum.
The
Dow Jones Industrial Average
fell 53 points, or 0.4%, to close at 12,952. The
S&P 500
lost 6.5 points, or 0.5%, at 1365. The
Nasdaq
lost 19.9 points, or 0.7%, at 2967 after crossing 3000 for the first time for the first time in more than 11 years.
Equities pulled back after Bernanke suggested that improvements in the U.S. economy may lessen the need for further monetary stimulus. In his semi-annual speech before Congress, the Bernanke characterized the pace of economic growth as "uneven and modest by historical standards." However, he acknowledged some improvement in the labor market and said that headwinds like Europe and a weak housing market would fade beyond 2012.
"Bernanke said that the Fed is maintaining its very accommodative monetary policy because it views the unemployment rate as too high, the near-term inflation outlook as too low, and is concerned about downside risks to growth," said economists at PNC. "However, given the recent run of good news, the Federal OpenMarket Committee will not undertake a third round of quantitative easing when it meets in mid-March. Additional quantitative easing is likely this spring only if economic conditions deteriorate over the next few months, which we do not expect to occur."
The Fed's Beige Book report on economic conditions this afternoon indicated that there has been some improvement in the housing sector in most of its 12 regional districts; hiring had increase slightly across several districts; and that many of the districts reported improving manufacturing activity, noting a rise in in new orders, shipments and production. Some even reported improved investment spending.
Meanwhile, gold and silver prices fell sharply as Bernanke suggested that rising gas prices could temporarily push up inflation. April gold futures fell $77.10 to $1,711.30 an ounce. In other commodities, April oil futures added 52 cents to $107.07a barrel.
The dollar index turned higher by 0.7%. The benchmark 10-year Treasury was down 8/32, pushing the yield to 1.974.
The Nasdaq retreated after briefly breaking above 3000, a level it hasn't topped since the year 2000.
The morning's rally was spurred by upbeat economic news. The Chicago purchasing managers index ticked in at a reading of 64 in February, beating the forecast for 61.5 from Thomson Reuters. The index rose to its highest level in ten months, suggesting that regional business has been picking up.
The U.S. government said that the economy grew at a pace of 3% in the fourth quarter, upwardly revised from its first estimate of 2.8%. Economists had thought the growth reading would stay unchanged, according to Thomson Reuters.
The European Central Bank said it lent a total of €530 billion to 800 financial institutions in Europe as part of its second round of long-term refinancing. Economists had expected the banks to soak up a sum in the €500 billion ballpark.
Despite this, European stocks followed the U.S. market lower. Germany's DAX closed down 0.46% while London's FTSE settled down 0.95%. Japan's Nikkei Average settled up 0.01% and Hong Kong's Hang Seng was up 0.52%.
In corporate news,
Costco
(COST) - Get Costco Wholesale Corporation Report
, the warehouse retailer, earned $394 million, or 90 cents a share, in its fiscal second quarter, up from $348 million, or 79 cents, a year earlier. Total revenue jumped 10% to $23 billion. Analysts expected Costco to earn 87 cents a share on revenue of $22.83 billion. Shares were up 0.9% to $86.06.
Staples
(SPLS)
, the office-products retailer, reported fourth-quarter net income of $283.6 million, or 41 cents a share, on sales of $6.46 billion. Staples was expected by analysts to earn 41 cents a share in the fourth quarter on revenue of $6.45 billion. Shares were down 8.4% to $14.66.
First Solar
(FSLR) - Get First Solar Inc. Report
reported fourth-quarter profit and revenue below Wall Street's expectations. It also lowered its revenue and cash flow outlook for fiscal 2012. For the three months ended Dec. 31, First Solar posted an adjusted profit of $110 million, or $1.26 a share, on net sales of $660 million, down more than 30% on a sequential basis. Analysts were expecting earnings of $1.53 a share on sales of $779.3 million. First Solar reduced its fiscal 2012 revenue view to between $3.5 billion and $3.8 billion from a prior projection of $3.7 billion to $4 billion. The stock plunged 11.3% to $32.30.
DreamWorks Animation
(DWA)
reported fourth-quarter net income of $24.3 million, or 29 cents a share, missing the consensus forecast of 32 cents. Revenue came in at $219 million, beating the $206 million expected by analysts, on average. Shares were down 12.2% to $17.26.
Hewlett-Packard
plans to lay off 275 employees from its webOS software division, according to reports. CEO Meg Whitman in December opened up the company's webOS operating system to outside developers. Shares shed 3.3% to $25.31.
Wells Fargo
(WFC) - Get Wells Fargo & Company Report
and
Goldman Sachs
(GS) - Get Goldman Sachs Group Inc. (The) Report
said they received Wells notices from the
Securities and Exchange Commission
and could face civil claims tied to sales of mortgage-backed securities. According to reports,
JPMorgan Chase
(JPM) - Get JP Morgan Chase & Co. Report
is expected to announce Wednesday that it too received a Wells notice. The notices generally indicate the SEC plans to bring charges or take other enforcement action against a company.Shares of Goldman Sachs slid 1.6% to $115.14. Wells Fargo was down 0.3% to $31.29. JPMorgan shares were up 0.08% to $39.24.
-- Written by Andrea Tse and Chao Deng in New York
.
>To contact the writer of this article, click here:
Chao Deng
.
>To follow the writer on Twitter, go to:
@chao_deng
>To submit a news tip, send an email to:
.