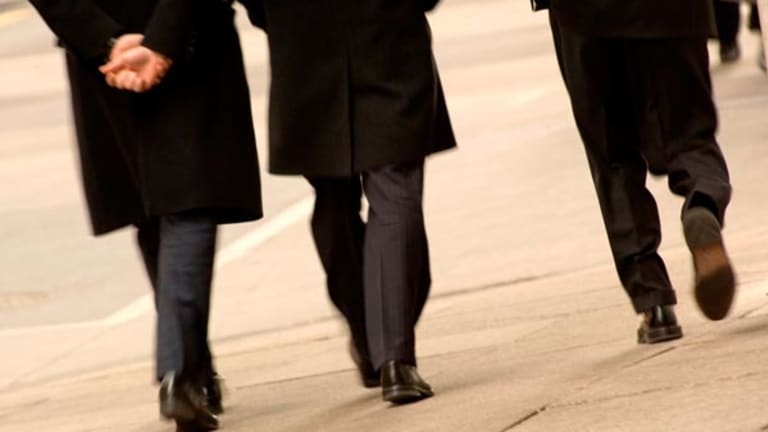 Stocks End Higher After Encouraging Economic Data
Stocks finish higher Thursday as data shows surprising resilience in German business confidence and stabilization in U.S. jobless claims.

NEW YORK (TheStreet) -- Stocks closed up Thursday as data showed surprising resilience in German business confidence and further stabilization in U.S. jobless claims.
The
Dow Jones Industrial Average
was up 46.1 points, 0.4%, at 12,984.8 after sinking by about 56 points earlier in the session. The
S&P 500
was up 5.8 points, or 0.4%, at 1363.5. The
Nasdaq
finished higher by 23.8 points, or 0.8%, at 2957.
As stocks rebounded, Michael Gayed, chief investment strategist at Pension Partners, advised to "watch small-cap stocks, which have weakened in the past two weeks. If outperformance
in the intraday continues in high beta areas and leadership resumes, new highs could soon follow." The small-cap Russell 2000 Index was rising 1.2%, compared to the S&P's increase of 0.2%, a full percentage difference.
If high-beta, small cap stocks continue to outperform low-beta, large cap stocks, that is a sign that the market is "internally sensing" risk-taking despite the gains already made, says Gayed. "Perhaps more
gains are still coming," he surmised.
The Labor Department reported that the number of Americans filing unemployment claims for the first time in the week ended Feb. 18 was unchanged from the previous week's revised figure of 351,000. Economists surveyed by Thomson Reuters expected a rise to 354,000 from an originally reported four-year low of 348,000.
The Labor Department added that the four-week moving average fell 7,000 to 359,000 from the previous week's revised average of 366,000.
The report also noted that the number of people continuing to collect jobless benefits fell 52,000 in to 3.39 million in the week ended Feb. 11, from 3.44 million the preceding week.
"Some of this decline may be due to the expiration of benefits rather than previously displaced workers finding new jobs," noted Millan Mulraine, senior U.S. strategist, TD Securities. "Nevertheless, at these levels claims are consistent with the U.S. economy generating at a 200,000 plus pace and as such we expect employment growth in February to fall within this range, suggesting that the labor market is continuing to build on the positive momentum generated over the past two months."
In other domestic economic news, the Federal Housing Finance Agency reported that home prices rose 0.7% on a seasonally-adjusted basis in December, after increasing a revised 0.7% in November. Previously it was reported that prices rose 1% in November.
A Thursday report pointed to the surprising resilience of business confidence in Germany, Europe's largest economy, despite economic fears in surrounding eurozone nations. The Munich-based Ifo institute said its business-climate index, based on a survey 7,000 executives, grew to 109.6 in February from 108.3 in January -- the fourth-straight increase and the strongest in seven months. The data topped expectations of a reading of 108.8 according to a survey of economists by Thomson Reuters and helped offset some of the overnight news saying that the European Commission now estimates that the eurozone will experience a "mild recession" in 2012, with its economy shrinking by 0.3% this year.
In Greece, lawmakers were reportedly getting ready to sign off on a debt swap with private creditors Thursday as a key part of the European Union and International Monetary Fund-backed €130 billion bailout, even as protests erupted over the steep budget cuts required by the deal. The swap, which requires private bondholders to replace their existing Greek debt holdings with ones of lower value, would reduce Greece's debt by €100 billion ($132 billion) and help slash the country's debt to 121% of its gross domestic product by 2020 from the 160% of GDP currently.
Germany's DAX finished down 0.5% while London's FTSE closed up 0.36% Thursday. Japan's Nikkei Average settled up 0.44% and Hong Kong's Hang Seng finished down 0.78%.
In corporate news,
Apple
(AAPL) - Get Apple Inc. Report
moved to give its shareholders a bigger say in appointing directors to the company's board. The tech giant said directors who cannot garner a majority vote from shareholders would voluntarily resign. The decision, made during Apple's shareholder meeting Thursday, comes days after the stock hit an all-time high of $526.29 apiece. The iPhone and iPad maker still needs to address what it plans to do with its cash pile of nearly $98 billion. Shares were up 0.7% to $516.39.
Hewlett-Packard
, the PC and printer maker, said
first-quarter adjusted earnings
topped analysts' estimates but its outlook for the current quarter came in short of Wall Street expectations. HP said it expects earnings of 88 cents to 91 cents per share for the quarter ending in April, below the average estimate of analysts polled by Thomson Reuters for a profit of 95 cents. Shares tumbled 6.5% to $27.05.
Sears
(SHLD)
lost big during the holiday season, with net losses at $2.4 billion in the fourth quarter. Profit in the same period a year ago was $373 million. Earnings per share plummeted to $0.54 cents from $3.67 a year earlier and revenue decreased to $12.48 billion from $13 billion a year earlier. Analysts forecast earnings of 78 cents a share in the fourth quarter on sales of $12.44 billion. Rumors have been circulating that owner Edward Lampert will take Sears, the struggling retail chain, private. Shares surged by 18.7% to $61.80.
Target
(TGT) - Get Target Corporation Report
beat estimates for 2012 earnings, which the Minneapolis-based company expects at $4.55 to $4.75 a share. The second largest U.S. discount reported $1.49 a share in fourth-quarter profit on revenue of $21.3 billion. Analysts expected profit of $1.40 a share on revenue of $21.21 billion. The stock was up 2.9% to $54.50.
Vivus
(VVUS) - Get VIVUS, Inc. Report
said Wednesday a
Food and Drug Administration panel recommended the agency approve Qnexa
, the company's proposed treatment for obesity in adults. The FDA will review the company's new drug application for Qnexa, which was submitted in October 2011. The recommendation from the FDA panel doesn't guarantee the drug will receive approval from the agency. Shares soared 77.5% to $18.73.
April oil futures rose $1.55 to $107.83 a barrel. In other commodities, April gold futures advanced $15 to $1,786.30 an ounce amid the dip in the dollar and expectations that central banks will facilitate loose monetary policies for the foreseeable future.
The dollar index was down 0.4% at $78.91. The benchmark 10-year Treasury was falling 6/32, raising the yield to 2.028%.
-- Written by Andrea Tse and Chao Deng in New York.
>To contact the writer of this article, click here:
Andrea Tse
.
>To follow the writer on Twitter, go to
.
>To submit a news tip, send an email to:
.