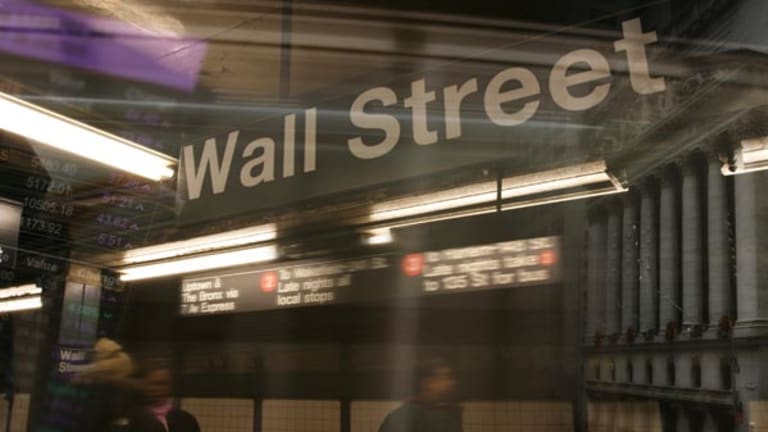 Stocks See Third Straight Week of Gains
Stocks close higher Friday, marking a third straight week of gains. Gregg Greenberg has The Real Story.
NEW YORK (
) -- Stocks nabbed gains for the third consecutive week as a spurt of buying at the end of Friday's session lifted all major U.S. indices into positive territory.
The
Dow Jones Industrial Average
finished at session highs, and the highest level in two and a half years, up 73 points, or 0.6%, at 12,391. The Dow finished the week 1% higher. Other major U.S. indices bounced along the flat line throughout the session as some investors took a more cautious stance. Still, they managed to finish slightly higher ahead of the long weekend. The
S&P 500
gained 3 points, or 0.2%, at 1,343, to finish 1% higher on the week. The
Nasdaq
added 2 points, or 0.08%, to close at 2,834, or up 0.9% on the week.
Caterpillar
(CAT) - Get Report
,
Travelers
(TRV) - Get Report
and
Wal-Mart
(WMT) - Get Report
led the Dow higher while basic materials were pressured as another bank reserve requirement increase from China triggered fears of dampened demand from the country.
Alcoa
(AA) - Get Report
was the Dow's biggest laggard.
Energy shares saw strong gains as tensions in the Middle East escalated. The
Bahraini military opened fire on anti-government protestors who gathered for the funerals of victims of the demonstrations. In Bahrain, antigovernment protests entered their fifth day, even as the military cracked down violently on demonstrators.
The April crude oil contract gained 87 cents, or 1%, to settle at $89.71 a barrel.
Chevron
(CVX) - Get Report
gained 1.6% at $98.72 and
ConocoPhillips
(COP) - Get Report
added 1.5% at $76.62.
Earlier, the
People's Bank of China raised the reserve requirements for banks by 50 basis points effective Feb. 24, marking the second increase in bank reserve requirements this year. The move brought reserve requirements for China's largest banks to a record 19.5%, according to
Reuters
, as the country continues to curb inflation.
Michael Strauss, chief economist and chief investment strategist at Commonfund said the move hardly came as a surprise to the U.S. market, which expects China's efforts to curb inflation to be a continued process. However, Strauss noted that there are concerns about the impact of China inflation spreading.
"All of these factors that are affecting food inflation in China could produce higher product prices in the next 12 to 24 months. Wages, food prices and transportation costs are all going up in Southeast Asia, so that probably means that the cost of production is going up for the U.S. and other countries," he said.
Roughly 900 million shares traded on the
New York Stock Exchange
-- 53% of which finished higher, and 44% of which declined. The Nasdaq saw 1.8 billion shares change hands.
"We continue to see equities slowly grinding higher. That has been the case for a while now as we see slightly higher closes for the week," said Michael Strauss, chief economist and chief investment strategist at Commonfund.
"The catalyst behind it this week has been the continuation of generally stronger earnings. On the economic front, although we expected to see some weather distortions, and did, hidden behind those figures, have been some strong regional numbers. The Fed also upwardly revised their outlook this week. Overall, it's been a slow grind higher but we've absorbed the challenges in the Middle East and we've also absorbed some of the challenges in the municipal bond market."
Rosetta Stone
(RST) - Get Report
was the biggest drag on the S&P 500 as the language software company cut its fourth-quarter adjusted earnings to 27 cents a share, which was below what Wall Street had been projecting. The stock lost 17.3% at $16.76.
Aruba Networks
(ARUN)
, a wireless network company, surpassed second-quarter earnings estimates by a penny with an adjusted profit of 14 cents a share. The stock was added 17% to $30.76.
Shares of
Brocade Communications
(BRCD)
rose 6% to $6.38 after the
networking equipment maker reported better-than-expected earnings and issued a strong outlook for the second quarter late Thursday.
Citigroup raised its price target on the stock to $8.50 from $7 and maintained its buy rating.
Campbell Soup
(CPB) - Get Report
reported fiscal second-quarter profit of 71 cents a share, in line with analysts' estimates. Shares lost 3.9% at $33.58.
Asian markets finished mostly higher Friday, tracking strength in the U.S. markets Thursday. Hong Kong's Hang Seng finished 1.3% higher and Japan's Nikkei rose 0.06%. India's Sensex, however, shed 1.6%.
Stocks were mixed in Europe after yields on Portugal's bonds climbed to near-euro-era highs. London's FTSE lost 0.07% while the DAX in Frankfurt gained 0.3%
Federal Reserve
Chairman Ben Bernanke defended the central bank's easy money policy at the meeting of the Group of 20 finance ministers' in Paris early Friday. Critics say the Fed's quantitative easing policy is causing speculative demand in commodities, driving food and energy prices higher and fueling asset bubbles in emerging markets.
"Emerging market economies have a strong interest in a continued economic recovery in the advanced economies, which accommodative monetary policies in the advanced economies are intended to promote," Bernanke said. He argued that the Fed's easy money policy was not responsible for the inflation and asset bubbles that were forming overseas, and that emerging market economies had their own tools for fighting inflation.
The European debt crisis will be discussed after overnight borrowing from the European Central Bank jumped to 16 billion euros on Wednesday, up from a normal level of overnight borrowing of less than one billion euro.
Inflation is likely to be a heavily debated issue at the summit, as both emerging markets and developed economies are beginning to feel the pressures of rising food and energy prices. The Bank of Canada has already raised interest rates, and the Bank of England is widely expected to follow suit after inflation soared by 4%, double the central bank's targeted rate.
In the U.S, data showed inflation rose 1.6% over the past year.
Elsewhere in commodity markets, the April gold contract gained $3.50, or 0.3%, to settle at $1,388.60 an ounce.
The benchmark 10-year Treasury was down by 3/32, lifting the yield to 3.587%. The dollar weakened against a basket of currencies with the dollar index down by 0.4%.
.
--Written by Melinda Peer and Shanthi Bharatwaj in New York
.
Disclosure: TheStreet's editorial policy prohibits staff editors and reporters from holding positions in any individual stocks.