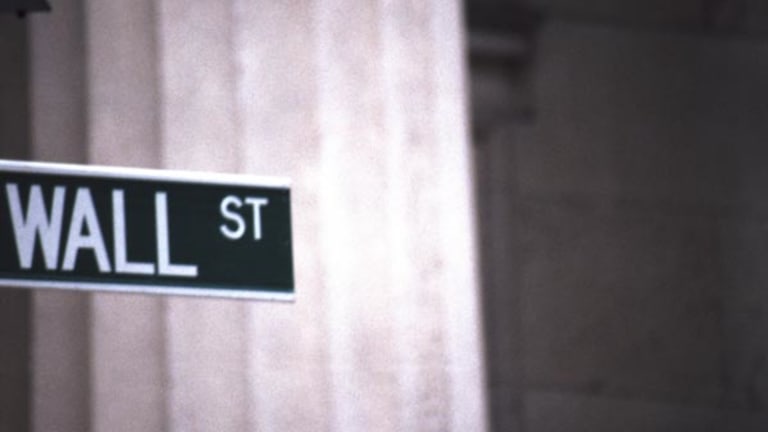 Dow Closes 337 Points Higher on U.S., European Outlook
The Dow jumps Tuesday as investors take heart from improvements in U.S. homebuilding, positive German economic data and a successful Spanish debt auction.

NEW YORK (TheStreet) -- Stocks surged Tuesday as investors took heart from improvements in U.S. homebuilding, positive German economic data and a successful Spanish debt auction.
The
Dow Jones Industrial Average
closed out near the session high amid thin trading volume. The index gained 337 points, or 2.9%, to 12,103, more than rebounding from a 100-point drop in Monday's session.
The
S&P 500
rose 36 points, or 3%, to 1241, and the
Nasdaq
finished ahead by 81 points, or 3.2%, to 2604.
All 30 components of the blue-chip Dow index went on a tear, with
Caterpillar
(CAT) - Get Report
,
JP Morgan
(JPM) - Get Report
, and
Home Depot
(HD) - Get Report
having led the pack. Consumer staples and telecom large-cap stocks were among the best performers on the S&P 500.
The Commerce Department on Tuesday reported better-than-expected housing starts in November. Homebuilders began construction on 9.3% more homes in November. Building permit numbers for November also beat expectations, rising 5.7%. The report followed a welcome surprise from a rise in homebuilder sentiment for a third straight month in December, according to the National Association of Home Builders on Monday.
However, economists were quick to point out that the surge in housing starts was mainly in the multifamily sector meaning that renting rather than buying is fueling the recovery.
"Despite the improvement in housing starts, the gains have not nearly been enough to justify any confidence in the housing market," said SICA Wealth Management manager Jeffrey Sica. "They are a reflection of low borrowing costs, which may not last much longer as the U.S. deficit continues to accelerate."
An early boost to stocks came from an improvement in German business sentiment for December after two previous months of very little change. The eurozone's largest economy apparently is shielding itself from the sluggishness in surrounding Western European countries, according to Germany's Ifo Institute's business confidence index on Tuesday.
Markets were also greeted with a relatively successful €5.6 billion Spanish short-term debt auction, which alleviated concerns about sovereign debt funding challenges in the eurozone. Three-month borrowing costs fell to 1.735% at the auction, an improvement from 5.11% at a similar sale in November.
But again, some market-watchers questioned the reasons behind such an impressive rally.
"The problem with the German businesses confidence is that it is reflective of the false optimism built up in last month's attempt to solve the European debt crisis," Sica cautioned. "Expect business confidence to decline as the European debt crisis accelerates and the bank contagion becomes more evident."
Meanwhile, Peter Cardillo, chief market economist at Rockwell Global Capital, said that "the big test for the first quarter with Italy and Spain
is when they go to the market in a big way to pay their bills."
U.S. financial stocks rebounded after the previous session's bloodbath. Shares of
Bank of America
(BAC) - Get Report
returned above the $5 psychological level, up 3.7% to $5.17.
JPMorgan Chase
and
Citigroup
(C) - Get Report
advanced 4.9% and 4.6%, respectively.
Stocks finished lower Monday as
Bank of America
(BAC) - Get Report
and other U.S. banks suffered a regulatory setback and as the future of the European Union seemed uncertain. European Central Bank President Mario Draghi deliver a gloomy assessment of the region's future and European Union finance ministers have yet to cobble up the full €200 billion in funding for the International Monetary Fund, an amount originally agreed upon by EU nations.
Germany's DAX settled 3.11% higher, while London's FTSE closed ahead by 1.02%. Overnight, Japan's Nikkei Average finished 0.49% higher, and Hong Kong's Hang Seng Index closed up 0.06%.
In corporate news, investment bank
Jefferies
(JEF) - Get Report
said net income declined 22% in the fourth quarter ended Nov. 30 to $48 million. Excluding one-off items, the company reported a profit of $39 million, or 17 cents a share, versus $63 million, 31 cents a share, in the corresponding previous quarter. Analysts expected Jefferies to report earnings of 14 cents a share. Shares surged 22.6% to $14.47.
General Mills
(GIS) - Get Report
said Tuesday that second-quarter earnings declined 28% because of rising costs. The maker of Cheerios earned $444.8 million, or 67 cents a share, in the quarter, down from year-earlier earnings of $613.9 million, or 92 cents. Adjusted earnings were 76 cents a share, below analysts' expectations of 79 cents. General Mills shares fell 0.9% to $39.23.
Apple
(AAPL) - Get Report
has reportedly "flashed its cash," by buying flash memory company
Anobit
for somewhere between $400 million and $500 million, according to Israeli-based newspaper
Calcalist
. Apple continues to integrate companies into its supply chain by adding strategic and vertical companies to keep operating margins high. Apple shares added 3.6% to $396.10.
ConAgra
(CAG) - Get Report
, the maker of Chef Boyardee and Slim Jim, said fiscal second-quarter net income fell 15%. Earnings were $171.8 million, or 41 cents a share, including certain items, down from $200.9 million, or 46 cents, a year earlier. Adjusted earnings were 47 cents a share. Analysts were expecting fiscal second-quarter profit of 43 cents a share. Shares gained 4% to $26.18.
Dish Network
(DISH) - Get Report
was surging on speculation that
AT&T
(T) - Get Report
could be eying the satellite TV giant. This comes after AT&T scrapped an attempt to buy T-Mobile after regulatory opposition. The telecom behemoth had made a $39 billion bid for T-Mobile earlier this year in hopes of building a faster network quickly and cheaply. An acquisition of Dish Network could also serve this purpose. Shares of Dish jumped 9.2% to $27.46, while AT&T shares were up 1.3% to $29.11.
U.S. regulators argued the combination of AT&T and T-Mobile would lead to less choice and higher prices for consumers. AT&T will pay a breakup fee of $4 billion in its fiscal fourth quarter to T-Mobile's parent company
Deutsche Telekom
( DT). Deutsche Telekom was up 0.8% to $11.52.
Red Hat
(RHT) - Get Report
, the business software maker, posted fiscal third-quarter adjusted earnings of $55.7 million, or 28 cents a share, on revenue of $290 million, topping the forecasts of analysts. Analysts polled by Thomson Reuters expected Red Hat to earn 26 cents a share on revenue of $289.6 million. For the full fiscal year, Red Hat sees earnings of $1.07 to $1.08 a share. The average analysts' view is profit of $1.05 a share. Shares dropped 8.9% to $41.95 amid profit taking.
February oil futures were up $3.19 to $97.24 a barrel. February gold futures rose $20.90 to $1,617.60 an ounce amid bargain hunting and the euro spiked against the dollar.
The benchmark 10-year Treasury was falling 26/32, pushing the yield to 1.908%. The U.S. dollar was falling against a basket of six major currencies, with the dollar index down 0.6% at $79.86.
-- Written by Chao Deng and Andrea Tse in New York
.