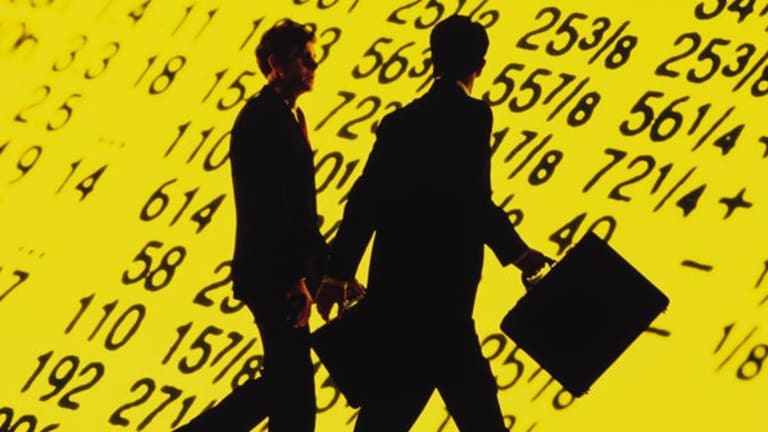 Stocks Knocked Down by Weak Banks, Europe Uncertainty
Stocks fell steeply Monday as Bank of America and other U.S. banks suffered a regulatory setback and the future of the European Union became more uncertain.

NEW YORK (TheStreet) -- Stocks fell steeply Monday as Bank of America and other U.S. banks suffered a regulatory setback and the future of the European Union became more uncertain.
The
Dow Jones Industrial Average
plunged 100.1 points, or 0.8%, to close at 11,766. The
S&P 500
fell 14.3 points, or 1.2%, to 1205 and the
Nasdaq
lost 32.2 points, or 1.3%, to 2523.
European Union finance ministers have agreed to come up with an additional €150 billion in funding for the International Monetary Fund to help tame the debt crisis, but this is short of the €200 billion originally agreed upon.
On Monday, European Central Bank President Mario Draghi said that substantial downside risks remain for Europe's economy and again threw cold water on any hopes for the central bank to step in with any relief. The European Central Bank has repeatedly denied that it will expand its role, including buying up more government bonds, to help troubled nations in the crisis.
"People have to accept that we have to, and always will, act in accordance with our mandate and within our legal foundations," said Draghi earlier to the
Financial Times
.
The euro remains at an 11-month low as investors worry that potential downgrades on sovereign debt of core eurozone nations will lead to further defaults. Three major ratings agencies have sounded warnings on the region's economic future and credit outlook. Last week, Fitch Ratings cut its outlook for France's credit from stable to negative although the country remains triple-A rated.
Germany's DAX lost 0.5%, while London's FTSE slipped 0.4%.
Losses in financial stocks also pulled the U.S. market lower. The Federal Reserve is expected to accept rules from regulators in Basel, Switzerland that will require bigger capital buffers for big U.S. banks, according to a recent story from the
Wall Street Journal
.
JPMorgan Chase
(JPM) - Get JPMorgan Chase & Co. (JPM) Report
,
Citigroup
(C) - Get Citigroup Inc. Report
and
Bank of America
(BAC) - Get Bank of America Corp Report
would all land in the bucket. Shares of the firms were down 3.7%, 4.7% and 4.1%, respectively. Bank of America, notably, had fallen below the psychologically significant $5 mark.
Meanwhile,
Caterpillar
(CAT) - Get Caterpillar Inc. Report
,
Pfizer
(PFE) - Get Pfizer Inc. Report
and
Merck
(MRK) - Get Merck & Co., Inc. (MRK) Report
were the only three of 30 components on the Dow that settled in positive territory.
The death of North Korean leader Kim Jong Il unsettled Asian markets. Overnight, Japan's Nikkei Average finished 1.26% lower, and Hong Kong's Hang Seng Index closed down 1.18%. Investors worry that the transfer of power to successor Kim Jong Un, the third son of Kim Jong Il, introduces political uncertainty in the region and poses risks for South Korea, Asia's fourth-largest economy. Already South Korea is battling slowing global demand for its exports due to Europe's debt crisis.
With two weeks to go in 2012, the European debt crisis and now an added layer of uncertainty from Asia threaten to cut into the year's stock gains. "The fact that December is the best
S&P 500 month and the second best Dow month since 1950 has been little consolidation," writes Dan Greenhaus, strategist with BTIG, in a research note.
However, Greenhaus notes that small cap stocks usually start outperforming large cap stocks around mid-December in what is known as the early arrival of the "January Effect." The Santa Claus rally is also "fairly bankable," although he says that "whether these developments materialize in an environment as confusing and backwards as the current one is another story entirely."
"Portfolio managers are making tactical adjustments ahead of the year end," said Fred Dickson, market strategist with D.A. Davidson & Co. Dickson explained that the bias is for stocks to move higher since the averages are about neutral for the year. "Many hedge fund managers are still sitting on more cash than they would like to show."
The market awaits a batch of U.S. economic data this week, with most market moving releases coming in the second half of the week. The National Association of Home Builders' housing market index hit a 19-month high of 21 in December compared with a revised 19 in the previous month. The gain topped expectations and marked the third consecutive month of improvement.
U.S. lawmakers were locked in a bitter battle over extending a payroll tax break and unemployment insurance. House Republican leader John A. Boehner on Sunday rejected a Senate measure to extend such measures for the short term, making it highly likely the bill will fail in the House on Monday. While a rejection is unlikely to have an immediate disturbance on financial markets, a tax increase may drag down the pace of economic recovery in the U.S.
In corporate news, grocery store operator
Winn-Dixie
( WINN) has agreed to be bought by supermarket operator
BI-LO
for $560 million. Winn-Dixie shareholders will receive $9.50 in cash per share, representing a premium of about 75% over the closing price of Winn-Dixie common stock on Dec. 16. Winn-Dixie shares surged 70.2% to $9.24.
Schnitzer Steel
(SCHN) - Get Schnitzer Steel Industries, Inc. Class A Report
said it expects lower 2012 fiscal first quarter earnings on weaker global market conditions for recycled metals. The company predicts earnings of 18 cents to 25 cents a share. Analysts surveyed by
Thomson Reuters
forecast profit of 55 cents a share. Shares plunged 9.2% to $41.54.
Caterpillar
reported that November sales jumped 41% in North America. Sales growth has been robust as dealers buy up equipment for rental businesses, despite weak construction activity in the U.S. The company also said that global sales rose 30% in the three months to the end of November. Shares were flat at $87.25.
Exxon Mobil
(XOM) - Get Exxon Mobil Corporation Report
has approached the U.K.'s
Gulf Keystone Petroleum
about a takeover bid of 7 billion pounds ($10.9 billion), according to British newspaper
The Independent
. Gulf Keystone is sitting on "what is considered to be one of the world's great recent oil finds -- Shaikan, about 50 miles north-west of Kurdistan's capital, Erbil," the newspaper said.
The Independent
reported that Gulf Keystone's board likely wouldn't accept the estimated offer of 8 pounds a share from Exxon, but that a number of other companies, including China's
Sinopec
and
Chevron
(CVX) - Get Chevron Corporation Report
, are monitoring the situation. Exxon shares were down 0.8% at $79.53.
AT&T's
talks on asset sales intended to help it win court approval for its acquisition of
T-Mobile USA
have gone cold,
The Wall Street Journal
reported. Alternatives to a full-blown merger are looking more likely, sources said. Those options include AT&T's taking a stake T-Mobile USA, a unit of
Deutsche Telekom
( DT), or doing a joint venture to share network technology, the people said. AT&T shares were down 0.4% at $28.74.
February oil futures inched up 26 cents to $94.01 a barrel. February gold futures fell alongside the euro, down $1.20 to settle at $1,596.70 an ounce after slumping 6.6% last week. The dollar index was up 0.2% at $80.38 and the benchmark 10-year Treasury was higher by 11/32, lowering the yield to 1.81%.
-- Written by Andrea Tse and Chao Deng in New York
.