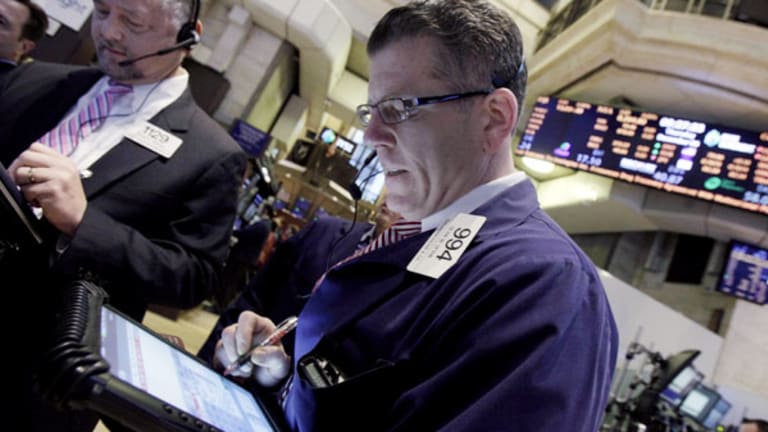 Stocks Soar as Budget Deal Takes Shape
Major U.S. stock averages firm amid signs of progress on the 'fiscal cliff' talks and improving homebuilder confidence.
NEW YORK (
) -- Major U.S. stock averages soared Tuesday as signs of progress on the "fiscal cliff" talks and improving homebuilder confidence lifted investors' spirits.
In addition, rating agency Standard & Poor's upgraded sovereign credit ratings on Greece after its completion of a distressed debt buyback. Eurozone member states have a "strong determination" to keep Greece's membership in the region, S&P said.
Expectations for a budget resolution continued to build as President Barack Obama on Monday night approached Republicans with a counter-offer that included lowering his demand for higher taxes on wealthy Americans.
House Speaker John Boehner emerged Tuesday morning and proposed a so-called "Plan B," which the White House subsequently rejected. Stocks continued to climb despite the morning's political posturing.
In recent days, Republicans appeared to have been softening their position on higher taxes and Democrats seemed to have become more open to entitlement concessions, though progress toward a deal is still slow going. Republican Sen. Bob Corker on Tuesday highlighted this, saying, "We're not close to a deal."
"Still, markets are trading with a positive tone as global equities are currently higher. However, we would advise caution in the headline-driven environment," said Eric Viloria, senior currency strategist at FOREX.com in New York.
The
Dow Jones Industrial Average
rose 116 points, or 0.87%, to 13,351. The blue-chip index began the session up 8.5% this year.
Breadth was positive, with winners outnumbering losers 25 to five. The biggest blue-chip gainers were
Bank of America
(BAC)
,
Hewlett-Packard
(HPQ)
,
United Technologies
(UTX)
and
Intel
(INTC)
.
McDonald's
(MCD)
shares advanced 0.68% as the fast food chain requested that franchisees stay open on Christmas Day,
Ad Age
reported.
Boeing
(BA)
shares gained 1.2%. The aerospace giant lifted its quarterly dividend by 10% to 48.5 cents a share and said it plans to buy back $1.5 billion to $2 billion of its shares next year.
Losers in the Dow included
General Electric
(GE)
,
Verizon
(VZ)
and
Coca-Cola
(KO)
.
General Electric shares fell 1.1% amid reports that it's close to
reaching a deal to buy Italian aerospace supplier
Avio
for about $4 billion.
The
was up 16 points, or 1.15%, at 1,447. The
Nasdaq
added 44 points, or 1.46%, at 3,055.
All sectors in the broader market were trading higher, spearheaded by gains in energy, technology, consumer cyclicals and capital goods.
Volumes totaled 4.10 billion on the
New York Stock Exchange
and 2.01 billion on the Nasdaq. Advancers were outpacing decliners 2.8-to-1 on the Big Board and 2.6-to-1 on the Nasdaq.
As expected Tuesday, the National Association of Home Builders said its Housing Market Index showed that homebuilder confidence in December ticked up to 47, the highest since April 2006. The December number was up 2 points from a slightly downwardly revised November reading.
Michael PeQueen, managing director and partner at HighTower, said that while he is closely watching several fundamental improvements in the U.S. economy such as the nascent housing recovery and recent employment gains, the single biggest driver of risk appetite in 2013 will be the extraordinarily accommodative monetary policy of global central banks.
PeQueen pointed to the
Federal Reserve
engaging in "QE infinity"; the European Central Bank giving ECB President Mario Draghi the votes to lower rates; and Japan electing with a super-majority the Liberal Democratic Party that campaigned on a policy of aggressively expanding the monetary base to fight deflation.
"The world will continue to be awash in a sea of liquidity and the rising tide will continue to lift all boats. As a result, we are constructive on stocks worldwide, with an eye on emerging markets," PeQueen said. "At the same time, we continue to shorten the duration of our bond portfolios after having feasted on above-average returns for the past several years."
The Commerce Department reported Tuesday a third-quarter current account deficit of $107.5 billion, compared with a deficit of $118.1 billion in the second quarter, which was revised from $117.4 billion. Economists, on average, were expecting a third-quarter current account deficit of $103.4 billion.
Gold for February delivery plunged $27.50 to settle at $1,670.70 an ounce at the Comex division of the New York Mercantile Exchange, while February crude oil contracts tacked on 73 cents to close at $87.93 a barrel.
The benchmark 10-year Treasury was down 14/32 to push the yield higher to 1.825%. The dollar was down 0.29%, according to the
.
In corporate news,
Apple
(AAPL)
was
denied a request from a U.S. judge for a permanent injunction against
Samsung's
smartphones,
Reuters
reported. Apple shares were up 2.9 on Tuesday.
Knight Capital Group's
(KCG)
board was split between two competing buyout offers from suitors
Getco
and
Virtu Financial
, sources involved in the talks told
Reuters
.
By late Monday, Knight hadn't reached a decision on which offer to accept. But a deal of some kind for the market-maker increasingly was looking more likely than not, the sources said. Knight Capital shares climbed 2.2%.
Jefferies
(JEF)
on Tuesday posted fourth-quarter earnings of 35 cents a share on revenue of $769 million; analysts were calling for earnings of 32 cents a share on revenue of $722.6 million. The firm's investment banking revenue rose 8% and fixed-income revenue more than doubled to $293 million. Shares rose 3.1%.
Arbitron
( ARB) shares soared 24% as the media and marketing information services firm entered a deal to be bought by global information and measurement company
Nielsen
(NLSN)
for $48 a share in cash, which represents a premium of about 26% to Arbitron's closing price on Monday. Shares of Nielsen jumped 4.4%.
Sirius XM Radio
(SIRI)
shares added 1.4% as the stock was initiated with a "buy" at Goldman Sachs.
Xyratex
(XRTX)
shares popped 2.8% after the data storage technology provider declared a special cash dividend of $2 a share that will be distributed on Dec. 31.
Shares of firearm stocks were tumbling, with
Smith & Wesson
undefined
down 10% on Tuesday and
Sturm, Ruger & Co.
(RGR)
down 7.7%. The declines follow the tragic school massacre in Newtown, Conn., and after private-equity firm
Cerberus'
decision to sell gunmaker
Freedom Group
, which makes a type of a firearm that is suspected to have been used in the shootings.
Oracle
(ORCL)
, the software giant, reported adjusted fiscal second-quarter earnings a share of 64 cents on $9.09 billion in revenue. Analysts had expected 61 cents a share on revenue of $9.03 billion. Shares were trading up 1.4% in after-hours trading.
-- Written by Andrea Tse and Joe Deaux in New York.
>To contact the writer of this article, click here:
Andrea Tse
.
Follow @Commodity_Bull