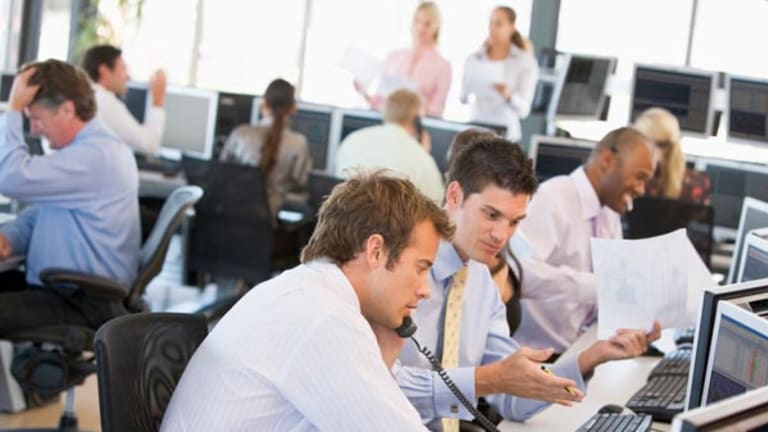 Stocks Sputter After Warnings on Europe
Stocks close mixed after a warning from Fitch Ratings about Europe shifts the focus away from positive economic data in the U.S. Chao Deng recaps the day.

NEW YORK (TheStreet) -- Stocks closed mixed after a warning from Fitch Ratings about Europe redirected the focus from positive U.S. economic data.
The
Dow Jones Industrial Average
finished down 3 points, or 0.02%, at 11,866.
About half of the components on the blue-chip index traded in negative territory.
Home Depot
(HD) - Get Free Report
,
Microsoft
(MFST)
and
JPMorgan Chase
(JPM) - Get Free Report
led gains, while
IBM
(IBM) - Get Free Report
and
United Technologies
(UTX) - Get Free Report
were the biggest laggards.
Energy and materials stocks led the
higher while telecom and utilities stocks pressure the index. The S&P 500 finished up 4 points, or 0.3%, at 1220. The
Nasdaq
held onto 14 points, or 0.6%, at 2555.
Morning gains faded in the afternoon on renewed concerns over Europe's debt crisis. Fitch Ratings put the credit of seven European nations, including France, Belgium, Spain, Italy and Ireland, on negative watch, adding that a "'comprehensive solution' to the eurozone crisis is technically and politically beyond reach." The firm did, however, affirm France's triple-A rating.
Fitch's move follows its decision to cut credit ratings on several U.S. and European banks late Thursday, as well as similar warnings on European sovereign debt from other major ratings agencies.
Furthermore, Standard & Poor's recently forecast a contraction in Europe's economy for 2012, and while recession warnings from economists are nothing new, it may have been enough to pressure investors already feeling on edge.
"One minute the market can be up 1% and the next minute it can be down 1%," said Doug Roberts, chief investment strategist Channel Capital Research. "Nobody tends to be on either side of the trade right now... with people going on holiday, they don't want to lock in, especially when the market is bouncing around."
"One of the more troubling things about the current market action is the complete lack of any aggressive speculative action," says James "Rev Shark" DePorre, founder and CEO of Shark Asset Management. "Typically the slower trading around the holidays and at year-end produces
some pockets of action as hot-money traders gravitate toward a few names of interest."
Trading volumes were heavy, as Friday was expiration for stock and exchange traded fund options. The expiration of December index options, index futures and single stock futures can all contribute to higher volume and quicker stock moves. The day, which occurs once every three months, is commonly know as a "quadruple witching" day.
Some 4.9 billion shares changed hands on the
, while 2.5 billion traded on the
Nasdaq
.
On the upside, signs of easing inflation added to improvements seen in manufacturing and the jobs market from earlier this week. The Labor Department reported this morning that costs for housing, food, energy and other items stayed flat in November, compared with a 0.1% dip in October. Economists on average were expecting the Consumer Price Index to rise 0.1% last month, according to a survey by
Thomson Reuters.
The latest read on consumer costs points to easing inflation, which would give the
more leeway if it wants to introduce new stimulus for the U.S. economy next year as some economists predict it will.
In other U.S. news, lawmakers have reached a tentative deal to fund various government agencies through Sept. 30 and prevent the shutdown of many Washington operations starting this weekend.
London's FTSE closed down 0.25%, and Germany's DAX was down 0.5%. In Asia, Japan's Nikkei Average finished 0.29% higher, and Hong Kong's Hang Seng Index closed ahead by 1.43%.
In corporate news,
Zynga
(ZNGA) - Get Free Report
made its debut on the Nasdaq, popping 10% at the open before fizzling. Shares finished down 5% to $9.50. The initial public offering valued the company at $10 per share, or $8.9 billion in total.
United Rentals
(URI) - Get Free Report
said Friday it agreed to buy rival rental equipment maker
RSC Holdings
(RRR) - Get Free Report
for about $1.9 billion. United Rentals will buy RSC for $18 a share, a 58% premium to RSC's closing price Thursday of $11.37. RSC shares surged 57.9% to $17.95, while United Rentals shares were up 7.1% to $27.89.
Cablevision's
(CVC)
chief operating officer, Tom Rutledge, plans to resign this month. The company didn't provide a reason for his departure. It has started a search for an executive to oversee the cable operations.
The Wall Street Journal
reported Rutledge has long been seen as a potential CEO of another cable or satellite operator.
DirecTV
(DTV)
tried to hire him a couple of years ago, said a person familiar with the situation. His departure comes two months after Charter Communications announced a public search for a new CEO, a job for which Rutledge could be in the running, according to the newspaper. Cablevision shares plunged 8.5% to $12.75.
Darden Restaurants
(DRI) - Get Free Report
, the owner of Olive Garden and Red Lobster restaurants, earned $54.1 million, or 41 cents a share, from continuing operations in the second quarter, down from year-earlier earnings of $75.8 million, or 54 cents, a year earlier. Sales were $1.83 billion, up from $1.73 billion last year. Analysts expected Darden to earn 41 cents a share in the quarter. Shares were down 0.1% to $43.68.
Research In Motion
( RIMM) was fell 11.2% to $13.44 after the company missed estimates in its sales and profit forecasts. RIMM said its new generation of BlackBerry's won't be out until the latter part of 2012. Before today, the stock was already down 73% for the year as investors increasingly question how the company can stay competitive against Apple and Google.
Adobe Systems
(ADBE) - Get Free Report
, the graphics design software developer,
posted above-consensus results
for its fiscal fourth quarter. Adobe reported non-GAAP profit of $332.6 million, or 67 cents a share, in the three months ended Dec. 2 on revenue of $1.15 billion. Analysts were expecting earnings of 60 cents a share on revenue of $1.09 billion. Adobe said it sees non-GAAP profit ranging from 54 cents to 59 cents a share for its fiscal first quarter ending in February and $2.37 to $2.47 a share for the full year. Analysts expect first-quarter profit of 58 cents a share and $2.44 for the year. Shares surged 6.6% to $28.20.
January crude oil futures were up 11 cents to $93.98 a barrel, and February gold futures were up $21 to $1595.60.
The benchmark 10-year Treasury was up 17/32, diluting the yield to 1.856%, a low since Oct. 4. The U.S. dollar was about flat against a basket of six major world currencies.
-- Written by Chao Deng and Andrea Tse in New York.