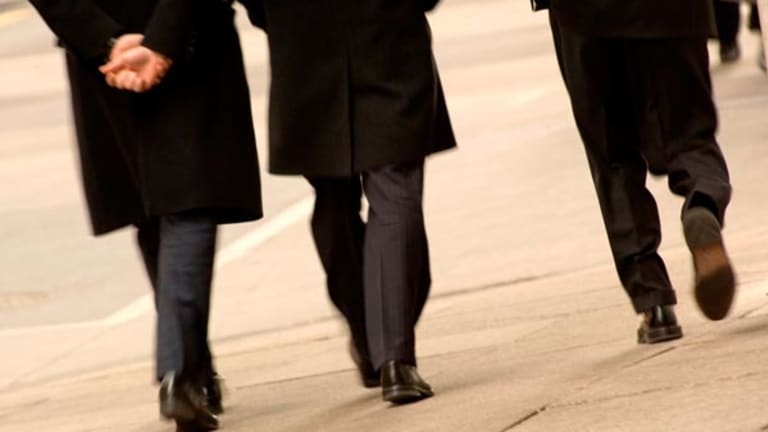 Stocks Tumble as Euro, Oil, Gold All Fall
The Dow falls for a third straight session as eurozone worries send the dollar up, knocking down commodities prices and spooking investors.

NEW YORK (TheStreet) -- Stocks sold off for the third straight session Wednesday as renewed eurozone worries sent the dollar up, knocking down commodities prices and spooking investors.
The
Dow Jones Industrial Average
closed down 132 points, or 1.1%, at 11,823. The
was down 14 points, or 1.1%, at 1212 and the
Nasdaq
was down 40 points, or 1.6%, at 2539.
¬
The euro fell below $1.30 to an 11-month low, amid fears that the credit ratings of some European nations might be downgraded. The dollar index, which measures the dollar against six currencies, was up 0.38%.
A stronger greenback pressured commodities prices. January oil futures finished down $5.19 to $94.95 a barrel, and February gold futures lost $76.20 to $1586.90 an ounce. The benchmark 10-year Treasury was up 21/32, diluting the yield to 1.899%.
Energy and tech stocks were among the worst performers. Twenty-three of the Dow's 30 components were down, led by
Caterpillar
(CAT) - Get Free Report
,
Walt Disney
(DIS) - Get Free Report
, and
Chevron
(CVX) - Get Free Report
. Blue-chip gainers included
Merck
(MRK) - Get Free Report
,
General Electric
(GE) - Get Free Report
and
JPMorgan Chase
(JPM) - Get Free Report
.
Italy paid a euro-era record yield at a long-term debt auction Wednesday, suggesting that the market isn't convinced that European leaders have taken enough steps to stem the debt crisis. Yields on the five-year bond soared to 6.47%, up from 6.29% at a similar auction a month ago. This follows mixed reaction from investors after European leaders introduced new agreements last week to boost funding to support troubled countries and prevent future debt problems.
Germany's DAX closed down 1.7%, while London's FTSE finished 2.3% lower. Overnight, Japan's Nikkei average settled 0.4% lower, and Hong Kong's Hang Seng index closed down 0.5%.
"Things are still focused on Europe," said Doug Roberts, chief investment strategist with Channel Capital Research. "The market is coming to the conclusion that there's not going to be any change of major importance from the leaders there, at least not until next year.
"As people start to go on vacation, you start seeing futures back off, especially on a day like today when the economic data suggests easing inflation," he added. However, "when people get too negative, that squeezes the shorts so the market essentially alternates between euphoria and despair. We've been repeating this cycle the last month."
Stocks were weak on Tuesday after the
held back on laying any groundwork for quantitative easing in the near future. Although the market didn't expect any policy changes from the central bank, it seemed that investors wanted at least some hint from the Fed that it was ready to boost the economy if it worsened. The Fed also reiterated that "strains in global financial markets continue to pose significant downside risks to the economic outlook."
In U.S. economic news, import prices increased 0.7%, less than the 0.9% economists surveyed by
Thomson Reuters
had predicted, as food and metal costs declined. The Labor Department also said that export prices rose 0.1%, less than the 0.3% economists expected, after falling 2.1% in the prior month.
U.S. lawmakers in Washington are stuck in a fight over whether to extend aid to the long-term unemployed and a payroll tax cut that expires at the end of the year. The deadlock increases the risk of a tax hike for 160 million Americans and losses of benefits for the unemployed, although market participants say the outcome will likely have limited effect on the stock market. However, investors are tuning in for more news as the New Year draws closer.
In corporate news,
Avon Products
(AVP) - Get Free Report
, the New York-based beauty products seller, is looking for a new CEO.
is being named executive chairman as part of Avon's decision to separate the chairman and CEO roles. The company plans to conduct an external search for a new CEO. The stock rose 5% to $16.96.
First Solar
(FSLR) - Get Free Report
forecast 2011 net sales of $2.8 billion to $2.9 billion, down from its prior guidance of $3 billion to $3.3 billion. The company also lowered its earnings expectations, citing delays of certain projects in its business "due to weather and other factors." Shares closed down 21.4% to $33.45.
Marriott International
(MAR) - Get Free Report
said J.W. Marriott Jr. will step down as CEO next spring to become the executive chairman. Marriott named Arne Sorenson, the hotel company's current president and chief operating officer, to succeed Marriott as CEO. Shares fell 1.9% to $28.29.
Joy Global
(JOY)
earned $1.82 a share in the quarter ended Oct. 28, excluding certain charges. Revenue rose 27% to $1.34 billion. Analysts were expecting earnings of $1.86 a share on revenue of $1.35 billion. The mining equipment maker said it expects fiscal-year of $7 to $7.40 a share on revenue of $5.3 billion to $5.5 billion. Analysts forecast earnings of $7.19 a share on revenue of $5.36 billion. The stock fell 10.8% to $75.26.
-- Written by Chao Deng in New York
.