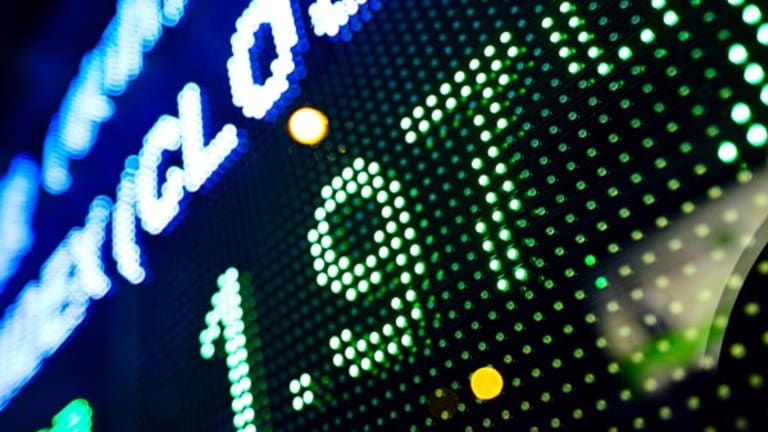 Dow Closes at Two-Year High
The Dow records its highest close since September 2008, although the Fed's dim view of the recovery makes stocks pare gains late. Gregg Greenberg has The Real Story.
NEW YORK (
) - The
Dow Jones Industrial Average
closed at its highest level since September 2008, lifted by better than expected retail sales in November, but a dim view of the pace of the economy's recovery from the
Federal Reserve
led stocks to pare gains in the final hour of trading.
The
Federal Open Market Committee
issued
for its final meeting of 2010 at 2:15 pm ET and the Dow reached its best level of the session shortly after, peaking at 11,514, before beginning to fall back as the dollar strengthened.
The Fed left rates unchanged and said it plans to continue its bond-buying program but it also made the point that the recovery hasn't been enough to make a dent in the unemployment rate.
Overall, the blue-chip index gained 48 points, or 0.4%, to close at 11,477. The positive finish was the Dow's fourth in the past five sessions and it's now up 10.1% year-to-date and 4.3% in December alone. The
S&P 500
inched ahead by 1 point, or 0.1%, to close at 1,242, while the
Nasdaq Composite
added 3 points, or 0.1%, to settled at 2,628.
AT&T
(T) - Get Report
,
Kraft
( KFT) and
Johnson & Johnson
(JNJ) - Get Report
led the Dow higher, while
JPMorgan Chase
(JPM) - Get Report
,
Alcoa
(AA) - Get Report
and
Coca-Cola
(KO) - Get Report
were the key laggards.
Financials, basic materials and tech stocks were weak late, dragging markets lower. Earlier in the session, almost all S&P 500 sectors were trading in the positive territory. Capital goods and healthcare showed the best gains.
Breadth was negative with only 42% of the stocks traded on the NYSE advancing while 55% declined. Volume totaled 957 million shares on the New York Stock Exchange and 1.87 billion shares on the Nasdaq.
In its
, the FOMC acknowledged the economy was recovering but noted the rate of improvement was too slow to brighten the job picture. The FOMC also observed that long-term expectations of inflation remained stable but the underlying inflation trend was down.
The central bank said it will continue its quantitative easing plan to purchase $600 billion worth of longer term Treasuries by the middle of 2011 for now while also reviewing the pace and size of its purchases based on incoming information.
The committee also maintained the target range for federal funds at zero to a 0.25% and said that retained its view that economic conditions will warrant exceptionally low levels for the federal funds rate for an extended period.
Paul Ballew, chief economist with Nationwide Mutual Insurance Co. and an advisor to the Fed, thought that the central bank maintained a defensive tone in the release, acknowledging the recovery but reminding everyone that unemployment levels were still too high. "Private forecasters such as us would say that the last 90 days have shown multiple signs of a recovery and that the economy was on a solid footing. They took a different tack, trying to provide ongoing support for the policy
quantitative easing.
The benchmark 10-year Treasury note declined 1 15/32, lifting the yield to 3.461%. The dollar was trading weaker against a basket of securities, with the dollar index down 0.08%.
.
Bond yields have been climbing since the Fed announced its so-called QE2 program in early November, an unanticipated outcome for the central bank which set out to lower long-term interest rates.
Still, it is unclear whether yields are rising due to fears of rising inflation or expectations of a speedier recovery in the U.S. economy. Several economists have recently upgraded the outlook for the economy based on recent data and on expectations that President Obama's tax deal with Republicans, expected to win Congress' approval by the end of the week, will boost growth.
Ballew expects the Fed to continue its QE2 program until the second quarter, but does not think there is much chance of a QE3 or QE4. "By the middle part of next year, the market will once again focus on how the Fed will implement its exit strategy."
Stocks began on a strong note Tuesday on better than expected retail sales and business inventory data. About 57% of equities listed on the New York Stock Exchange were advancing while 41% were declining.
JPMorgan Chase
(JPM) - Get Report
,
Alcoa
(AA) - Get Report
and
Coca Cola
(KO) - Get Report
were among the Dow's biggest laggards.
Shares of
General Electric
(GE) - Get Report
added 7 cents to close the regular session at $17.69. The conglomerate said in its annual shareholder meeting late Tuesday that it expects its industrial division to boost growth in 2011, projecting revenue to grow as much as 5%. "I have to say this is the best portfolio I've had since I've been CEO of the company and we're quite excited about the prospects," CEO Jeff Immelt said in his presentation, according to
Bloomberg News
.
On Tuesday, the Department of Commerce said November retail sales increased 0.8%, compared with October's gain of 1.7% and market expectations for an uptick of 0.5%, according to
Briefing.com
. Excluding autos, sales jumped 1.2%, surpassing the 0.6% increase that economists had projected. In October, retail sales, excluding autos, rose 0.8%.
"Retailers made a push to offer preholiday shopping deals to encourage consumers to get and buy before the traditional Black Friday kickoff to the holiday shopping season," said Jim Baird, partner and chief investment strategist for Plante Moran Financial Advisors, in a research note on Tuesday. Baird added that while it looked like the strategy may have worked, he warned that it's too early to tell whether earlier November deals will negatively impact December's results.
Cliff Draughn, president and chief investment officer at Excelsia Investment Advisors said that in addition to the better-than-expected retail sales figures, stocks were also getting support from the wave of analysts increasing their GDP growth estimates for 2011.
"I think this tax bill is giving people a little more confidence for 2011 that we're going to muddle through, but certainly retail sales are an indicator of people's confidence coming back into the marketplace and their willingness to spend a little money as job layoffs have hopefully 'plateaued,'" he said.
The Department of Commerce said business inventories rose 0.7% in October, coming in slightly below the 1.1% increase that economists had been expecting, according to
Briefing.com
. That compares to growth of 1.3% in September.
Higher gasoline and heating oil prices contributed to a 0.8% rise in November producer prices, according to the Labor Department. Wholesale prices exceeded the increase of 0.5% that economists had been expecting, after gaining 0.4% in October. The core rate, which excludes volatile food and energy prices, advanced 0.3%, compared with expectations for a 0.2% uptick. In October, the core rate declined 0.6%.
The market will be eager to see how much price increases are affecting consumers when the Labor Department issues its consumer price index on Wednesday.
Best Buy's
(BBY) - Get Report
stock plunged 15% to $35.52 after the electronics retailer
missed third-quarter expectations with a profit of 54 cents per share on sales of $11.89 billion
. Analysts had expected earnings of 61 cents on sales of $12.47 billion.
Shares of
Ameristar Casinos
(ASCA)
shed 7% to $16.64 after the
regional casino operator's board determined a sale wouldn't be in the best interests of the company or its shareholders.
Comcast's
(CMCSA) - Get Report
stock hit a 52-week high on an
upgrade to buy at Bernstein Research. The analyst cited Comcast's acquisition of
General Electric's
(GE) - Get Report
NBC Universal, which is expected to be finalized in 2011. Shares gained 3.4% to $21.19.
Shares of
Amgen
(AMGN) - Get Report
were up 4.9% to $56.76 after
a clinical trial showed that its drug, Xgeva, delayed the spread of cancer to the bones of prostate cancer patients but did not extend their lives.
Other healthcare stocks were also gaining including
Novartis
(NVS) - Get Report
,
Eli Lilly
(LLY) - Get Report
and
Johnson & Johnson
(JNJ) - Get Report
as questions arise on the constitutionality of the federal health care overhaul.
HCP
(HCP) - Get Report
agreed to acquire most of the real estate assets of
HCR ManorCare
for $6.1 billion. HCP's stock was up by 1.3% to $32.96.
Shares of
AIG
(AIG) - Get Report
hit a 52-week high on Tuesday. The stock has been benefiting since its announcement last week that it agreed to a
revised bailout repayment plan, in which the insurer would use proceeds from asset sales to repay the Fed, while the U.S. Treasury Department will exchange its preferred stock for common equity, much like it did with
Citigroup
(C) - Get Report
. Shares jumped 6.7% to $51.77.
In commodity markets, the January crude oil contract shed 33 cents to settle at $88.28 a barrel. The February gold contract, the most actively traded gold future, traded $6 higher to settle at $1,404 an ounce.
Overseas on Tuesday, Hong Kong's Hang Seng added 0.5% and Japan's Nikkei gained 0.2%. The FTSE in London increased 0.5% while the DAX in Frankfurt shed 0.3%.
-- Written by Melinda Peer and Shanthi Bharatwaj in New York
.
Disclosure: TheStreet's editorial policy prohibits staff editors and reporters from holding positions in any individual stocks.