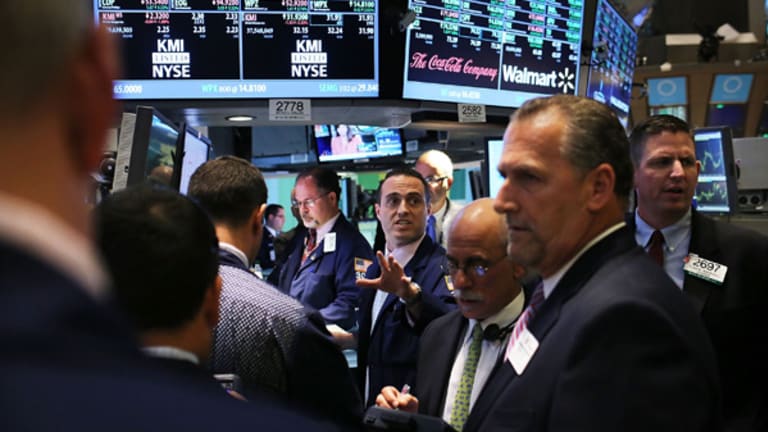 S&P 500 and Nasdaq Finish at New Highs
Stocks closed the week higher on fresh optimism about the economy and a bullish dividend boost by Dow component GE. Debra Borchardt has The Real Story.
Stocks closed the week higher on fresh optimism about the economy and a bullish dividend boost by Dow component GE. Debra Borchardt has The Real Story.
NEW YORK (
) -- Stocks rose on Friday, with the
S&P 500
and the
Nasdaq Composite
climbing to fresh multi-year highs, as consumers showed more confidence in the economy and stronger exports in October helped narrow the trade gap.
The
Dow Jones Industrial Average
rose 40 points or 0.2%, to 11,410. The S&P 500 surged 7 points or 0.6%, to 1,240, its highest level since September 2008, while the Nasdaq jumped 21 points, or 0.8%, to 2,637, its highest level since December 2007.
Conglomerate stocks were the session's clear winners as
General Electric
(GE) - Get Report
upped its dividend by 17% to 14 cents per share and
Procter & Gamble
(PG) - Get Report
traded higher after Goldman Sachs raised its rating on the stock to buy.
GE was the Dow's top performing stock, gaining 3.4% to $17.72 followed by
Pfizer
(PFE) - Get Report
and
United Technologies
, which got a favorable reception to its fiscal 2011 outlook.
Kraft Foods
(KFT)
,
Boeing
(BA) - Get Report
,
Coca-Cola
(KO) - Get Report
and
Walt Disney
(DIS) - Get Report
were the Dow's biggest laggards.
Optimism about the economy helped stocks close higher over the week as well, with the Dow finishing higher by 0.2%. The S&P 500 and the Nasdaq rose by 1.3% and 1.8% over the previous week.
Stocks traded in a tight range for most of Friday's session despite data that exceeded market expectations -- most notably, the University of Michigan's consumer sentiment reading, which jumped to 74.2 in December, from 71.6. Economists had been expecting an index reading of 72.5, according to
Briefing.com.
"While the better-than-expected consumer sentiment reading was a positive for the market, the market has been in an upward trending mode for the last three months so I think that expectations for better economic data were already baked into prices," said Bob Phillips, managing partner at Spectrum Management Group.
"Technically, we think that if the S&P closes at or above 1,231 today, that's probably confirmation of a bullish tone for next week. If it closes much lower, in the range of 1,225 or so, then we could be seeing more of this sideways market," Phillips said.
Stronger exports in October helped to narrow the trade deficit to $38.7 billion from $44.6 billion previously, the Department of Commerce said, beating economists' expectations for a widened deficit of $44.5 billion from $44 billion, as had been initially reported.
The Labor Department said import prices, excluding oil, increased 0.8% in November and export prices, excluding agriculture also grew by 0.8%. In October, import prices, excluding oil, rose 0.3%, and export prices, excluding agriculture, increased by 0.6%.
The deficit widened to $150.4 billion in November, compared with a deficit of $120.3 billion in November of last year, according to U.S. Treasury budget data from the Treasury Department. Wall Street had been projecting a milder expansion to a deficit of $134 billion, according to
Briefing.com
.
Shares of supermarket operator
Great Atlantic & Pacific Tea
(GAP)
were down 67.1% to 93 cents following a
Bloomberg
report that a Chapter 11 filing could come as soon as the weekend.
Shares of
Green Mountain Coffee Roasters
(GMCR)
plunged 9.6% to $33.91 a day after the company lowered its 2011 earnings guidance, citing volatile coffee prices.
Diagnostic equipment maker
Beckman Coulter
(BEC)
saw its stock jump 26.6% to $72.08 after the
Wall Street Journal
said the company put itself up for sale. According to the report, the company could attract bids in excess of $5 billion.
Shares of
Tenet Healthcare
(THC) - Get Report
jumped 55% to $6.65 on news of its unsolicited takeover bid from
Community Health Systems
(CYH) - Get Report
. Community Health's stock was up by 13.4% at $35.89.
China Petrochemical
(SNP) - Get Report
, also known as Sinopec, is snapping up
Occidental Petroleum's
(OXY) - Get Report
oil and gas assets in Argentina for $2.45 billion. Occidental's stock rose 2.1% to $93.06 and Sinopec's stock finished ahead by 1.9% to $93.58.
In commodity markets, the January crude oil contract fell 58 cents to settle at $87.79 a barrel. The most actively traded February gold contract lost $7.90, or 0.6%, to settle at $1,384.90 an ounce.
The dollar strengthened against a basket of currencies with the dollar index up by 0.02%. The benchmark 10-year Treasury note weakened 21/32, diluting the yield to 3.294%.
.
China ordered banks to increase their minimum reserves by 0.5% of deposits in its third increase in reserve requirements in five weeks. The market has been expecting Chinese measures to curb growth. Hong Kong's Hang Seng slipped 0.04% and Japan's Nikkei lost 0.7%.
Overnight in Europe, the FTSE in London added 0.09% while the DAX in Frankfurt rose 0.6%.
-- Written by Melinda Peer and Shanthi Bharatwaj in New York
.
Disclosure: TheStreet's editorial policy prohibits staff editors and reporters from holding positions in any individual stocks.