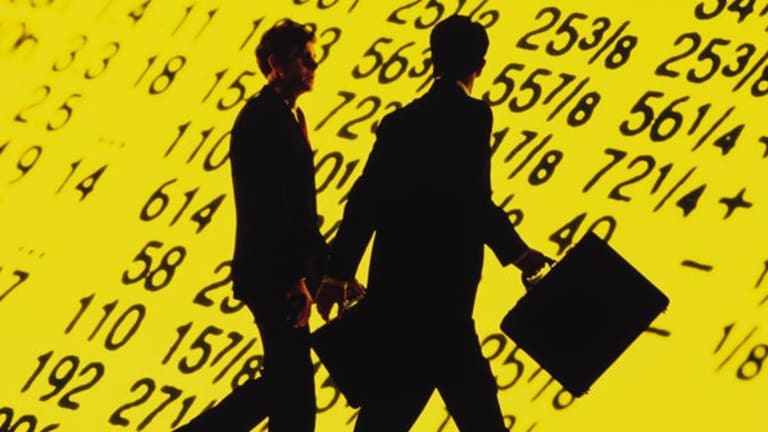 Dow Gets Back 430 Points in Furious Rally
Stocks come roaring back after wild swings, helped by a compliant Fed. Curiously, Treasuries and gold rally. In the video, Debra Borchardt discusses the Fed move with traders.
NEW YORK (
) -- Stocks came roaring back and closed at session highs in a volatile day of trading that saw major averages plunge sharply following a gloomy description of the U.S. economy by the
Federal Reserve
.
The central bank's pledge to keep interest rates at near-zero levels through at least mid-2013 triggered gyrations in all three major indices ahead of the close with the
Dow Jones Industrial Average
ranging more than 600 points from trough to peak.
After the close, the blue-chip index had gained 430 points, or 4% to 10,240. The
S&P 500
was ahead 53 points, or 4.7%, to 1173, while the
Nasdaq
advanced 125 points, or 5.3%, to 2483.
Federal Reserve Chairman Ben Bernanke
In a highly anticipated report of the Federal Reserve Open Committee meeting, the Fed
acknowledged that economic growth so far has been slower than expected.
Temporary factors such as high food and energy prices and the Japanese disaster "appear to account for only some of the recent weakness in economic activity," said the Fed.
While the central bank gave clarity on its monetary policy plans by putting a timestamp on when it might ease the interest rates, investors still reacted negatively as the statement was yet another reminder that the U.S. could enter into another recession.
However, compared to Monday when Dow saw its biggest drop since December 2008 Monday, fear amongst investors eased significantly. The materials and financial sectors showed the session's strongest gains.
Bank of America
(BAC) - Get Bank of America Corp Report
, which tanked yesterday topped the Dow with a gain of more than 17%.
Alcoa
(AA) - Get Alcoa Corporation Report
,
American Express
(AXP) - Get American Express Company Report
and
JP Morgan
(JPM) - Get JPMorgan Chase & Co. Report
also showed strong gains.
The consumer staples sector, which was the prior session's best performer, showed the weakest gains with
Kraft Foods
(KFT)
,
Proctor and Gamble
(PG) - Get Procter & Gamble Company Report
and
Johnson & Johnson
(JNJ) - Get Johnson & Johnson Report
among the Dow's biggest laggards.
Of the 4 billion shares that traded on the
New York Stock Exchange
, 84% rose while 15% declined. Some 1.5 billion stocks changed hands on the Nasdaq.
The FTSE in London rose 0.8%, while the DAX in Frankfurt lost 0.1%. Hong Kong's Hang Seng plummeted 5.7%, and Japan's Nikkei fell 1.7%.
"We're still in an environment that's under a lot of stress so a couple hundred points on the Dow isn't going to have us doing cartwheels," said Paul Ballew, chief economist at Nationwide. "We're still facing a lot of challenges with the headwinds in Europe and the U.S. debt situation."
Investor continued to take safe haven in gold after the precious metal climbed to more than $1713 an ounce on Monday. On Tuesday, gold for December delivery traded as high as $1,782.50 an ounce, and settled up by $30 at $1,743 an ounce.
Treasuries yields hit a record low after the Federal Reserve release its afternoon statement. Yields on the benchmark 10-year Treasury sanks as low as 2.1%. Meanwhile, the dollar weakened against a basket of currencies, with the dollar index down 1.3%.
.
Crude oil prices rose above the $80-a-barrel mark during the day suggesting that recessionary fears had eased slightly. By close, the September crude oil contract had lost $2 to settled at 79.30 a barrel.
"We're still seeing mixed signals, with oil prices easing but gold and Treasuries still moving up," said Andy Fitzpatrick, director of investments at Hinsdale Associates. "Because of that, I would not say that I'm ready to buy stocks in full."
In economic news, the Department of Labor said that productivity fell 0.3% in the second quarter. The decline was less than the 0.6% drop that economists had expected and better than a 0.6% decline in the first quarter. However, falling productivity will likely pose challenges for companies struggling amid a weak economy. Unit labor costs jumped 2.2%, as expected, after rising 4.8% in the first quarter as employers paid more for each employee.
In corporate news,
Sara Lee
(SLE)
agreed to sell its refrigerated dough business to
Ralcorp Holdings
(RAH)
for $545 million. Ralcorp's stock gained 1% while Sara Lee's stock added 4.5%.
Canadian drug maker
Valeant Pharmaceuticals
(VRX)
may be considering purchasing
Medicis Pharmaceuticals
(MRX)
, according to a
Wall Street Journal
report. Valeant's stock closed ahead 5.7% and shares of Medicis climbed 11%.
HSBC
(HBC)
is
in talks about a sale of its card and retail services business in the U.S. The stock added 4.9% to $44.92.
Transatlantic Holdings
(TRH)
said late Monday it would
engage in takeover discussions with National Indemnity , a unit of Warren Buffett's
Berkshire Hathaway
(BRK.B) - Get Berkshire Hathaway Inc. Class B Report
, in hopes that negotiations would lead to a larger bid. Transatlantic, the reinsurance company, said Sunday it received a $3.25 billion buyout offer from National Indemnity. Shares of Berkshire Hathaway's B shares rose 8% and Transatlantic's stock advanced 4%.
-- Written by Chao Deng and Melinda Peer in New York
.