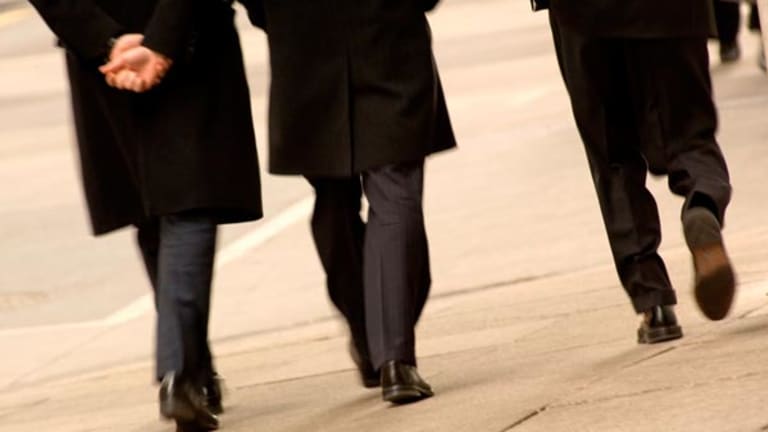 Stocks Recover Some From Jobs Report
Stocks finish Friday's session with mild losses after great-than-expected July job losses pushed shares down by as much as 1.5% earlier.
NEW YORK (
) -- Stocks made an impressive turnaround in the last hour of trading on Friday, more than halving earlier steep losses spurred by a weaker-than-expected July jobs report.
The
Dow Jones Industrial Average
lost 21 points, or 0.2%, to close at 10,654, with week-over-week gains of 1.8%. The
S&P 500
shed 4 points, or 0.4%, to close the session at 1122, with weekly gains of 1.8%. The
Nasdaq
rose 1.5% on the week and finished Friday's session 5 points lower, or down by 0.2%, at 2289.
Late Friday,
Hewlett-Packard
CEO Mark Hurd announced his resignation, effective immediately, citing a sexual harassment claim brought against him by a former contractor to H-P. Although the company said an investigation determined there was no violation of H-P's sexual harassment policy, it did find conflict with the company's standards of business conduct. The Board has appointed CFO Cathie Lesjak to step in on an interim basis.
Concurrently, the company issued preliminary results ahead of its third-quarter earnings release on Aug. 19. The company announced third-quarter adjusted earnings of $1.08 a share, topping expectations by a penny, according to Briefing.com, while sales rose 11% to $30.7 billion. For the fourth quarter, the company expects adjusted earnings in the range of $1.25 to $1.27 a share on sales of $32.5 billion to $32.7 billion. Finally, H-P raised its year-end guidance to adjusted earnings between $4.49 and $4.51 a share and sales are now expected to be in the range of $125.3 billion to $125.5 billion.
After shares were halted during the after-hours trading session, they reopened 11% lower around 5 p.m. ET, and were last down by 10.2% at $41.57.
Earlier,
Goldman Sachs
(GS) - Get Goldman Sachs Group Inc. (The) Report
lowered its growth forecast for the U.S., saying that it now sees annual average growth of 1.9% in 2011, compared with its previous forecast for growth of 2.4%. It now expects GDP to accelerate from 1.5% in 2011's first quarter to 3% in the year's fourth quarter, which is down from its previous view for growth from 2.5% in 2011's first-quarter, to 3.5% in the second half of the year. Goldman Sachs also said it expects the unemployment rate to rise to 10% and remain there in 2011.
Reviewing the morning's employment data for July, Keith B. Hembre, chief economist and chief investment strategist at First American Funds of Minneapolis said, "It was not a good report in terms of what's necessary to get the unemployment rate on a sustained downward path and to be viewed as a sustaining force behind the recovery and eventual expansion."
"That said, it wasn't all bad," he added. "Hours worked and average hourly earnings both grew, so if you think of the overall implications for household income generation, it should be sufficient to push consumer spending forward on an upward path."
"The takeaway, however, is that it's difficult to identify the catalyst that would make August meaningfully better and that's a disappointment," Hembre said.
Overseas, Hong Kong's Hang Seng climbed 0.6% while Japan's Nikkei slipped 0.1%. The FTSE in London was shed 0.6%, and the DAX in Frankfurt dropped 1.2%.
>>The Economy
>>Company News
>>Commodities and the Dollar
>>Treasuries
The Economy
The Labor Department said
the U.S. economy lost 131,000 jobs in July, after shedding 221,000 payrolls in June. The decrease was much larger than the 87,000 decline that economists had been projecting, according to Briefing.com, and June's level was downwardly revised from originally reported losses of 125,000.
The unemployment rate, however, held steady at 9.5% in July. Economists had is expected it to climb to 9.6% in July.
The Labor Department report also showed that the private sector added 71,000 payrolls during the month, though it was less than expected additions of 83,000, according to estimates on Briefing.com. Meanwhile, hourly earnings increased 0.2%, which was higher than the 0.1% uptick that Wall Street had been anticipating, and the average workweek came in at 34.2 while economists had expected it to hold at 34.1.
>>Company News
>>Commodities and the Dollar
>>Treasuries
Company News
Conglomerates, financial and transportation sectors were among the session's weakest and shares of
JPMorgan Chase
(JPM) - Get JP Morgan Chase & Co. Report
,
IBM
(IBM) - Get International Business Machines Corporation Report
and
Exxon Mobil
(XOM) - Get Exxon Mobil Corporation Report
were putting the most pressure on the Dow.
Meanwhile,
Kraft Foods
( KFT),
McDonald's
(MCD) - Get McDonald's Corporation Report
and
Coca-Cola
(KO) - Get Coca-Cola Company (The) Report
were the best-performing components.
Late Thursday,
Kraft said second-quarter earnings jumped more than 13% and an adjusted profit of 60 cents a share topped the gains of 52 cents a share that Wall Street had been expecting. The company also confirmed its full-year operating earnings guidance of at least $2 a share. The stock gained 2.4%.
In Friday's earnings news,
American International Group
(AIG) - Get American International Group Inc. Report
posted a second-quarter net loss of $2.7 billion, which was largely the result of a $3.3 billion wirtedown from the pending sale of American Life Insurance. Adjusted profits of $1.99 a share, however, easily beat analysts' estimates for earnings of 99 cents a share, according to Briefing.com. Shares rose 2.5%.
Shares of
James River Coal
(JRCC)
added 8.3% after the company reported a better-than-expected profit of 71 cents a share. The company also increased its 2010 earnings guidance to between $2.35 and $2.70 a share, from a range of $1.70 to $2.25 a share, previously.
China Sunergy
(CSUN)
surpassed analysts' expectations for earnings of 18 cents a share with a profit of 33 cents a share and said sales rose 67.8%, to $117.6 million from last year's second quarter. Shares lost 6.6%.
General Steel
(GSI)
narrowed its second-quarter loss to 4 cents a share, which was better than the loss of 7 cents a share that Wall Street had forecast. The Chinese steel company operator said sales rose nearly 23% to $501.7 million, from $408.9 million a year ago. The stock shed 3.1%.
Royal Bank of Scotland
(RBS) - Get Royal Bank of Scotland Group Plc Report
reported a profit of 257 million British pounds ($409 million), although losses from underperforming loans increased. Shares were down by 0.06%.
Apple
(AAPL) - Get Apple Inc. Report
is apparently in talks to acquire Chinese game developer
Handseeing
, according to China's Xinhua news agency. The purchase price is rumored to be $150 million. Apple shares finished 0.6%.
BP
shares advanced 1.7% after the company said it has finished the cement portion of its static kill procedure and expects the first relief well to intercept the Macondo well in mid-August.
>>The Economy
>>Commodities and the Dollar
>>Treasuries
Commodities and the Dollar
Crude oil for September delivery shed $1.31, or 1.6%, to settle at $80.70 a barrel.
Elsewhere in commodity markets, the December gold contract gained $6, or 0.5%, to settle at $1,205.30 an ounce.
The dollar was trading lower against a basket of currencies, with the dollar index down by 0.6%.
>>The Economy
>>Company News
>>Treasuries
Treasuries
The benchmark 10-year Treasury was up by 23/32, weakening the yield to 2.820%.
The two-year note rose 2/32, dropping the yield to 0.506%. The 30-year bond was up by 30/32, decreasing the yield to 3.996%.
--Written by Melinda Peer in New York
.
>>The Economy
>>Company News
>>Commodities and the Dollar
Disclosure: TheStreet's editorial policy prohibits staff editors and reporters from holding positions in any individual stocks.