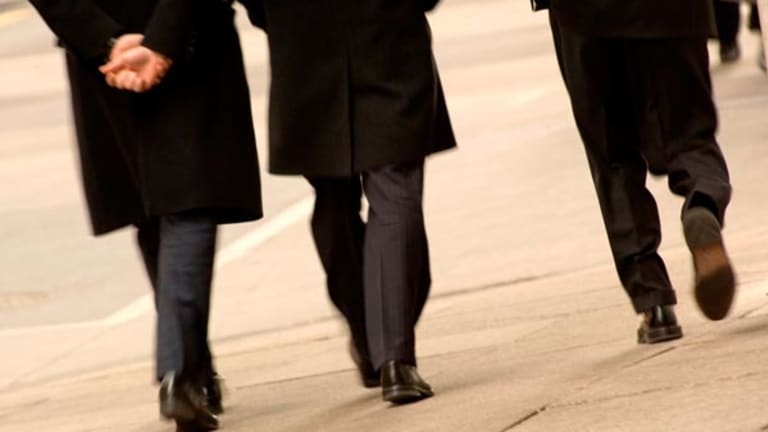 DOW FALLS 513 POINTS; NASDAQ LOSES 137 IN CAPITULATION SELLOFF
All three major indices descended into correction territory as fears about global economic growth intensified. Debra Borchardt previews Friday's trading.
NEW YORK (
) -- Stock market investors profusely dumped shares Thursday -- sending the Dow down more than 500 points and the Nasdaq over 130 as fears about global economic growth intensified.
Fears of escalating debt problems in Europe coupled with a lack of economic recovery in the U.S. sent investors rushing to cash, gold, and Treasurys. The Dow, S&P 500, and Nasdaq all descended into correction territory, falling more than 10% from their recent highs in late April, and each is now in negative territory for 2011.
By the close, the
Dow Jones Industrial Average
had plunged 513 points, or 4.3%, to 11,384. The
S&P 500
dropped 60 points, or 4.8%, to 1200 and the
Nasdaq
lost 137 points, or 5%, to 2556.
The selling occurred on heavy volume, validating the conviction of the move, and the major indexes weakened in the final hour of trading, finishing at or just above their session-lows, another sign of how deep the weakness was.
"What is making it much worse is the minor oversold bounce
on Wednesday convinced some that maybe the worst of this downtrend was over and that sucked in some buyers. They were flattened by the surprise weak open this morning," said RealMoney contributor Rev Shark in a
recent blog post.
"The big problem with this sort of action is that it destroys confidence," he said. "Those who don't sell out of fear end up selling out of disgust because they don't see any potential catalysts. There is just too much negative news flow right now, and you have to wonder why you should try to fight it."
The rout was widespread with energy and basic material stocks closing deepest in the red.
Alcoa
,
Caterpillar
(CAT) - Get Caterpillar Inc. Report
,
Bank of America
(BAC) - Get Bank of America Corp Report
,
Chevron
(CVX) - Get Chevron Corporation Report
and
DuPont
(DD) - Get DuPont de Nemours, Inc. Report
were the Dow's biggest laggards, although all 30 of the blue-chip index's components finished lower.
McDonald's
(MCD) - Get McDonald's Corporation (MCD) Report
,
Kraft Foods
(KFT)
,
Procter & Gamble
(PG) - Get Procter & Gamble Company Report
and
Travelers Cos
(TRV) - Get Travelers Companies, Inc. Report
saw the most moderate declines.
The majority of the 7.5 billion shares that traded on the New York Stock Exchange fell, while some 3.3 billion shares changed hands on the Nasdaq. Fear was alive in the marketplace as the VIX, a measure of volatility derived from options activity within the S&P 500, spiked more than 35% to 31.7, nearing the levels seen during the Japanese earthquake disaster in March.
A meager decline in initial jobless claims gave investors little confidence ahead of Friday's July jobs report. The Labor Department said
initial jobless claims fell to 400,000 in the last week of July, about unchanged from a revised 401,000 claims in the prior week.
"While the direction in claims was favorable, the four-week moving average remained north of 400,000 for the fifteenth consecutive week, hardly indicative of a pleasant labor market environment," said Jim Baird, chief investment strategist for Plante Moran Financial Advisors.
"The U.S. economy remains in a questionable phase and employers are well aware of it. The recent softening in the U.S. economy coupled with generally declining expectations for growth in the second half of the year is likely to continue to weigh on hiring plans, making sustained improvement in job creation unlikely in the months ahead," he said.
Friday brings the government's July employment report, which is expected to show 84,000 additional nonfarm payrolls in July, after June's meager increase of 18,000 jobs. The unemployment rate is slated to inch down to 9.2%, from 9.3% in June, according to Briefing.com.
The euro-zone debt crisis also made investors jittery. Fears that weakness has spread to Spain and Italy pushed yields on those countries' bonds to record highs this week. During a press conference following the European Central Bank's decision to hold interest rates at 1.5%, ECB President Jean-Claude Trichet said the central bank will lend euro-zone banks as much money as they need for six months and expand current liquidity measures through the end of 2011, according to a
Bloomberg
report.
Earlier, the Bank of England also voted to keep its key interest rate at 0.5%, and maintained its current monetary easing program.
The FTSE in London plunged 3.2%, and the DAX in Frankfurt sunk 3.4%. Hong Kong's Hang Seng dropped 0.5%, while Japan's Nikkei added 0.2%.
"The world economy has clearly taken a turn for the worse over the last few months," said UBS Economist Andrew Cates. "Our growth surprise index suggests that a marked deterioration in global economic conditions has unfolded since the start of the second quarter. Recent revised data show that the U.S. economy barely grew in the first half of this year. And purchasing managers' surveys suggest that manufacturing output is now contracting in some developed and developing economies."
UBS lowered its global gross domestic product growth forecast to 3.3% this year, from 3.6%, previously.
Gold saw safe-haven interest throughout the morning session particularly after central banks got involved with the Swiss central bank, slashing interest rates to near zero and promising an influx of new Swiss Francs. The Bank of Japan also intervened in its currency market for the second time this year, buying dollars and selling yen.
The dollar was rising against a basket of currencies, with the dollar index up by 1.6%. Gold for December delivery hit a fresh record earlier, trading as high as $1,684.90 an ounce, but retreated during the afternoon session. The contract settled down by $17 at $1,666 an ounce.
As investors rush to safe havens, yield in the one-month Treasury bill dipped into negative territory. The benchmark 10-year Treasury rose 1 12/32, diluting the yield to 2.47%.
.
Oil prices dropped below $90 a barrel as global growth concerns dampened the appeal of risky assets. The September crude oil contract shed $5.30 to settle at $86.63 a barrel.
In corporate news,
Dendreon
(DNDN)
saw its stock sink late Wednesday after the
biotechnology company reported weaker-than-expected second-quarter Provenge sales and withdrew its sales guidance for the rest of the year due to reimbursement issues. Shares plunged 66% to $12.25
General Motors
(GM) - Get General Motors Company (GM) Report
said higher U.S. sales helped it post better-than-expected second-quarter earnings of $1.54 a share. Analysts had been projecting a profit of $1.20 a share. The stock, which rose during the premarket session, settled 3% lower.
Consumer goods company
Unilever
(UL) - Get Unilever PLC Sponsored ADR Report
saw its stock rise 1.3% to $32 after it
reported a 10% jump in first-half earnings. The company said it successfully passed higher input costs to customers.
Wholesale retailer
Costco
(COST) - Get Costco Wholesale Corporation Report
topped analysts' expectations for a July same-store sales gain of 8.6% with
monthly same-store sales growth of 10%. The stock added 0.4% to $77.35.
Pfizer
(PFE) - Get Pfizer Inc. Report
, which loses patent protection on Lipitor in November, is
interested in selling an over-the-counter version of the world's best-selling drug, according to a
Wall Street Journal
report. Shares slipped 1.5% to $17.76.
-- Written by Chao Deng and Melinda Peer in New York
.