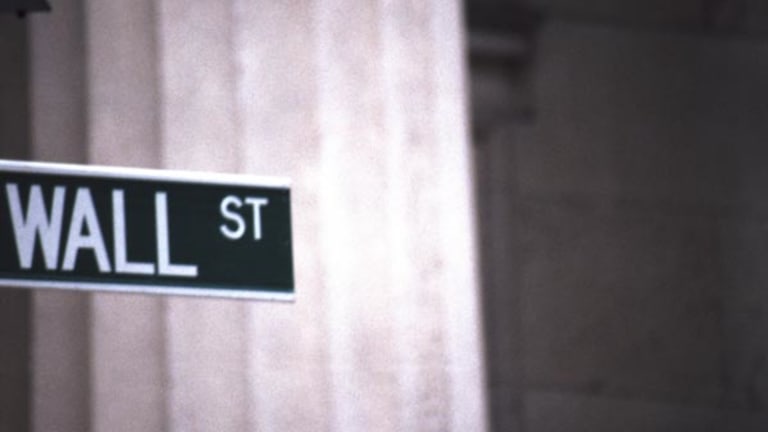 Publish date:
Stocks Bounce on Bernanke But Finish Week Lower
The Fed chairman echoes previous dovish pronouncements, prompting a mild pop in equities and heavy buying in bonds and gold.
The Fed chairman echoes previous dovish pronouncements, prompting a mild pop in equities and heavy buying in bonds and gold.

NEW YORK (TheStreet) -- U.S. stocks finished with modest gains on Friday after Federal Reserve Chairman Ben Bernanke made clear he's open to another round of quantitative easing in remarks at the global economic symposium in Jackson Hole, Wyo.
Stocks wavered a bit in the immediate wake of Bernanke's speech, briefly curbed gains, then pushed to new session highs before gradually sliding back ahead of the long Labor Day weekend. The Fed chairman's words prompted more dramatic responses in other asset classes as both bonds and gold spiked higher and the U.S. dollar was weak.
The
Dow Jones Industrial Average
closed up 90 points, or 0.69%, at 13,091. The blue-chip index ranged roughly 150 points on the day, peaking at 13,152. It booked a 0.63% gain for August, adding a little more than 82 points, but finished down 0.51% for the week. Year-to-date, the Dow is up 7.2%.
Twenty-eight of the Dow's 30 components were higher with
Merck
(MRK) - Get Report
and
AT&T
(T) - Get Report
the only laggards.
The biggest percentage gainers were
Alcoa
(AA) - Get Report
,
American Express
(AXP) - Get Report
, and
Intel
(INTC) - Get Report
.
The
S&P 500
added a little more than 7 points, or 0.51%, to close at 1406.58. The benchmark index rose for a third consecutive month, adding more than 27 points, or roughly 2%, and hitting a multi-year high of 1426.68 in intraday action on Aug. 21. For the week, it lost 0.32%.
So far in 2012, the S&P 500 has risen 11.9% vs. a flat performance in 2011.
The
Nasdaq
surged more than 18 points, or 0.60%, at 3067. The tech-heavy index gained 4.3% in August and is now up 17.7% in 2012. For the week, it dipped 3 points.
Bernanke, as expected, struck a very dovish tone, calling the "stagnation" of the labor market "a very grave concern" and pledging the central bank "will provide additional policy accommodation as needed to promote a stronger economic recovery and sustained improvement in labor market conditions in a context of price stability."
Bernanke also said current economic conditions, "obviously far from satisfactory." The view of research firm
Capital Economics
was that the chairman has "paved the way" for QE3 to be announced at the Fed's next policy meeting on Sept. 12-13.
"In his speech at Jackson Hole, Fed Chairman Ben Bernanke has taken a further step along the path to more policy stimulus, most likely a third round of asset purchases (QE3) to be announced at the mid-September FOMC meeting," wrote Paul Dales, the firm's chief U.S. economist. "The speech comes across as a staunch defence of the effectiveness of unconventional monetary policy. Bernanke does discuss the potential costs of unconventional tools, but he concludes that these 'appear manageable, implying that we should not rule out the further use of such policies if economic conditions warrant.'"
David Rodriguez, quantitative strategist at
DailyFX
, said the speech "added little to recent Fed rhetoric, as the central bank remains in 'wait and see' mode on the next developments out of U.S. economic data."
In the broad market, the strongest sectors were basic materials, energy and technology. Only utilities finished in the red. Volume was thin once again, reaching 2.07 billion on the New York Stock Exchange and 1.55 billion on the Nasdaq.
For much of the early morning, prior to Bernanke, the markets were getting a lift from a report Friday from Germany's
Bild
newspaper that Bundesbank chief Jens Weidmann has mulled quitting several times over his opposition to the European Central Bank's plans for a new bond buying program.
The report stirred up hopes of a resignation that would likely indicate the ECB was moving closer to launching a program. Stocks then cut some gains after Standard & Poor's lowered Spain's Catalonia region to junk status.
Friday's economic data was mixed. The Chicago Institute of Supply Management reported that Chicago purchasing managers index fell a more than expected in August to 53 from 53.7 in July. Economists had expected a level of 53.5.
The final read on the University of Michigan Consumer Sentiment Index for August came in at 74.3, better than the 73.6 economists were expecting.
The Census Bureau released data showing that factory orders rose 2.8% in July, better than the rise of 1.9% that economists were expecting, and the biggest gain since July of last year.
The FTSE in London was up 0.20% and the DAX in Germany was tacking on 0.88%, both steadily gaining ground even after another round of soft employment numbers out of Europe. The eurozone jobless rate hit a record high in July and the Italian unemployment rate remained elevated at a seasonally adjusted 10.7% last month.
The Hong Kong Hang Seng index closed lower by 0.36% and the Nikkei in Japan finished down 1.60% after a disappointing report on the country's July industrial production numbers.
Bernanke's speech got the biggest reaction in the bond, currency and gold markets. The benchmark 10-year Treasury rose 24/32, diluting the yield to 1.548%. The greenback weakened 0.64%, according to the
October crude oil futures rose $1.85 to settle at $96.47 a barrel and December gold futures soared $30.50 to settle at $1,687.60 an ounce as traders took Bernanke's speech as a clear sign that quantitative easing -- viewed as favorable for precious metals -- was on the way.
In corporate news,
Splunk
(SPLK) - Get Report
reported a narrower-than-expected fiscal second-quarter loss on Thursday with revenue 12% ahead of analysts' estimates. The data software specialist also raised its revenue outlook for the full year to between $183 million and $186 million, up from a prior range of $174 million to $177 million. Shares were surging more than 15.5%.
OmniVision Technologies
(OVTI)
, the maker of advanced digital imaging products, said it expects non-GAAP earnings of 21 to 37 cents a share for its fiscal second quarter ending in October on revenue of $355 million to $390 million.
Analysts are currently looking for a profit of 33 cents a share in the quarter on revenue of $268.6 million. Shares gained nearly 13%.
Zumiez
(ZUMZ) - Get Report
, the specialty retailer, provided weak guidance for its fiscal third quarter, sending its shares down 9.4%.
SAIC Inc
(SAI)
shares popped 3.4% after the government technology contractor said that it will split its business into two independent public companies.
--Written by Andrea Tse in New York.
>To contact the writer of this article, click here:
Andrea Tse
.