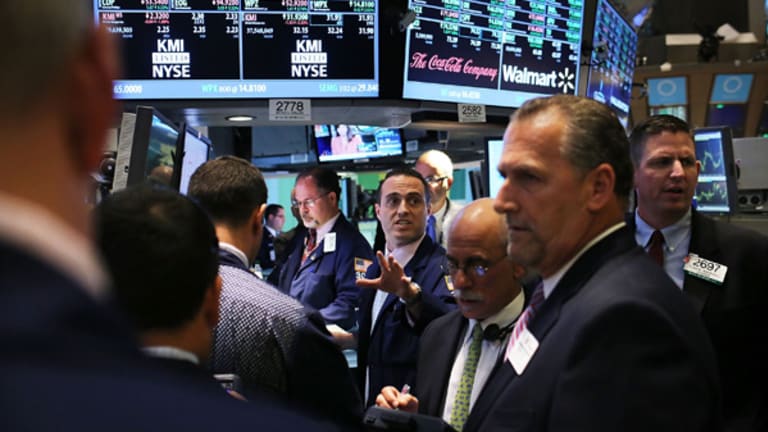 Stocks Finish Volatile August With Bull Run
The Dow loses more than 4% for the month but has advanced in seven of the last eight sessions, rising nearly 900 points over that span.
NEW YORK (
) -- Stocks finished August on a positive note, despite taking a dip into the red on Wednesday amid thin trading volume.
The
Dow Jones Industrial Average
tacked on 53 points, or 0.5%, to close at 11,613. Earlier in the session, the blue-chip index ran as high as 11,712, a gain of more than 150 points, and despite losing 4.4% overall in a volatile August, it did manage to return to positive territory for 2011, rising in seven of the last eight sessions to advance nearly 900 points from its close at 10,817 on Aug. 19.
The
S&P 500
rose 6 points, or 0.48%, settle at 1219, while the
Nasdaq
edged up 3 points, or 0.13%, to 2579.
"The market is just searching for something," said Stephen J. Carl, head equity trader at Williams Capital Group. Tepid economic numbers as well as light volume have not helped the rally, he explained. Some 4.6 billion shares changed hands on the New York Stock Exchange and under 2 billion traded on the Nasdaq.
AT&T
(T)
shares fell almost 4% to $28.48 after the Department of Justice filed to block its merger with
T-Mobile
. The government said that a deal between AT&T and T-Mobile would lead to higher prices and lower quality products for consumers. Meanwhile, shares of wireless phone competitor
Sprint Nextel
(S)
were soaring almost 6% to $3.76.
The news from the Department of Justice pulled AT&T to the bottom of the Dow, which was still weighted toward the positive with 23 of 30 components in the green. At the top were
Alcoa
(AA)
,
Walt Disney
(DIS)
and
American Express
(AXP)
.
Investors are hoping for more monetary easing as well as new programs from the government, said Komal Sri-Kumar, global strategist at investment firm TCW, earlier today. "There continues to be a significant amount of nervousness around the economic outlook."
Komal added that the latest round of poor jobs news this morning has increased the likelihood that the Fed will step in.
Companies added 91,000 jobs in August, according to Automatic Data Processing this morning. The latest reading by the payroll processing firm was below expectations for a 100,000 gain. The economy added a revised 109,000 new jobs in July.
A separate report showed that the number of planned job cuts in August remains high even while declining slightly. The number of planned job cuts fell 23% in August, according to consulting firm Challenger, Gray & Christmas. A chunk of the reductions came from government worker layoffs.
Investors are looking ahead to the government's highly anticipated monthly job report on Friday. Economists are expecting some 100,000 jobs added in August after gains of 117,000 in July. Briefing.com is expecting the unemployment rate to tick up to 9.2% from 9.1% in July.
Next Wednesday, President Obama is set to announce his plan to improve the jobs market. "If the President says something positive and there's more talk of QE3 coming out, the market could sustain a rally for another month," said Komal. However, Komal noted that stocks have rallied on light volume and that a pullback remains possible.
In other economic data today, the Institute for Supply Management's Chicago Purchasing Managers' Index came in at 56.5, beating expectations of a drop to 53 and only slightly below July's 58.5 reading. Readings above 50 indicate that an industry is growing. Still, business orders and production in the Chicago region are at their lowest level since Nov 2009.
Factory orders saw improvements in July, according the Commerce Department. New orders increased 2.4%, a rebound from June's revised 0.4% decrease. The latest update was better than the 1.8% increase economists had anticipated.
Men's clothing retailer
JoS. A. Bank Clothiers
(JOSB)
reported lower margins for the second quarter, but posted a strong
in earnings with same-store sales rising 14.7%. The company reported earnings of $20.6 million or 74 cents a share vs. the average analyst estimate of 68 cents a share. Shares rose 8.5% to $51.30.
According to the Wall Street Journal, the nation's largest bank,
Bank of America
(BAC)
is planning to exit the correspondent mortgage business, through which it purchases mortgage loans originated by smaller lenders -- and then sells them -- while continuing to service the loans for a fee. According to the
WSJ
,
may be sent to as many as 1,000 employees as early as Wednesday.
The October crude oil contract closed down 9 cents to trade at $88.81 a barrel. Elsewhere in the commodity markets, gold for December delivery gained $1.90 to settle at $1,831.70 an ounce.
The benchmark 10-year Treasury was slipping 11/32, pushing the yield to 2.2%. The dollar strengthened against a basket of currencies, with the dollar index inching up 0.2%.
The rally in U.S. stocks followed gains in overseas markets with the FTSE in London rising 2.4% and the DAX in Frankfurt gaining 2.5%. Hong Kong's Hang Seng rose 1.6% while Japan's Nikkei added 0.01%.
-- Written by Chao Deng in New York
.