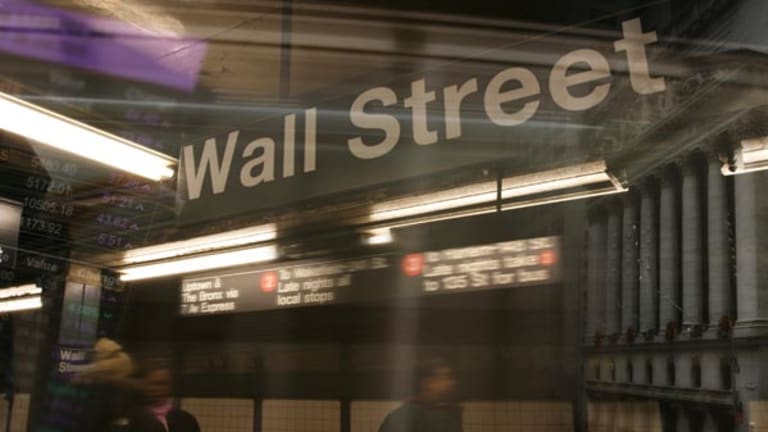 Stocks Finish With Slight Gains
The Dow ekes out a gain to snap a two-day losing streak after the Federal Reserve's report finds the economy grew "gradually" last month.

NEW YORK (TheStreet) -- U.S. stocks closed with minuscule gains Wednesday after the Federal Reserve's Beige Book report found the U.S. economy grew "gradually" last month.
Sentiment also got a slight boost from an upward revision to second-quarter gross domestic product and positive housing data earlier in the day.
The
Dow Jones Industrial Average
rose more than 4 points, or 0.03%, to finish at 13,107.48, snapping a two-day losing streak.
Breadth was positive within the Dow with winners edging losers, 18 to 12. The biggest percentage gainers were
McDonald's
(MCD) - Get McDonald's Corporation (MCD) Report
,
Walt Disney
(DIS) - Get Walt Disney Company Report
, and
Verizon
(VZ) - Get Verizon Communications Inc. Report
.
The leading Dow decliners were
Coca-Cola
(KO) - Get Coca-Cola Company Report
,
Intel
(INTC) - Get Intel Corporation (INTC) Report
, and
United Technologies
(UTX) - Get United Technologies Corporation Report
.
The
S&P 500
added a little more than a point, or 0.08%, to settle at 1410.49. The benchmark index is up 12.2% so far in 2012.
The
Nasdaq
tacked on 4 points, or 0.13%, at 3081.
The strongest sectors in the broad market were financials, services and consumer cyclicals, while basic materials, energy and transportation stocks were under pressure.
It's been a slow week on Wall Street with the major U.s. equity indices barely budging ahead of the Jackson Hole, Wyo. global economic symposium this weekend.
Federal Reserve
Chairman Ben Bernanke is slated to speak at the summit on Friday. European Central Bank President Mario Draghi was originally expected to appear as well but he canceled on Tuesday.
Volume totaled 2.54 billion on the New York Stock Exchange and 1.28 billion on the Nasdaq, underscoring the lack of investor interest of late. The Dow has ranged less than 65 points on the day.
Even a busy economic calendar on Wednesday wasn't enough to kickstart the markets. The
by the Bureau of Economic Analysis of gross domestic product for the second quarter found the U.S. economy grew 1.7%, up from the preliminary estimate of 1.5%.
Capital Economics
was unimpressed, calling the number "old news."
"We are already two months through the third quarter and more up-to-date figures show that the economy is still struggling," the firm said. "The revision was due to the combination of stronger consumption growth (1.7% vs. 1.5%) and a smaller contraction in government spending (-0.9% vs. -1.4%) more than offsetting weaker investment growth (3.0% vs. 8.5%)."
Meanwhile, the National Association of Realtors said its index of sales agreements for previously occupied homes jumped 2.4% in July to 101.7, up from June's reading of 99.3. The July reading is the highest reading since April 2010.
The Fed's
, which is an anecdotal look at current economic conditions across the central bank's 12 districts, determined reports "suggest economic activity continued to expand gradually in July and early August across most regions and sectors."
The Fed said six of its districts reported their local economies "continued to expand at a modest pace" while another three were showing "moderate growth."
The European and Asian stock markets finished mixed. Britain's FTSE 100 was down 0.56%, while Germany's DAX rose 0.11%. Japan's Nikkei 225 index rose 0.4% to close at 9,069.81, while Hong Kong's Hang Seng Index fell 0.1%.
October crude oil futures settled down 84 cents at $95.49 a barrel and December gold futures slumped $6.70 to settle at $1663 an ounce.
The benchmark 10-year Treasury was down 6/32, lifting the yield to 1.660%. The greenback was up 0.22%, according to the
In corporate news,
H.J. Heinz
(HNZ)
, the ketchup giant, said first-quarter net income rose 14% year-over-year. The Pittsburgh-based company reported fiscal first-quarter net income of $258 million, or 80 cents a share, up from year-earlier earnings of $226.1 million, or 70 cents a share.
Earnings from continuing operations in the quarter ended July 29 were 87 cents a share. Analysts expected Heinz to post fiscal first-quarter profit of 80 cents a share. The stock closed off 2.3%.
Joy Global
(JOY)
said fiscal third-quarter earnings rose 12% but the results missed analysts' estimates. The mining equipment manufacturer also cut its full-year outlook amid slower demand in China. Shares finished up 2.7%.
WellPoint
(WLP)
President and CEO Angela Braly resigned Tuesday amid investor frustration with the stock performance of the second-largest health insurer in the U.S. Braly took over as president and CEO in 2007. The stock jumped 7.7%.
Shares of
Pandora Media
(P)
surged more than 10% in late trades after the streaming music company reported breakeven results for its fiscal second quarter on revenue of $101.3 million, beating the consensus view for a loss of 3 cents a share on revenue of $100.9 million.
--
Written by Joe Woelfel in New York
>