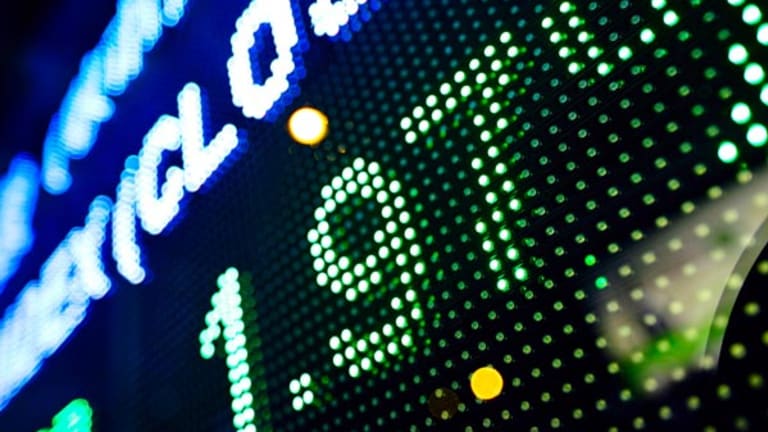 Dow Shakes Off Hurricane, Closes Up 255 on Light Volume
Stocks climb more than 2% Monday as the financial impact of the storm looks relatively minimal. In the video, Gregg Greenberg previews Tuesday's market.
NEW YORK (
) -- The
Dow Jones Industrial Average
rallied Monday as relatively minimal damage from Hurricane Irene and positive economic data lifted market sentiment.
The blue-chip index rose 255 points, or 2.3%, to finish at 11,537 points. The
S&P 500
advanced by 33 points, or 2.8%, to close at 1210 and the
Nasdaq
gained 82 points, or 3.3%, to settle at 2562.
Trading was light with just 3.6 billion shares changing hands on the New York Stock Exchange, after commuting challenges in the aftermath of Hurricane Irene prevented some traders from heading into work. More than 80% of NYSE shares rose while just over 10% fell.
The advance follows the strongest weekly gain for the major U.S. indices in two months last week. Strategists questioned whether it was time to load up on equities.
"Stocks fell around 18% between early May and mid-August, leading us to believe it might be a decent entry point to slowly start putting money to work," said Andrew Fitzpatrick, director of investments at Hinsdale Associates. "The S&P 500 is trading in a tight range ... a break over 1225 could lead to further upside in the short term." The Dow has finished higher in five of the past six sessions.
Even so, investors remained cautious as they looked to rotate out of strong investments such as gold and Treasuries. "Volume has been poor during recent rallies, while down days have seen a spike in volume," notes Paul Nolte, managing director at investment management firm Dearborn Partners. "While I think we've reached a momentum bottom, having fallen so hard and fast, the S&P 500 could still test 1100."
A lack of new monetary action by Fed Chairman Ben Bernanke in his Jackson Hole, Wyo., speech did not prevent a stock surge last Friday. Investors felt heartened by Bernanke's call for politicians in both the U.S. and Europe to take action to address economic problems in their respective regions.
Bernanke's speech, however, added to the growing concern that central bankers are running out of tools to help ward off a potential recession in the U.S. and Europe. International Monetary Fund chief Christine Lagarde warned of a "dangerous new phase" in Europe's debt crisis. Lagarde's stark assessment amid a lack of a far-reaching fiscal plan in Europe was expected to keep worries about a potential debt contagion alive.
Adding to the latest euro concerns was Finland, which has demanded that Greece cough up collateral as part of its latest bailout aid package. Domestic disputes threaten the parliamentary approval needed from Finland before Greece can receive extended funds.
In merger news this morning, a deal between Alpha Bank and Eurobank sent a signal of confidence from the Greek economy. Greek bank shares, including National Bank of Greece, rose.
The FTSE in London was closed for a bank holiday while the DAX in Frankfurt gained 2.4%. Hong Kong's Hang Seng rose 1.44% while Japan's Nikkei added 0.6%.
In the U.S., investors are looking ahead to the government's highly anticipated monthly job report on Friday. Economists are expecting some 100,000 jobs added in August after gains of 117,000 in July. Briefing.com is expecting the unemployment rate to tick up to 9.2% from 9.1% in July.
Monday's economic data were generally positive. Auto sales helped increase personal spending for July, according to the Bureau of Economic Analysis. Spending was up 0.8%, exceeding economists' expectations, and reversing the prior month's decrease of 0.2%. Meanwhile, incomes rose 0.3% after an increase of 0.2% in June.
Pending home sales dropped 1.3% in June, in line with estimates, after July saw a 2.4% rise, according to the National Association of Realtors.
Shares of insurers rose after trading lower last week as the market braced for Hurricane Irene. While the hurricane was estimated to inflict a total of $7 billion in damage, according to research firm Kinetic Analysis, investors were relieved that the damage wasn't worse. Insurer
Chubb
(CB)
gained about 4% while
Allstate
(ALL)
surged just under 8%.
Shares within capital goods, energy, technology and financials were all propping up the stock market Monday. Financial stocks were led higher by
Bank of America
(BAC)
, up 8% near the top of the Dow. The Charlotte, N.C.-based banking behemoth got a lift from news that it's cashing out half of its stake in China Construction Bank.
Other components closing near the top include
Travelers
(TRV)
,
HP
(HPQ)
and
Alcoa
(AA)
.
Home Depot
(HD)
was the only component that finished in the red.
AuRico Gold
(AUQ)
will acquire
Northgate Minerals
( NXG) for $1.48 billion. Northgate Minerals shares surged 28% to $3.98, and AuRico shares slipped 18%.
Wells Fargo
(WFC)
,
JPMorgan Chase
(JPM)
and Lone Star Funds were the auction winners of a $9.5 billion pool of U.S. commercial real estate loans sold by
Anglo Irish Bank,
according to
Reuters
. Wells Fargo shares advanced 3.4%, and JPMorgan shares added 4%.
In corporate news,
Bristol-Myers Squibb
(BMY)
and
Pfizer's
(PFE)
apixaban drug
in preventing strokes in a clinical study, the companies said. Separately, Pfizer's lung-tumor fighting drug, Crizotinib, has been approved by the Food and Drug Administration. Pfizer shares gained 3.7% to $18.88, and Bristol shares rose 9% to $29.29.
Sinopec, or
China Petroleum & Chemical
(SNP)
, reported a 12% rise in its net earnings for the first half of 2011. However, the company reported a 12.2 billion renminbi operating
in its refining business and has said that the rest of its year "is likely to be marked by turbulence in the international financial markets, bringing uncertainty to the global economic recovery."
The October crude oil contract gained $1.83 to settle at $87.27 a barrel. Elsewhere in commodity markets, gold for December delivery slipped $5.70 to trade at $1,791.60 an ounce as enthusiasm for safe havens was waning.
The benchmark 10-year Treasury was losing 20/32, pushing the yield to 2.27%. The dollar weakened against a basket of currencies, with the dollar index down by 0.07%.
-- Written by Chao Deng in New York
.