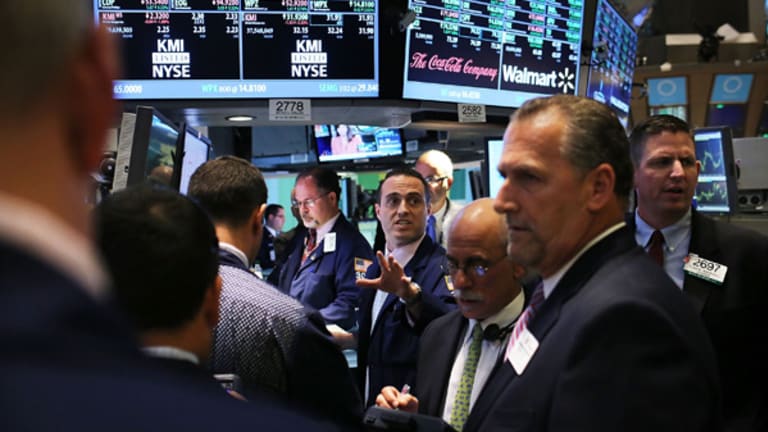 Stocks Post Best Weekly Gain in Two Months
The Dow rebounds as the market takes Ben Bernanke's call for a fiscal policy fix, rather than more stimulus, in stride. Chao Deng breaks down the trading day.
NEW YORK (
) -- Tech strength led a triple-digit surge in stocks Friday as the market shrugged off a lack of new monetary action from
Federal Reserve
Chairman Ben Bernanke.
The Dow dropped more than 200 points in its initial reaction to Bernanke's speech, which neither clarified what policy options were left for the Fed nor hinted at imminent quantitative easing measures. The possibility that the central bank would discuss possible stimulus measures at its September meeting, however, left room for stocks to bounce back.
The major U.S. equity indices posted their largest weekly gain in two months. The
Dow Jones Industrial Average
finished off its session highs but still rose 134 points, or 1.2%, to finish at 11,284. The
S&P 500
advanced 18 points, or 1.5%, at 1177, and the
Nasdaq
surged 60 points, or 2.5%, to close at 2480.
The Dow rose 4.3% this week, while the S&P 500 gained 4.7%, and the Nasdaq surged 5.9%.
"The market is moving up because it has been oversold, but you can't read too much into a rally like this because the overall economic picture has not really changed," said Jim Maguire, trader at E.H. Smith Jacobs.
"The initial knee-jerk reaction was some disappointment that we didn't get some sort of QE3," said Phil Orlando, chief market strategist at Federated Investors. "The rebound came after people had a chance to read Bernanke's comments and heard what he was saying."
Bernanke's speech struck an optimistic note, as it continued to project economic improvements in the second half of the year. Furthermore, the chairman seemed to call on politicians to take action, indicating that fiscal policy was needed to improve the economy in both the U.S. and Europe.
The central bank chairman was also upbeat about conditions across the pond, saying: "I have confidence that our European colleagues fully appreciate what is at stake in the difficult issues they are now confronting and that, over time, they will take all necessary and appropriate steps to address those issues effectively and comprehensively."
As euro woes continue to worry investors, the market is now looking ahead to Saturday's speech from European Central Bank President Jean-Claude Trichet. "Investors will see if Trichet is going to initiate easier policy," said Andrew Busch, strategist at BMO Capital.
According to E.H. Smith's Maguire, some of the gains may reflect the closing of short positions ahead of the weekend. "This seems like a logical point to close out. We may get positive comments from Trichet and Bernanke did not say anything that was too disastrous," he explained.
Leading stocks upward were
Cisco Systems
(CSCO) - Get Cisco Systems, Inc. Report
,
Intel
(INTC) - Get Intel Corporation (INTC) Report
and
Microsoft
(MSFT) - Get Microsoft Corporation (MSFT) Report
. The tech sector surged about 2.5%.
Prices on the benchmark 10-year Treasury jumped, rising 13/32, diluting the yield to 2.192%. The dollar weakened against a basket of currencies, with the dollar index down by 0.6%.
.
Gold found some favor after a dramatic pullback in the last few sessions. Gold for December delivery gained $34 to settle at $1,794 an ounce.
The October crude oil contract edged up 7 cents to settle at $85.37 a barrel.
The FTSE in London shed 0.02% and the DAX in Frankfurt dropped 0.8%. Hong Kong's Hang Seng slumped 0.9% while Japan's Nikkei added 0.3%.
New economic data had little effect on the market this morning. Futures barely budged to news that the government
had downwardly revised its final estimate on second-quarter growth to 1% from an initial estimate of 1.3%. The cut back was in line with what economists had anticipated.
The latest read on consumer sentiment in August confirmed economist expectations that sentiment wasn't as poor as initially thought but still down significantly from July levels. The University of Michigan upwardly revised its consumer sentiment index for August to 55.7, from its initial estimate of 54.9.
The East Coast is in preparation mode after the
governors of Connecticut, New Jersey and New York all declared states of emergency after Hurricane Irene shifted course, putting it on a pass to possibly hit the area over the weekend.
In corporate news, shares of
Tiffany
(TIF) - Get Tiffany & Co. Report
jumped 9.4% to $69.01 after the luxury jewelry retailer topped analysts' estimates for second-quarter earnings of 70 cents a share with an adjusted quarterly profit of 86 cents a share. Sales of $872.7 million were also ahead of Wall Street's forecasts for revenue of $786 million.
The company also raised its full-year earnings guidance to a range that exceeded analysts' calls for earnings of $3.56 a share.
OmniVision Technologies
(OVTI)
saw its stock plunge 30.4% to $17.27 after the
digital imaging technology company issued a weak outlook for its current quarter.
Shares of
Pandora Media
(P)
rose 7.5% to $13.41 on better-than-expected second-quarter earnings. The
Internet radio company saw strong Web-based and mobile advertising revenue during the quarter.
Wireless provider
Clearwire
(CLWR)
has been
discussing restructuring options with asset management firm
Blackstone Group
, according to a
Bloomberg
report. Clearwire's stock closed down 9.7% to $2.70.
AIG
(AIG) - Get American International Group, Inc. Report
CEO
Robert Benmosche has complained to senior executives at investment banks about unfavorable stock research , just as the insurer considers which bank should lead another large offering of the U.S. government's shares later in 2011, according to a
Wall Street Journal
report. AIG's stock lost 1.1% to $23.26.
-- Written by Chao Deng and Melinda Peer in New York
.