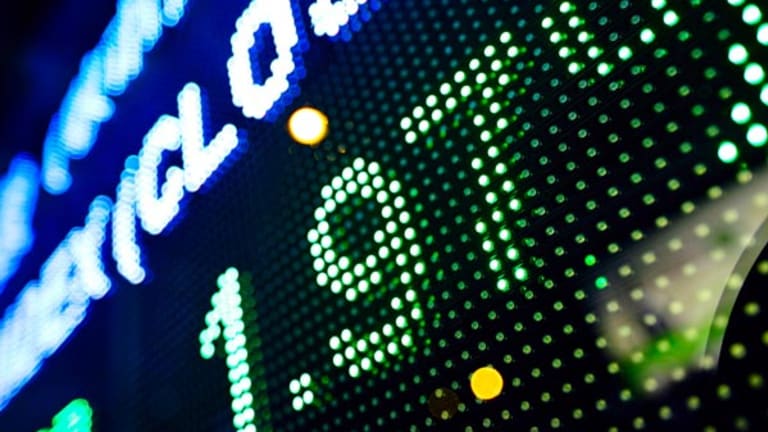 Stocks Break Three-Day Winning Streak
The Dow drops sharply after Buffett's big buy and ahead of Fed chairman Ben Bernanke's big speech.
NEW YORK (
) -- Stocks shed more than 1% Thursday after running up earlier in the week ahead of
Federal Reserve
Chairman Ben Bernanke's big speech on Friday.
The pullback was exacerbated by a swift anxiety-inducing selloff in Germany and the surprise news of Steve Jobs' resignation as CEO of
Apple
(AAPL)
late Wednesday.
The major U.S. equity indices finished near session lows with the
Dow Jones Industrial Average
down by 171 points, or 1.5%, at 11,149. The
S&P 500
lost 18 points, or 1.6%, at 1159, and the
Nasdaq
fell 48 points, or 2%, at 2420.
"The big problem right now is that the technical conditions are supportive of some selling," said RealMoney Contributor Rev Shark in a
recent blog post. "We had a decent bounce over the last two days, due in large part to hope that Bernanke will give the bulls some ammunition, but now a lot of folks are wondering if there really is anything the Fed can do, other than give us some happy talk."
German markets came under pressure late in the European trading session. The DAX in Frankfurt closed off of its lows of the session, but still finished 1.7% lower. The quick drop came on speculation that the country's public finances are weakening and market restrictions may be coming from regulators, according to a
Bloomberg
report.
The FTSE in London dropped 1.4%. Earlier, both Hong Kong's Hang Seng and Japan's Nikkei jumped 1.5%.
"Some investors are trying to lock in some profit," said Robert Pavlik, chief market strategist at Banyan Partners, Thursday morning. "Investors are perplexed as to what to do next -- Get in? Bottom fish? Wait on the sidelines? There are a lot of questions out there."
Investors appear to be showing some caution ahead of Bernanke's speech at the Kansas City Fed conference in Jackson Hole, Wyo., on Friday. It was during the same conference a year ago that Bernanke first proposed a second round of quantitative easing to bolster the economy.
During the first three sessions of the week, stocks had surged
as lack of major negative headlines gave way to speculation over Friday's speech. The Dow had climbed more than 500 points, or 4.56%, in the prior three trading days alone.
News that Warren Buffett's
Berkshire Hathaway
(BRK.B)
is investing $5 billion in
Bank of America
(BAC)
lifted market sentiment earlier in the session with the bank's stock jumping 11%. Bank of America finished 9.4% higher at $7.65 and shares of Berkshire Hathaway dipped 2.8%.
The financial sector was showing the mild losses in a session that saw 73% of the 5 billion shares trading on the New York Stock Exchange decline and only 26% rise. Some 1.8 billion shares changed hands on the Nasdaq.
Bank of America and
American Express
(AXP)
were the only Dow components finishing in the green.
JPMorgan Chase
(JPM)
traded near the top.
Energy, conglomerates and tech closed among the weakest sectors.
Travelers
(TRV)
,
3M
(MMM)
,
Caterpillar
(CAT)
and
Cisco
(CSCO)
closed as the Dow's biggest laggards.
In a statement released after Wednesday's close, Steve Jobs, who has been on a medical leave of absence since earlier this year, said he is
stepping down from his position as CEO to be replaced by Chief Operating Officer Tim Cook. Jobs will continue to serve as chairman of Apple's board.
What's Apple Without Steve Jobs?
Apple shares lost less than 0.7% to $373.72 while
Google
(GOOG)
, one of the few tech stocks moving higher, gained 0.1% to $524.
Gold prices had plunged on a 27% margin hike by the Chicago Mercantile Exchange. Prior to the margin increase, prices on the safe haven had already dropped 9% in two days as investors felt confident enough to move into risker bets.
Gold for December delivery sunk as low as $1,705.40 an ounce during Thursday's session but added $7.20 to finish the day at $1,765 an ounce as stocks fell.
Also hurting market sentiment on Thursday, the Labor Department said that
the latest read on weekly initial jobless claims unexpectedly rose by 5,000, to 417,000 claims. However, most of this was due to a labor dispute at
Verizon
(VZ)
.
"Recent economic data has collectively provided little reassurance about the strength and trajectory of the U.S. economy," said Jim Baird, chief investment strategist at Plante Moran Financial Advisors. "Despite the fiscal and monetary stimulus that has been injected over the past few years, consumers continue to have their figurative eye on the door. They lack confidence in the direction of the economy and are struggling under the weight of excess debt without meaningful growth in asset values and limited income growth."
Shares of
TiVo
(TIVO)
spiked 17% to $9.50 after the
digital video recorder company reported a narrower-than-expected loss of 17 cents a share, compared with the loss of 21 cents a share that analysts had projected.
Applied Materials
(AMAT)
saw its stock drop 4.8% to $10.81 despite topping third-quarter estimates on the
semiconductor capital equipment maker's disappointing fourth-quarter outlook.
Big Lots
(BIG)
reported an 8% decline in second-quarter profit and a 1.5% drop in same-store sales. Excluding the impact of its Canadian operations, the retailer recorded non-GAAP income from continuing operations of 52 cents a share on sales of $1.17 billion.
Consensus estimates, which exclude non-recurring items, had called for earnings of 44 cents a share on sales of $1.16 billion. Shares shed 0.5% to $32.21.
Shares of
Diageo
(DEO)
gained 3% to $75.93. The maker of Guinness beer and Johnnie Walker whiskey said full-year profit rose 17% to 1.9 billion pounds ($3.11 billion) and sales gained 2% to 9.94 billion pounds.
The world's largest spirits company credited the gains to expanded operating margins and improved mix across emerging markets and North America.
The October crude oil contract gained 14 cents to trade at $86.56 a barrel.
The benchmark 10-year Treasury were rising 17/32, diluting the yield to 2.24%. The dollar strengthened against a basket of currencies, with the dollar index up by 0.3%.
.
-- Written by Chao Deng and Melinda Peer in New York
.