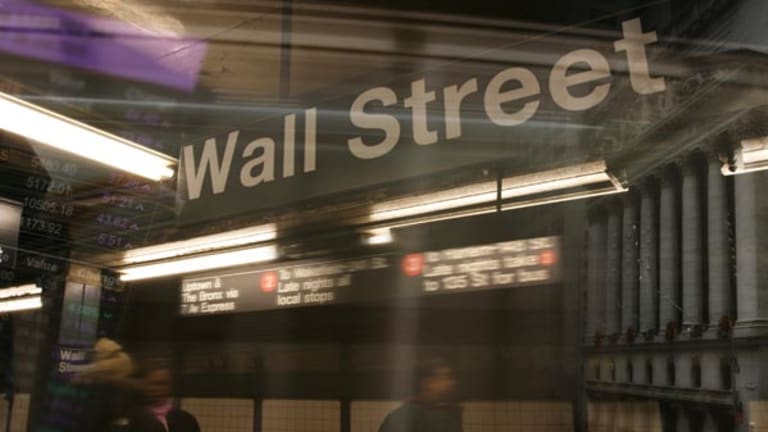 Publish date:
Stocks Rise After Bernanke Sees 'Scope for Further Action'
Equities snap a four-day losing streak and lose almost 1% for the week.
Equities snap a four-day losing streak and lose almost 1% for the week.

NEW YORK (TheStreet) -- The major U.S. equity averages rose Friday on news of comments from Federal Reserve Chairman Ben Bernanke showing his support for additional stimulus for the economy.
In addition,
Reuters
reported the European Central Bank is mulling setting yield-band targets for a new bond-buying program in an effort to protect its strategy and prevent speculators from trying to cash in.
The
Dow Jones Industrial Average
gained 101 points, or 0.8%, at 13,158. The blue-chip index, which began the day up 6.9% so far in 2012, was mired in a four-day losing streak. The index closed the week down 0.9%.
In response to questions from U.S. Rep. Darrell Issa (R., Calif.), Bernanke revealed his view that there "is scope for further action by the Federal Reserve to ease financial conditions and strengthen the recovery" in an Aug. 22 letter to the congressman.
Bernanke also said the central bank's "Operation Twist" program is still "working its way through the economic system" and indicated the benefits of further action must be balanced against the costs.
Breadth was positive within the Dow, with winners outpacing losers 26 to 4. The biggest percentage gainers were
American Express
(AXP) - Get Report
,
Kraft Foods
( KFT) and
Verizon
(VZ) - Get Report
.
The blue-chip decliners were
Caterpillar
(CAT) - Get Report
,
Hewlett-Packard
(HPQ) - Get Report
and
Intel
(INTC) - Get Report
.
The
S&P 500
closed up 9 points, or 0.7%, at 1,411. The index finished the week down 0.5%.
The
Nasdaq
gained 16 points, or 0.54%, at 3070. The exchange lost 0.22% for the week.
The strongest sectors in the broad market were health care, consumer non-cyclicals and conglomerates. Basic materials were under pressure.
Once again, volume was very light, with 2.56 billion shares changing hands on the Big Board and 1.33 billion shares in play on the Nasdaq.
Stocks were in the red earlier in the day, driven lower by weaker-than-expected durable goods data and resurgent eurozone concerns.
Before the open, the Census Bureau said durable goods orders rose 4.2% in July, the third consecutive monthly increase. But excluding transportation, new orders decreased 0.4%. Economists on average expected durable goods to increase 2.4% in July with the core figure seen rising 0.5%.
"The bottom line is that the headline gain is all transport/aircraft driven, but
the details are miserable," said David Ader, a strategist at CRT Capital Group.
Investors were also cautious as they awaited concrete development from talks between several European leaders this week.
Greek Prime Minister Antonis Samaras met with German Chancellor Angela Merkel in Berlin Friday, and was expected to meet with French President Francois Hollande in Paris Saturday, as Athens sought an extension of its bailout terms.
During a joint press conference with the Greek leader Friday, Merkel said Germany stands ready to support Greece as it tries to ease the country's economic challenges.
"The Greek PM and the German Chancellor meet to swap holiday photos," commented Paul Donovan, global economist at UBS. "After her cozy chat with French President Hollande yesterday, Merkel reiterated the importance of the Troika report on Greece. This seems to be becoming a fig leaf to cover up any embarrassment over changing the bailout duration."
In the days ahead of the meetings, Eurozone leaders asserted that the decision on providing fresh aid to Greece won't take place until international lenders have completed their review of the country's progress in reaching financial targets.
October crude oil futures settled up 12 cents at $96.15 a barrel and December gold futures shed 10 cents at $1,672.90 an ounce.
The benchmark 10-year Treasury was down 2/32, boosting the yield to 1.685%. The greenback up 0.31%, according to the
In corporate news,
Autodesk
(ADSK) - Get Report
, the San Rafael, Calif.-based design-software maker, reported disappointing quarterly results for the first time in almost two years. The company plans to reduce its headcount as global economic uncertainties weigh on its business. Shares surrendered 16%.
Madison Square Garden
(MSG) - Get Report
shares added 2.9% after the Manhattan-based sports, entertainment and media company reported fourth-quarter earnings that more than tripled as sales rose in all segments. Earnings and revenue blew past Wall Street targets.
Aruba Networks
(ARUN)
, the Sunnyvale, Calif.-based firm, that makes equipment for telecom networks, saw its sales
22% to $139.2 million for the three-month period ending in July. Excluding items, Aruba earned 18 cents a share in the quarter, up from 17 cents a share in the prior year's quarter. Shares soared 14%.
Shares of Indianapolis-based
Eli Lilly
(LLY) - Get Report
tacked on 3.4% after the company said that, although goals were not met in either of its two Phase III solanezumab trials in patients with mild-to-moderate Alzheimer's disease, a secondary analysis of pooled data across both trials showed statistically significant slowing of cognitive decline in these patients.
A unit of
QEP Resources
(QEP) - Get Report
, the Denver, Colorado-based oil and natural gas exploration company, has reached an agreement to purchase crude oil properties in North Dakota from a number of sellers for roughly $1.38 billion in cash in order to expand its presence in the Williston Basin. Shares advanced 6%.
Salesforce.com
(CRM) - Get Report
, the San Francisco-based enterprise cloud computing company, provided disappointing third-quarter earnings guidance. Shares bumped up 1.2%.
--Written by Andrea Tse in New York.
>To contact the writer of this article, click here:
Andrea Tse
.