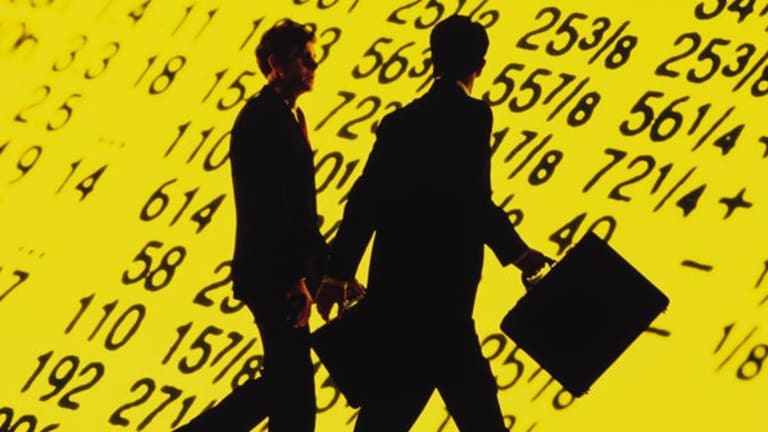 Stocks Finish Deep in Red on Recession Fears
An anemic August jobs report and more worries about the banks drives the Dow down more than 2%. In the video, Alix Steel talks about the jobs report.
NEW YORK (
) -- Stocks finished sharply lower on Friday, driven down by elevated fears of another recession following the government's dire report on jobs and weakness in the banking sector.
The
Dow Jones Industrial Average
plummeted 253 points, or 2.2%, to settle at 11,240. The
S&P 500
fell 30 points, or 2.5%, at 1174 and the
Nasdaq
lost 66 points, or 2.6%, at 2480.
The action has September off to a miserable start ahead of Labor Day weekend. Overall, the damage for the week wasn't too bad. The Dow closed down 0.4%, losing less than 45 points, the Nasdaq was flat, and the S&P 500 gave back 3 points. But the decline from intraday highs on Wednesday was more concerning with the Dow forfeiting 4.3%, the Nasdaq slumping 5%, and the S&P 500 down 4.6%.
The job market showed no growth for August, falling short of the 70,000-job increase economists had expected. Employers also added fewer positions in June and July than previously thought, the Labor Department said. About 85,000 workers were added in July, instead of 117,000. The unemployment rate was unchanged at 9.1% in August, as expected by economists surveyed by Thomson Reuters.
Risk appetite dwindled ahead of the long weekend, as the weak jobs report increased recessionary fears and bearishness in the market. Safe havens like gold looked increasingly attractive.
Gold for December delivery soared $47.80 to settle at $1,876.90 an ounce.
Fears about the government's jobs report were building earlier this week. On Wednesday, Automatic Data Processing said companies added 91,000 workers, fewer than forecast.
The Office of Management and Budget said Thursday that the unemployment rate will probably remain at 9% next year, when President Barack Obama will seek re-election. The office also forecast the U.S. economy to grow 1.7% this year and 2.6% next year. Obama will discuss ways to create jobs in a speech before Congress on Sept. 8.
Thomas Berner, U.S. economist with UBS Wealth Management, said that he does not expect to see much of a rebound today as the jobs numbers have highlighted the risk that the economy is on the brink of another contraction. In particular, "what's disconcerting is the potential for a bad feedback loop between sentiment and behavior," he said.
Global stocks sold off on news of the U.S. jobs report as well. The FTSE in London lost 2.3% and the DAX in Frankfurt plunged 3.4%. In Asia, Hong Kong's Hang Seng lost 1.8% while Japan's Nikkei lost 1.2%.
The October crude oil contract
$2.48 to end at $86.45 a barrel.
The benchmark 10-year Treasury was surging 1 4/32, diluting the yield to 2.01%. The dollar index, which compares the dollar with a basket of six currencies, was gaining 0.2%.
Friday's selloff was broad, with all components on the Dow ending in negative territory. Banking stocks fell deep in the red as the Federal Housing Finance Agency files a lawsuit against more than a dozen banks -- including
Bank of America
(BAC) - Get Bank of America Corp Report
,
JPMorgan Chase
(JPM) - Get JPMorgan Chase & Co. Report
and
Goldman Sachs
(GS) - Get Goldman Sachs Group, Inc. Report
-- for misrepresenting mortgages that they put together then sold during the height of the housing bubble.
H&R Block
(HRB) - Get H&R Block, Inc. Report
and
Netflix
(NFLX) - Get Netflix, Inc. Report
were among the S&P Index's top laggards.
"It is very difficult for any one sector to shine with broad weakness in the overall labor market," said Komal Sri-Kumar, market strategist at investment firm TCW.
Stocks that suffered the least were
Verizon
(VZ) - Get Verizon Communications Inc. Report
,
McDonald's
(MCD) - Get McDonald's Corporation Report
and
AT&T
.
Netflix
(NFLX) - Get Netflix, Inc. Report
shares tumbled more than 8% to end at $213.11 after Starz announced it
ended contract renewal discussions with the high-flying DVD rental and content streaming company.
Finisar
(FNSR) - Get Finisar Corporation Report
shares surged 8.7% to close at $20.21 after the optical communications equipment maker topped earnings forecasts for its latest quarter by
on operating expenses.
Next week, the market will be fixated on Europe in the wake of renewed speculation about a Eurozone break up, as the debt crisis spirals out of control. There are now growing concerns that Greece won't be able to meet its budget deficit targets, as regional infighting interferes with the second rescue plan for the country. This, as Italy backpedals on various austerity measures and German Chancellor Angel Merkel faces roadblocks in gathering support to bring added authority to the European Financial Stability Facility.
-- Written by Chao Deng and Andrea Tse in New York
.