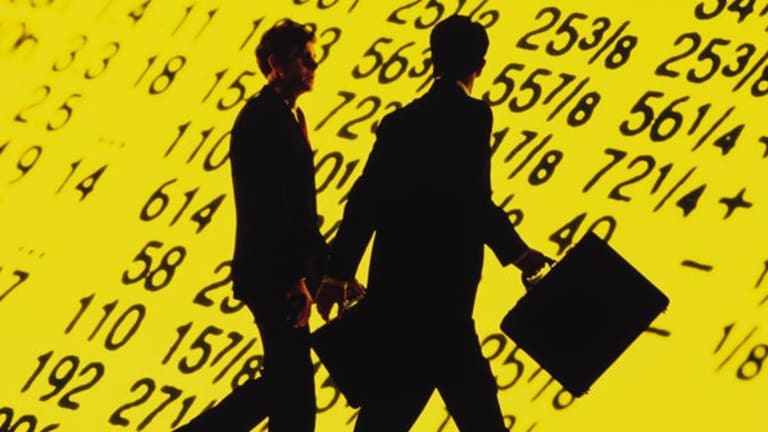 Bad Day Has Stocks Looking Like It's 2008
All three indices are on track for their worst year since 2008 after each slipping around 5% in the past five trading days. In the video, Ken Shreve maps out next week.
NEW YORK (
) -- Stocks continued their recent volatility Friday, but accomplished that feat all in one session instead of day to day.
The three major averages closed near their session lows. After adding almost 100 points in the morning session to hit an intraday high of 11,086, the
Dow Jones Industrial Average
finished down 173 points, or 1.6%, at 10,818. The
S&P 500
closed lower 17 points, or 1.5%, at 1124, and the
Nasdaq
lost 39 points, or 1.6%, at 2342.
All three indices are on track for their worst year since 2008 after each slipping around 5% in the past five trading days. The S&P 500 has fallen almost 16% in the past four weeks alone. The blue-chip, which has been down for four straight weeks, has plunged 11% month to date and 6.6% year to date.
"Market players aren't anxious to rush in and snap up all the great bargains created by yesterday's big swoon, and who can blame them given the recent volatility? The problem with a market that acts this way is that it undermines trust," said
RealMoney
Columnist Rev Shark in a
recent blog post.
"Valuation is irrelevant when 90% of stocks are down on a day like Thursday. Why even bother with stock picking when all that matters is the latest headline about the economy or European debt?" asked Shark.
Market breadth turned decidedly negative late in the trading day as investors took money off of the table ahead of the weekend. On the
New York Stock Exchange
, more than 70% of the 5.3 billion shares declined, while only 26% rose. Some 2.3 billion stocks changed hands on the Nasdaq.
"Investors are weighing what the European Union is going to do about their financial problem -- that is the major thing that's responsible for this downturn," said Michael Yoshikami, chief investment strategist at YCMNET Advisors.
"I think the recent selloff reflects a justifiable fear of not knowing what's happening. However, from a valuation standpoint, I think it's overdone," Yoshikami said, adding that he anticipates a definitive plan to help stabilize the eurozone from European policymakers in the next two to three months.
European concerns dominated headlines since there weren't any economic reports scheduled during Friday's session.
UBS
(UBS) - Get UBS Group AG Report
and
Credit Suisse
(CS) - Get Credit Suisse Group AG Sponsored ADR Report
refuted speculation that they accessed short-term dollar funding via the Swiss National Bank after rumors swirled last week that a Swiss bank had accessed the U.S. liquidity facility through the SNB.
European markets pared earlier losses but finished in the red. The FTSE in London declined 1%, and the DAX in Frankfurt dropped 2.2%. Earlier, Hong Kong's Hang Seng lost 3.1%, and Japan's Nikkei shed 2.5%.
Hewlett-Packard
(HPQ) - Get HP Inc. (HPQ) Report
traded at the bottom of the Dow, with shares down 20% to $23.60. Late Thursday, the company said it is dropping its WebOS operations, possibly spinning off its personal computer business, and purchasing British software firm
Autonomy
. The
company also gave weak guidance and reported third-quarter results that barely beat analysts' estimates.
Tech components
IBM
(IBM) - Get International Business Machines (IBM) Report
,
Microsoft
(MSFT) - Get Microsoft Corporation (MSFT) Report
and
Intel
(INTC) - Get Intel Corporation (INTC) Report
were also among the Dow's biggest laggards along with
Caterpillar
(CAT) - Get Caterpillar Inc. Report
.
The health care sector showed the session's strongest gains, with
Merck
(MRK) - Get Merck & Co., Inc. (MRK) Report
trading near the top of the Dow alongside
McDonald's
(MCD) - Get McDonald's Corporation (MCD) Report
,
Wal-Mart
(WMT) - Get Walmart Inc. Report
and
Cisco
(CSCO) - Get Cisco Systems, Inc. Report
.
The greenback traded 0.4% lower against a basket of currencies, according to the dollar index.
Crude oil for October delivery, which plunged to an intraday low of $79.38 a barrel, settled 10 cents lower at $82.41 a barrel.
Gold prices spiked to fresh highs as the precious metal found favor from safe-haven seekers. Gold for December delivery soared to an intraday high of $1,881.40 and settled higher by $30.20, or 1.7%, at $1,852.20 an ounce.
Prices on Treasuries were easing, strengthening yields. The benchmark 10-year Treasury was down 3/32, lifting the yield to 2.076%.
.
Sprint Nextel
(S) - Get SENTINELONE, INC. Report
is in discussions with cable companies about a possible investment that could result in the buyout of partner
Clearwire
(CLWR)
, according to a
Bloomberg
report. Sprint's stock gained 2% to $3.43 and shares of Clearwire soared 30%.
Bank of America
(BAC) - Get Bank of America Corp Report
plans to slash 3,500 jobs in the current quarter, and thousands of additional cuts are expected as part of CEO Brian Moynihan's drastic turnaround effort, according to a
Wall Street Journal
article. Shares fell 0.6% to $6.97.
-- Written by Chao Deng and Melinda Peer in New York
.