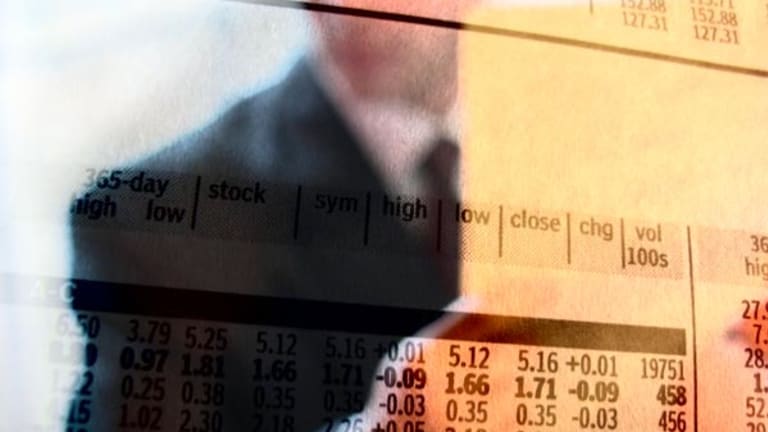 Stocks Finish in Red on Jobs Data, Cisco
Stocks fell Thursday as a surprise rise in initial jobless claims and disappointing news from Cisco stoked investor worries about the economic recovery. Gregg Greenberg has The Real Story.
NEW YORK (
) -- Stocks fell into negative territory and stayed there through the close Thursday as a surprise rise in initial jobless claims and disappointing numbers from
Cisco
(CSCO) - Get Cisco Systems Inc. Report
added to the string of signs pointing to a faltering in the pace of economic recovery.
The
Dow Jones Industrial Average
lost 59 points, or 0.6%, to 10,320. The
S&P 500
shed 6 points, or 0.5%, to 1084 and the
Nasdaq
shed 18 points, or 0.8%, at 2190.
"The markets are reflecting a tremendous amount of uncertainty and nervousness from that uncertainty since the last couple of weeks have brought a string of unsettling news. Just this week, the Fed said it's unsure about the future," said Mike Schenk, senior economist at the Credit Union National Association.
"The news today, particularly jobless claims, isn't going to help markets at all," he said, adding that it's becoming increasingly apparent to markets that the recovery won't be expressing itself any time soon.
Industrial production in the eurozone slipped 0.1% in June as Germany and France suffered steep declines of 0.5% and 1.6%, respectively.
Overseas, Hong Kong's Hang Seng dropped 0.9% and Japan's Nikkei also fell 0.9%. The FTSE in London inched 0.4% higher, while the DAX in Frankfurt shed 0.3%.
>>The Economy
>>Company News
>>Commodities and the Dollar
>>Treasuries
The Economy
Initial weekly jobless claims unexpectedly rose by 2,000, to 484,000 in the week ended Aug. 7, upsetting market expectations for a decline to 465,000, according to Briefing.com.
The Labor Department's Bureau of Labor Statistics said export prices fell 0.3% in July after slipping 0.7% in June while import prices increased 0.2%, after dropping 1.3% in June. Excluding volatile agricultural prices, export prices lost 0.2% and imports, excluding oil prices, declined by 0.3%.
The Energy Information Administration said natural gas storage levels gained 37 billion cubic feet in the week ended Aug. 6, which was above the injection range of 32 to 36 billion cubic feet that analysts polled by Platts had been expecting.
>>Company News
>>Commodities and the Dollar
>>Treasuries
Company News
After the closing bell, retailer
Nordstrom
(JWN) - Get Nordstrom Inc. Report
reasserted its 2010 earnings outlook while also saying it earned 66 cents a share in the second quarter, which matched analysts' estimates.
Revenue growth and better-than-expected bottom-line results, reported after the closing bell to the tune of 36 cents a share in the second quarter, was helping shares of
Autodesk
(ADSK) - Get Autodesk Inc. Report
advance in the extended-trading session.
Cisco,
American Express
(AXP) - Get American Express Company Report
and
Caterpillar
(CAT) - Get Caterpillar Inc. Report
were the Dow's biggest laggards while
Verizon
(VZ) - Get Verizon Communications Inc. Report
,
Travelers
(TRV) - Get The Travelers Companies Inc. Report
and
Pfizer
(PFE) - Get Pfizer Inc. Report
showed the best gains.
A day ahead of an
expected initial public offering filing,
General Motors
said CEO Ed Whitacre will step down on Sept. 1, and be succeeded by board member Dan Akerson, according to
CNBC
. Also on Thursday, the automaker reported a second-quarter profit of $1.3 billion, up from its first-quarter earnings of $865 million, and marking the company's largest profit since 2004. Second-quarter sales rose 5.4% on sequential basis to $33.2 billion.
Shares of
Cisco Systems tumbled 10% to $21.36 after the networking equipment giant topped profit estimates by a penny but fell short of revenue expectations with sales of $10.8 billion. Cisco also forecast sales growth of between 18% and 20% in the first quarter, a view that would miss consensus estimates for revenue of $10.95 billion.
Strong same-store sales in Canada helped
Tim Hortons
(THI)
beat profit expectations with a 21% increase in second-quarter earnings. The quick-service restaurant operator's stock gained 6.5%, to $36.14.
In other earnings news,
Kohl's
(KSS) - Get Kohl's Corporation Report
beat profit expectations by 2 cents with earnings of 84 cents a share and said sales grew 8%, to $4.1 billion, but the company trimmed the high-end of its guidance and the stock was losing 3.2%, to $46.23. Kohl's now expects year-end earnings in the range of $3.57 to $3.70 a share, reflecting a reduction on the top end from its previous range of $3.57 to $3.75 a share.
Sara Lee
(SLE)
swung to a profit in the fourth quarter, reporting adjusted earnings of 19 cents a share and sales that were 4.2% higher at $2.8 billion. The results compared to analysts' projections for a profit of 16 cents a share on sales of $2.86 billion. The company expects full-year adjusted earnings from continuing operations of between 88 to 95 cents a share on sales of between $11.2 billion and $11.5 billion. The outlook compares with Wall Street's current expectation for a profit of 94 cents a share on sales of $10.97 billion. The stock shed 0.7%, to $14.37.
Wendy's/Arby's Group
(WEN) - Get Wendy's Company (The) Report
missed consensus estimates by 2 cents with a second-quarter profit of 3 cents a share on sales of $877 million, which met expectations. Shares fell 0.2%, at $4.14.
In other news, a top aide to former
Hewlett-Packard
CEO Mark Hurd has resigned, according to
Fortune
. Hewlett-Packard's stock shed 1.6%, to $40.14.
India gave
Research in Motion
(RIMM)
until August 31 to provide officials with access to the company's services in the country, according to an
Associated Press
report, otherwise India said it would obstruct RIM's e-mail capabilities.
>>The Economy
>>Commodities and the Dollar
>>Treasuries
Commodities and the Dollar
Following the EIA report, natural gas for September delivery finished 3 cents higher, to settle at $4.30 per million British thermal units. Meanwhile, crude oil for September delivery settled at $75.74 a barrel after losing $2.28.
Elsewhere in commodity markets, the December gold contract gained $17.50 to settle at $1,216.70 an ounce.
The dollar was trading higher against a basket of currencies, with the dollar index up by 0.4%.
>>The Economy
>>Company News
>>Treasuries
Treasuries
The benchmark 10-year Treasury was down by 12/32, lifting the yield to 2.747%.
The two-year note was lower by 2/32, raising the yield to 0.549%. The 30-year bond was down by 11/32, strengthening the yield to 3.946%.
--Written by Melinda Peer and Sung Moss in New York
.
>>The Economy
>>Company News
>>Commodities and the Dollar
Disclosure: TheStreet's editorial policy prohibits staff editors and reporters from holding positions in any individual stocks.