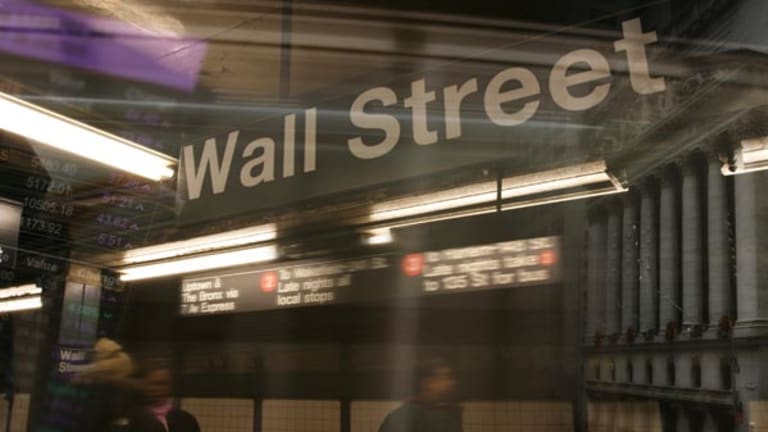 Publish date:
Stocks Driven Lower by Europe's Uncertainty
The Dow drops triple digits as questions about Europe's economic and political stability send all three major U.S. equity indices nearly 1% lower.
The Dow drops triple digits as questions about Europe's economic and political stability send all three major U.S. equity indices nearly 1% lower.

NEW YORK (TheStreet) -- Stocks sold off on Monday as questions about Europe's economic and political stability rattled Wall Street.
The headlines from across the pond were ugly with a purchasing managers index for the eurozone region falling to a five-month low, French President Nicolas Sarkozy seen as lagging in the country's presidential elections, and Dutch Prime Mark Rutte and his cabinet offering to resign over failed austerity talks.
Wal-Mart Stores
(WMT) - Get Report
was a major drag on the
Dow Jones Industrial Average
, falling nearly 5%, as the world's largest retailer dealt with revelations that it engaged in the bribery of Mexican officials.
The
Dow
dropped 102 points, or 0.8%, to close at 12,927, after making an intra-day low of 12,845. The
S&P 500
fell nearly 12 points, or 0.8%, to finish at 1367. The
Nasdaq
ended in the negative territory for the fourth-straight day, shedding 30 points, or 1%, to close at 2970.
Breadth within the Dow was negative, with only three components
Exxon
(XOM) - Get Report
,
JPMorgan Chase
(JPM) - Get Report
, and
Travelers
(TRV) - Get Report
able to post gains.
Aside from Wal-Mart, the biggest percentage decliners among the blue chips were
Bank of America
(BAC) - Get Report
,
General Electric
(GE) - Get Report
,
du Pont
(DD) - Get Report
, and
Kraft
(KFT)
.
In the broad market, losers outpaced winners nearly 3 to 1 on the New York Stock Exchange and a little more than 3 to 1 on the Nasdaq. The
VIX
, which measures market volatility through options activity in the S&P 500, jumped more than 9% to 19.07. A move above 20 is viewed as indicative of rising market fear.
After the bell,
Netflix
(NFLX) - Get Report
reported a loss of 8 cents per share on first-quarter revenue of $870 million. Analysts were expecting a loss of 27 cents per share, according to Thomson Reuters. The stock was still tanking nearly 14% in extended trading hours on weaker-than-expected guidance for second quarter.
New worries about the health of the eurozone's economy cropped up on Monday after Markit's preliminary composite purchasing managers index fell for the third month in a row to 47.4, down from 49.1 in March, signaling a faster rate of decline of private sector economic activity. Output has fallen seven times in the past eight months.
Also, in France's first round of presidential elections held on Sunday, President Nicolas Sarkozy fell behind opposition Socialist Party candidate François Hollande. Analysts worry that if Sarkozy is voted out and Hollande becomes president it will disrupt the continuity that's been developed between German Chancellor Angela Merkel and Sarkozy, who've worked very closely together on European debt crisis issues.
"Today, uncertainty is raining down on the markets from Europe," says Doug Cote, chief market strategist at ING Investment Management. He said that Sarkozy looks like a "goner" to Hollande.
Adrian Day, president of Adrian Day Asset Management, says "it looks like Hollande will win and he's being very critical of the fiscal pact and wants more stimulation."
"It may be September before the market rallies," he adds. "We're getting very close to summer now and frequently the market drifts southwards during the summer."
Day thinks the stock market will be primed for a year-end rally if the S&P is sitting below 1300 in September.
"The market wants to be bullish," he says. "Stocks generally are at pretty good values, there's a lot of cash on the sidelines. There's room to step up in equities and there's a lot of cash sloshing around in the system thanks to Uncle Ben. But we need a suspension of the constant bad news."
In another sign of political discord in Europe, the Dutch government looked close to collapse Monday
after Rutte and his cabinet submitted the offer to resign
following failed high-level talks on an austerity package. The threat of cuts to the country's coveted AAA-rating and rising borrowing cuts loomed with the failure of talks about implementing the tough measures.
HSBC Holdings
said Monday though that the preliminary HSBC China Manufacturing Purchasing Managers Index measuring manufacturing activity throughout the world's second-largest economy increased to a two-month high of 49.1 in April compared with a final reading of 48.3 in March. Still, any reading below 50 indicates contraction.
London's FTSE closed down 1.9% and Germany's DAX fell 3.4%. In East Asia, Japan's Nikkei Average settled 0.2% lower and Hong Kong's Hang Seng index finished down 1.8%.
The U.S. economic calendar was empty on Monday. Investors will look for more direction on where the economy is headed when the
Federal Reserve
concludes its latest two-day policy meeting on Wednesday.
Economists expect the central bank to stay committed to low rates till 2014, with Chairman Ben Bernanke likely leaving the door open for further quantitative easing. Bernanke will also hold his quarterly news conference on Wednesday.
In corporate news,
Nestle
agreed to acquire
Pfizer's
(PFE) - Get Report
infant nutrition business for $11.85 billion. Pfizer, the drugmaker, had put the unit up for sale in July. The company has been selling non-core operations as it focus on new drug development. Pfizer shares dipped 0.8% to $22.38.
Oil major
ConocoPhillips
(COP) - Get Report
reported first-quarter earnings of $2.9 billion, down from $3 billion last year as its oil production declined following the halting of operations in China due to oil leaks as well as assets sales.
Excluding $330 million of special items, first-quarter 2012 adjusted earnings were $2.6 billion, or $2.02 a share, below the $2.08 a share expected by analysts. The company plans to spin off its refining business next week. The stock lost 0.7% to $72.33.
Broadly speaking, Cote of ING says that the big story should be U.S. corporate earnings despite a very volatile environment, and he felt investors should not read too much into the European situation. "The fundamentals are intact especially in the U.S.," he explains. "Earnings are having a blockbuster quarter ... an 82% surprise ratio is extraordinary."
June oil futures slipped 77 cents to settle at $103.11 a barrel, while June gold futures lost $10.2 to settle at $1,632.60 an ounce.
The benchmark 10-year Treasury was gaining 8/32, diluting the yield to 1.938%, while the U.S. dollar index was up 0.3%.
-- Written by Andrea Tse and Shanthi Bharatwaj in New York.
>To contact the writer of this article, click here:
Andrea Tse
.