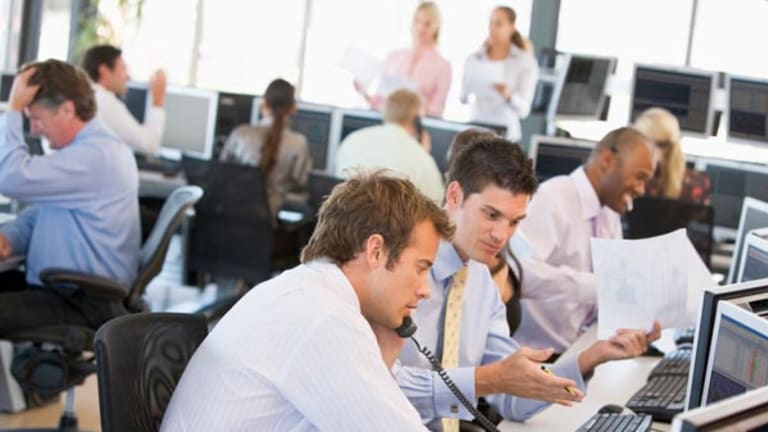 NEW YORK (
) -- Stocks shed more than 1% Monday after Standard & Poor's lowered its ratings outlook for the U.S. to negative from stable.
The
Dow Jones Industrial Average
dropped 140 points, or 1.1%, to close at 12,201 after dropping by more than 2% earlier in the session to a low of 12,093. The
S&P 500
finished lower by 14 points, or 1.1%, to close at 1,305, and the
Nasdaq
declined by 29 points, or 1.1%, at 2,735.
On the Dow,
Caterpillar
(CAT) - Get Caterpillar Inc. Report
,
Bank of America
(BAC) - Get Bank of America Corp Report
,
Alcoa
and
DuPont
(DD) - Get DuPont de Nemours, Inc. Report
were the biggest laggards.
Boeing
(BA) - Get Boeing Company Report
was the only Dow component that closed in positive territory.
Johnson & Johnson
(JNJ) - Get Johnson & Johnson (JNJ) Report
saw a modest drop after trading higher earlier in the session. Earlier, medical device company
Synthes
confirmed that it is talking with J&J regarding a
possible business combination.
Citigroup
(C) - Get Citigroup Inc. Report
topped Wall Street's profit expectations by a penny with earnings of 10 cents a share but first-quarter revenue of $19.7 billion fell short of the $20.55 billion that analysts had been projecting. The stock finished flat at $4.42.
The market reeled after
Standard & Poor's downgraded its long-term rating outlook on U.S. sovereign debt on concerns about the country's mounting budget deficits. The ratings agency maintained its triple-A rating for the U.S. but said, "We believe there is a material risk that U.S. policymakers might not reach an agreement on how to address medium and long-term budgetary challenges by 2013."
"I think this just brings home the realization of something that everyone has known: the deficit has to be addressed. It has to be addressed quickly and it has to be addressed forcefully," said Quincy Krosby, a market strategist at Prudential Financial. "If it isn't dealt with, then the U.S. will get an actual downgrade, which means that the cost of capital will keep rising -- particularly for the U.S. government. The collateral damage of that will be a weaker overall economy."
Tim Speiss, vice president of EisnerAmper Wealth Planning, believes the market will bounce back from today's losses as the rating on U.S. debt is still unchanged. "The horse is not yet out of the barn," said Speiss. "We have known about the debt problem. Now we know there is a 1 in 3 chance of a downgrade in 2013. But the U.S. still has levers to cause that not to happen."
The threat of a downgrade might spur the government to work towards getting the country's deficit under control, according to the analyst. However, he said that austerity measures could impact sectors that are dependent on government spending, such as healthcare and public works projects, which means investors need to be more cautious when it comes to investing in certain sectors.
Doug Kass, president of Seabreeze Partners Management and columnist at
TheStreet
, recommends embracing volatility since economic stimulation has come at a cost to stability.
"My advice is to buy insurance (or volatility) -- it's cheap, more attractive on a risk/reward basis, less frustrating than shorting 'the market' and, if timed well, provides huge upside," he said in a recent column, "
Apocalypse Soon."
The June gold contract rose by $10.60 to settle at $1,496.70 an ounce on the report.
The dollar and bond markets, however, bounced back after selling off initially. The benchmark 10-year Treasury was up by 10/32, diluting the yield to 3.369%. The dollar strengthened against a basket of currencies, with the dollar index up by 0.9%.
The dollar and Treasuries gained as investors sought safe haven assets amid growing concerns about the European debt crisis. The cost of insuring against a default by Greece rose on Monday, amid reports that the country is seeking to restructure its debt.
.
Energy stocks were among the session's weakest sectors as crude oil prices retreated. The May crude oil contract lost $2.54 to settle at $107.12 a barrel.
The
People's Bank of China said on Sunday it will raise the reserve requirement for banks by half of a percentage point, a move that further weighed on the energy sector.
Exxon Mobil
(XOM) - Get Exxon Mobil Corporation Report
and
Chevron
(CVX) - Get Chevron Corporation Report
were down 1.4% and 1.6% respectively.
The National Association of Home Builders' April housing market index fell to a reading of 16, compared with market expectations that it would remain unchanged at March's level of 17.
Shares of
W.W. Grainger
(GWW) - Get W.W. Grainger, Inc. Report
rose 1.7% to $145.32 after the distributor of industrial maintenance supply company easily topped earnings expectations with a first-quarter profit of $2.18 a share and raised its 2011 sales growth and earnings guidance.
Shares of hospital company
Community Health Systems
(CYH) - Get Community Health Systems, Inc. Report
shed 4.4% at $30.50 after saying it's
now offering
Tenet Healthcare
(THC) - Get Tenet Healthcare Corporation Report
$6 a share in cash, compared with its previous offer of $5 a share in cash and $1 a share in CHS stock.
Halliburton
(HAL) - Get Halliburton Company (HAL) Report
added 0.7% to $47.14 after the
oil services company reported first-quarter earnings of 61 cents a share, topping analysts' estimates by 3 cents.
Shares of
Eli Lilly
(LLY) - Get Eli Lilly and Company (LLY) Report
dipped 1.1% to $35.62 despite reporting
better-than-expected results and increased demand in international markets.
NYSE Euronext
(NYX)
would
want as much as $2 billion in a so-called reverse break-up fee from
Nasdaq OMX
before it was willing to discuss a merger, according to a
Reuters
report. A little over a week ago, NYSE declined a $11.3 billion hostile takeover bid from Nasdaq and
IntercontinentalExchange
(ICE) - Get Intercontinental Exchange, Inc. (ICE) Report
and said it preferred a previously announced merger agreement with Germany's
Deutsche Boerse
. NYSE's stock fell 1.7% at $38.32.
Akamai Tech
(AKAM) - Get Akamai Technologies, Inc. Report
,
Gannett
(GCI) - Get Gannett Co., Inc. Report
,
Marriott
(MAR) - Get Marriott International, Inc. (MAR) Report
,
CF
(CF) - Get CF Industries Holdings, Inc. Report
and
M&T Bank
(MTB) - Get M&T Bank Corporation (MTB) Report
were major gainers on the S&P 500.
Overseas, Hong Kong's Hang Seng shed 0.7%, and Japan's Nikkei lost 0.4%. London's FTSE dropped 2.1%, as did the DAX in Frankfurt.
--Written by Melinda Peer and Shanthi Bharatwaj in New York
.
Disclosure: TheStreet's editorial policy prohibits staff editors and reporters from holding positions in any individual stocks.