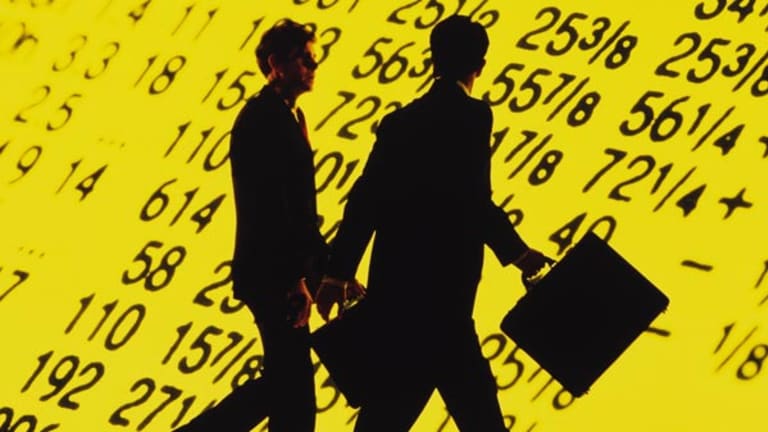 Stock Market Dismisses Global Rate Cuts
Stocks in New York are sinking after an initial rally as investors weigh a coordinated rate cut from the Fed and central banks around the world.
Updated from 11:06 a.m. EDT
U.S. stocks continued to fluctuate wildly Wednesday after the
authorized an emergency 50-basis point reduction in the fed funds rate.
The rate cut, which was coordinated with a similar cut by the European Central bank as well as lenders in Britain, Canada, Sweden and Switzerland, marks a significant step in efforts to stem a global economic slowdown and free up constrained credit markets. The Fed's rate cut reduces the target interest rate to 1.5%. The ECB reduced its key rate half a point to 3.75%, and the Bank of England cut rates 50 basis points to 4.5%.
Lately, the major indices were registering losses. The
Dow Jones Industrial Average
was lately down 186 points to 9260, and the
S&P 500
was off 23 points at 973. The
Nasdaq
gave back 39 points to 1715.
Robert Pavlik, chief investment officer at Oaktree Asset Management, said that the rate cut will have a positive effect on markets, but that it's going to be partially psychological, giving hope and confidence to consumers by reducing some of their costs.
Pavlik also said there's skepticism about the real effects of the cut, and that was evident in the selloff in premarket futures. "I think the market is more focused on what's going on in the Libor rates," he said. He said that the rate cut wasn't made to reduce lending rates among banks, but designed to offer a psychological boost.
Debt markets have not shown an immediate reaction to the coordinated rate cut, said Mary Ann Hurley, vice president of fixed-income trading at D.A. Davidson. "At this point, it looks minimal," she said, pointing out that one-week Libor remains high at 4.51%, and one-month Libor is at 4.29%.
Furthermore, with one-month Treasury bills showing low yields, the impact of the rate cut remains questionable, said Hurley. "It's a great psychological tool, having a coordinated easing." However, "I'm definitely hearing more calls for additional rate cuts, which is not surprising."
James Paulsen, chief investment strategist for Wells Capital Management, said the Fed rate cut cannot address the primary problem in the stock market, which is a crisis of confidence.
Paulsen said that there's more of a chance investor fears will be assuaged when the Treasury Department's $700 billion Troubled Asset Relief Program takes effect next week.
On Tuesday, stocks fell hard as credit markets remained tight after an unprecedented Federal Reserve decision to begin buying
from U.S. businesses.
Pavlik said that Tuesday's selloff was encouraging, and the market may be primed for a short-term bounce. He said that although some companies may offer better-than-expected third-quarter earnings, "The picture is very cloudy for many companies. That's what may temper any bounce going forward." However, he did predict that the S&P 500 will end above 1000 for the year, somewhere between 1100 or 1200.
What's most important, said Paulsen, is that policymakers and leaders show confidence in the economy. "Maybe it's time to tell the market that, "Look, we've done enough. We think there's plenty of liquidity. There's plenty of juice. ... You guys figure this out.'" Paulsen said the market is priced for the worst-case scenario and not the actual current state of the economy. "If we could come down and come back just on confidence, that would do wonders," he said.
Before the internationally coordinated rate cuts, conditions were looking dire Wednesday. As evidence of a worldwide slowdown piled up, European governments struggled to put together their own rescue plans. The U.K. government set up an $87 billion rescue package for
.
Stateside, investors faced the final day of trading with the
Securities and Exchange Commission's
temporary ban on short-selling of more than 900 financial stocks.
As for company news,
The Wall Street Journal
reported
Citigroup
(C) - Get Report
is looking for partners in its buyout of
Wachovia
(WB) - Get Report
.
Citi
and
Wells Fargo
(WFC) - Get Report
had earlier agreed to cease their buyout battle for Wachovia until noon Wednesday.
Bank of America
(BAC) - Get Report
also concluded a common stock offering, raising $9.8 billion after expenses at $22 a share, lower than the stock's Tuesday closing price of $23.77.
After announcing a capital raise the previous day, insurance firm
(MET) - Get Report
announced it was reducing its work force by an unspecified amount as it copes with the tough lending environment.
To kick off earnings season, aluminum processor and Dow component
(AA) - Get Report
reported a decline in third-quarter profit thanks to rising costs and softening demand.
Bulk retailer
(COST) - Get Report
said its fourth-quarter profit rose year over year, but nevertheless fell short of Wall Street estimates.
Discount stores
Wal-Mart
(WMT) - Get Report
and Costco announced decent September sales figures but fell shy of analyst estimates.
Target's
(TGT) - Get Report
September revenue decline was wider than the Street had expected.
Agricultural products developer
Monsanto
(MON)
posted a narrowed fourth-quarter loss on rising revenues, sending shares higher in early trading.
In autos,
Toyota
(TM) - Get Report
Senior Managing Director Yoichiro Ichimaru said that his company was facing difficulties selling cars in the U.S. but was not reducing its sales goals.
Meanwhile, domestic automakers
Ford
(F) - Get Report
and
General Motors
(GM) - Get Report
suffered a Citigroup
to hold from sell.
Looking at the day's economic data, August pending home sales figures from the National Association of Realtors climbed unexpectedly. The NAR report showed a 7.4% increase in its sales index, which rose to 93.4 from 87 in July. Economists had been anticipating a 1.3% decline in pending home sales.
The International Monetary Fund said in its World Economic Outlook that the U.S. and world economy would slow sharply for the remainder of 2008. The IMF said that the global economy would grow 3.9% in 2008, down from 5% in 2007. For 2009, the Fund forecast even slower growth at 3%.
Weekly oil inventories from the Energy Information Administration showed a larger-than-expected increase in oil reserves. Crude inventories rose by 8.1 million barrels for the week ended Oct. 3, well above analyst expectations.
Over in the commodities arena, crude oil was declining $3.08 to $86.98 a barrel. Gold was advancing $35.50 to $917.50 an ounce.
Longer-dated U.S. Treasuries were declining. The 10-year was down 1-6/32 to yield 3.64%, and the 30-year was off 20/32, yielding 4.06%. The dollar was declining sharply vs. the yen, inching down against the euro and gaining on the pound.
Lately, European indices such as the FTSE in London and the Dax in Frankfurt were lower. Asia fared worse; Japan's Nikkei closed down 9.4%, and Hong Kong's Hang Seng dropped 8.2%.