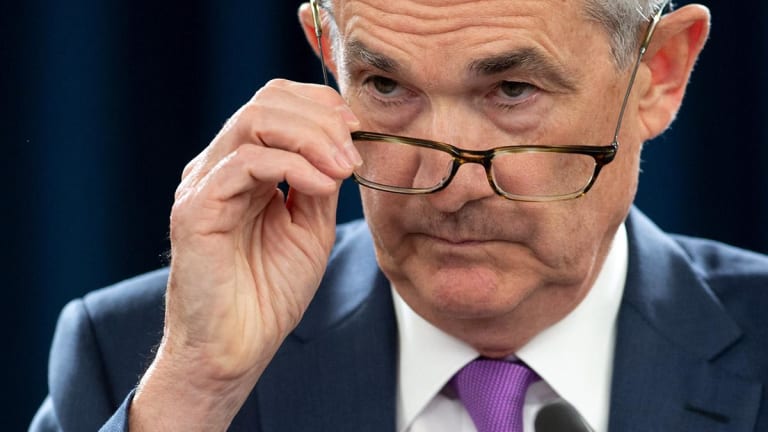 Stock Market Correction Puts Federal Reserve's Powell in Hot Seat
Traders in futures markets now see a 34% chance of that the Federal Reserve will raise U.S. interest rates two times by next March, down from 49% just a month ago, FactSet data show.
The recent plunge in U.S. stocks is sowing doubts in the Federal Reserve's resolve to keep raising interest rates.
While trading in futures markets shows that most traders still expect the Fed to increase rates in December, speculation has faded that that the central bank will hike its benchmark rate during the first half of next year.
The odds of an additional 0.25-percentage-point increase at the Fed's meeting next March have tumbled to 34% from 49% a month ago, according to data provider FactSet. And the chances of two quarter-point increases during the first half of next year have tumbled to 13% from 27%.
The Fed, led by Chairman Jerome Powell, has been raising interest rates since 2015 to keep inflation from surging as the economy strengthened. The effort has drawn criticism from President Donald Trump, who has lobbed repeated criticisms at the central bank for raising interest rates too quickly, saying Powell is making a mistake that has unnecessarily impeded economic growth and damped enthusiasm in the stock market.  
And while Powell has insisted that the central bank would raise rates at a gradual pace for the foreseeable future, recent underperformance in the stock market could give the Fed pause, according to analysts at the German lender Deutsche Bank AG (DB) - Get Free Report . 
"Tightening financial conditions reduce the possibility that the Fed will move to a restrictive stance," the analysts wrote in a research note on Friday, Nov. 23. "It is clear that financial conditions are not as ebullient as they were a few months ago." 
The Standard & Poor's 500 Index of large U.S. stocks rose 1% to 2,659 on Monday. The gauge is still down 7.5% over the past three months. 
According to the Deutsche Bank analysts, traders will pay close attention to a scheduled speech by Powell on Wednesday, Nov. 28, in New York, when the chairman may clarify whether his views on monetary policy have shifted as a result of the recent market drop. Investors also are likely to scrutinize a separate speech a day earlier by Fed Vice Chairman Richard Clarida and the publication on Thursday of minutes from a Fed monetary-policy meeting earlier this month.  
At that meeting, the Fed held rates steady in a range of 2% to 2.25%. 
Wall Street analysts say Trump's $1.5 trillion of tax cuts in December 2018 spurred a burst of economic growth earlier this year, but recently signs have appeared that the effect of the stimulus may already be fading. The cost of the tax cuts, of course, is a widening federal deficit that has helped to balloon the national debt past $21.7 trillion, spurring fears that higher U.S. government interest payments could eventually become a drag on the economy.
Growth in U.S. gross domestic product slowed to 3.5% in the third quarter from 4.2% during the second quarter, and it's projected to slow to 2.6% during the last three months of the year. Economists surveyed by FactSet expect a further slowdown to 2.5% in 2019 and 2% in 2020 -- below even the 2.2% long-term growth rate projected prior to the enactment of the tax cuts.
Last week, Powell said at a public event in Dallas that a recent slowdown in global economic growth was "concerning," according to news reports, prompting speculation that he might be rethinking his plan to keep raising rates. Slower growth would reduce the likelihood of faster inflation, relieving pressure on the Fed to act. 
Steve Blitz, chief U.S. economist at the forecasting firm TS Lombard, wrote Monday in a report that the central bank may pause its rate-hiking cycle after March 2019 and then "take a bow for a job well done." 
As for the Fed's December meeting, the central bank is likely to "take a middle road, raising rates as planned but easing the adjustment process by lowering the forward trajectory for policy rates," Blitz wrote.